Podcast: Play in new window | Download | Embed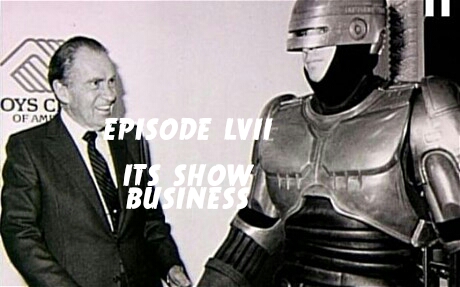 (Right Click Download Link To Save)
In episode 57, Chris Crespo and Drewster Cogburn review The Lego Movie and The Monuments Men, there is a new Netflix Pick of the Week, some movie news, a trivia-centric bonus lightning round, and more!
Discussed in this episode:
Chris and Drew discuss the future of Cinema Crespodiso.
The Netflix Instant Pick of the Week is The Frighteners.
The Box Office Recap includes reviews of The Lego Movie and The Monuments Men.
New movies on DVD this week include Ender's Game and some other stuff.
New movies in theaters include Robocop and some romantic Valentine's Day type stuff.
The Crespodisco features the original Robocop theme song and  the "Slave Children's Crusade" from Indiana Jones and the Temple of Doom.
Mike Tyson and Pam Anderson will be in the next Werner Herzog movie.
The Transporter movie franchise is getting a reboot.
A lady who ripped the makers of The Wolf of Wall Street for making money off the crimes in question gets a book deal so she can make money off the same crimes.
There will be a Back to the Future musical in London in 2o15.
Chris and Drew talk about the live musicals they've been to.
Favorite fictional presidents?
Billy D. chimes in with a question.
Listen to all back episodes of Cinema Crespodiso for FREE at ChrisCrespo.com!
www.twitter.com/IamChrisCrespo
www.twitter.com/Crespodiso
www.twitter.com/Antihero419
www.facebook.com/cinemacrespodiso
www.instagram.com/cinemacrespodiso
CinemaCrespodiso@gmail.com