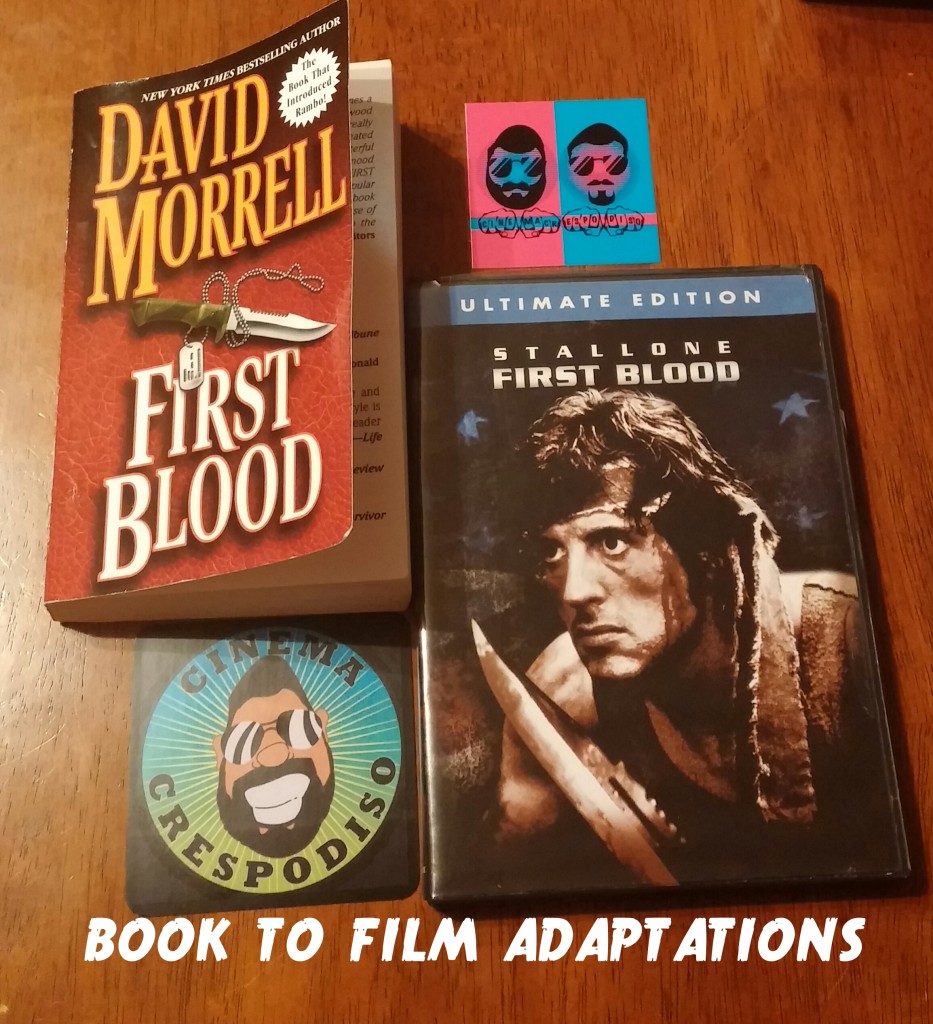 David Morrell's 1972 novel "First Blood" is a fierce book, featuring two products of American wars, both of them so different from each other, but also so similar. A Korean War vet is determined to keep his town safe and clean and a Vietnam War vet is simply tired of being pushed around in a country that doesn't appreciate him. So when these two people meet, and their desires are in direct opposition of each other, that little spark turns into an explosion that ends up being the end of both of them, as well as a lot of other people along the way.
Ted Kotcheff's 1982 movie "First Blood" has the same rock and a hard place mentality when it comes to the interactions between the two main characters, but really does change quite a bit from the source material, while still being very similar from start to finish. Confused? Well then let me explain.
Morrell's "First Blood" is a fast read, with very little fat in the narrative and written in a way that keeps the story propelling forward. The perspective bounces back and forth between our two guys. First is John Rambo, a 20-something year old Vietnam veteran and escaped prisoner of war, and he's making his way across the country on foot, as was still very popular at the time. He had already been escorted out of 15 small shitty towns in this country because of his looks, with his long hair and beard, and rolling in to town 16, he'd be damned if another small town cop gave him any shit.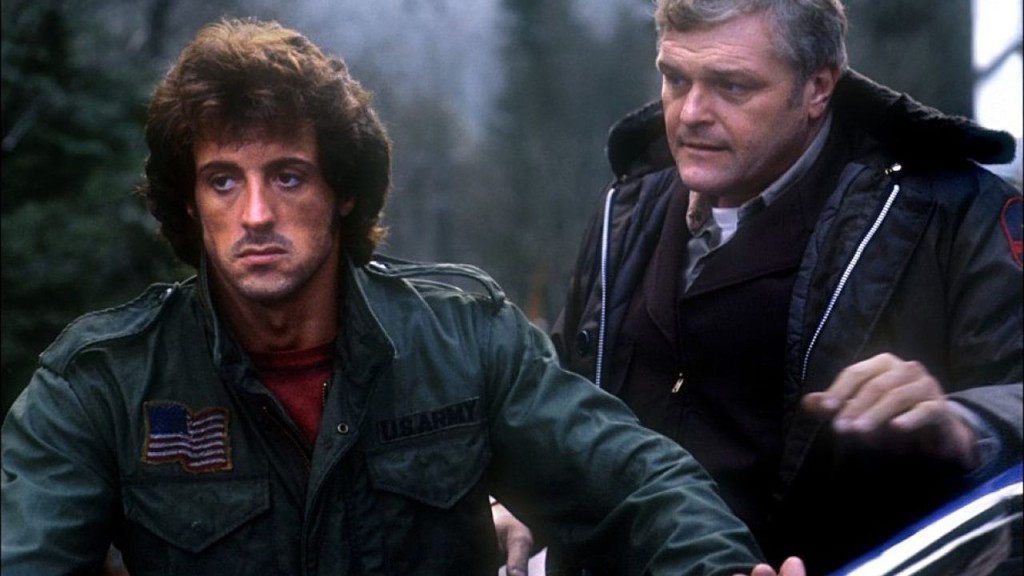 So enter small town sheriff Will Teasle, a Korean War veteran and a guy who loves his little town and its residents. When he sees Rambo, he sees a vagrant, and offers him a ride out of town to get him out of his hair. And then Rambo walks back in to town to buy some food and because he refuses to be told where to go in this country any more. And Teasle finds him and escorts him out again. And Rambo walks back. And now you see what kind of head on interaction we have with these two. Rambo gets arrested, breaks out of the small town jail, and hightails it into the nearby woodsy mountains. The sheriff and his deputies track him, and Rambo is back in war mode, feeling pushed into it, a green beret highly trained killing machine ready to take on a bunch of yokels who didn't know what they had in store for them when they tried to arrest him for pretty much just existing.
And this is the basic set up for the movie. As a matter of fact, a plot point breakdown of both would review they are extremely similar. In both the movie and the novel, it is Rambo versus Teasle, and once they get in the woods, Rambo has the upper hand. Despite that, he still ends up in a mine, the entrance is blasted closed, and he has to walk his way through the cave to the other side. Once he gets out, he makes his way back to town where he blows up some gas stations and buildings, bringing the fight back to Teasle one last time. It's all there, both on page and on screen. But what does separate the two are the details., all the things that happen between those macro moments.
For example, there is much more blood shed in the novel. When Rambo is in the police station and the cops are trying to hold him down so they can cut his hair and beard, his reflexes cause him to use the straight razor to cut open a deputy's stomach, his guts spilling out while Rambo made his escape. The movie just features him knocking people out, kicking them around and what not, not actually going so far as to kill anyone. And then on the flipside, the police in the movie are so much more aggro and mean, almost all of them taking some sadistic joy from their job, being dicks to Rambo really for no good reason. But in the novel, Teasle may be an asshole for trying to force this guy to leave his town, but he was actually trying to be nice while he did it, and even Rambo admitted to himself that for all intents and purposes Teasle seemed to be one of the good ones. And none of the other cops were really dicks to Rambo, they made a comment or two here and there, but nothing on the level of what happens in the movie with the forced firehosing and constant threats of violence.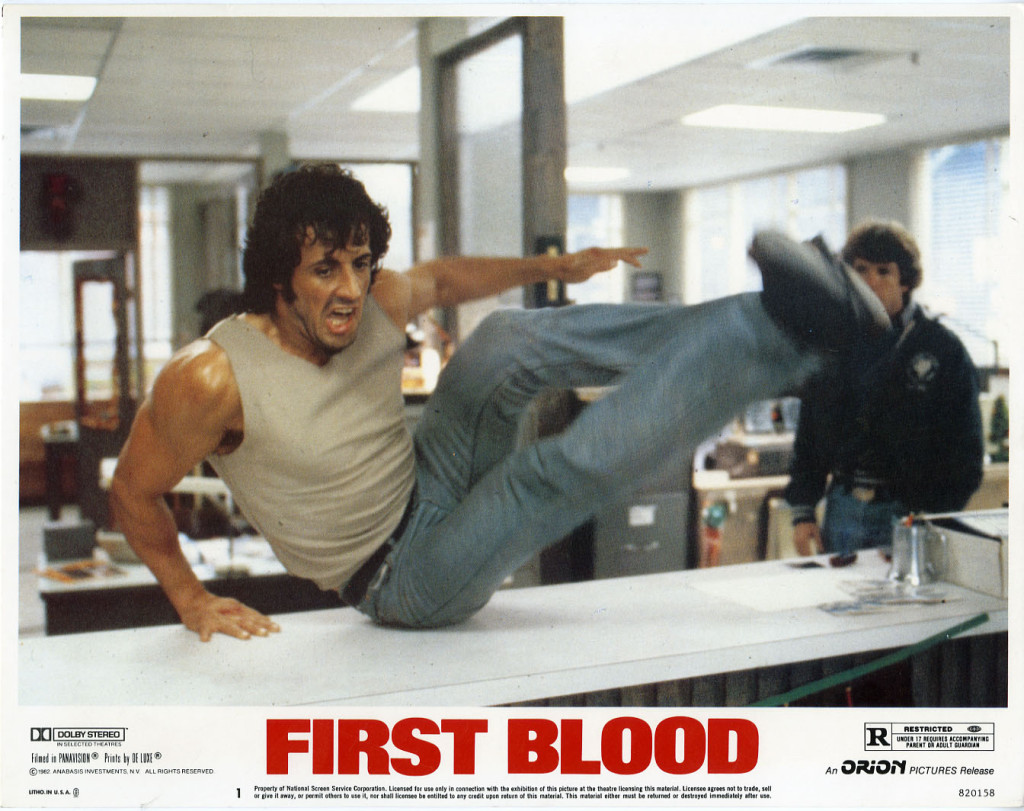 So with the movie, not only did they scale back Rambo's response, deciding not to make him a killer, they also made the police more hateable. So when Teasle chases Rambo down into the woods, it isn't so much because he's now chasing a cop killer but instead it is just because this guy karate kicked his way out of their podunk jail. And then he immediately fled town, which is what they wanted, right? Maybe they should have kept the killing in the movie, give Teasle more of a solid reason to want to see Rambo dead.
Because what makes this novel really work, despite it's snappy style that reads a lot like an action movie in sections (what a surprise), is how it gets into the mentalities and thoughts of both Rambo and Teasle. We get inner monologues from both of them, giving us their reasons for their actions, and also going over their conflicting thoughts, their doubts, worries, second-guesses, and we get to learn about Teasle's failed marriage and what that's doing to him and his whole surrogate father situation and what that means to him, and he becomes more than just an asshole redneck cop being a dick for no reason. We get him, we understand him, and when he goes off to hunt Rambo in the woods, we don't hate him for it, we almost have to admire the unlucky son of a bitch.
And just like in the jail back in town, once in the woods, Rambo starts killing fools. He actually stumbles across a moonshine maker in the dark and he talks him in to giving him clothes and a rifle, and he promptly starts using that rifle to pick off Teasle's men from a distance. And he's not just wounding them, or trying to scare them off. He's putting bullets in their chests and heads, and when he gets the chance he cuts a throat or two. There's no moment like in the movie in which Rambo merely incapacitates the men and warns them off, he just starts killing them, and then it becomes a walking hell for Teasle from that point on. He goes through an enormous amount of physical shit, pain and suffering of the highest order, before he can make it out of the woods without Rambo killing him. Meanwhile, Rambo has taken his own damage, and soon the story bounces back and forth between the two men and their incredible pain, thanks to a myriad of obstacles, injuries and all around back luck.
Neither Rambo nor Teasle go through this much pain and suffering in the movie. Actually in comparison it is kind of a cake walk for both of them to go in and out of these woods. It would have been cool to see a real protracted battle in the woods between Rambo and the men, because the way it is written is pretty crazy, as it includes flash floods and thick brambles and just nightmarish conditions for everyone. Like when Rambo finds the cave and makes his way through the mine. There is a good moment in the movie in which Rambo stumbles through some rats, and it gets a little crazy for him, but otherwise he just made his way through okay with little problems. Of course in the book, he does much more of it in the dark, trying to follow the sounds of running water and the direction of a breeze, and at one point he has to crawl through a small opening into a bat cave filled with guano and it is super intense, the fear he has to overcome, the smells of the guano, the feel of it in the dark, beetles crawling on him and shit like that, all the way very much injured and tired and hungry. Suffice to say, both Rambo and Teasle go through way more shit in the novel.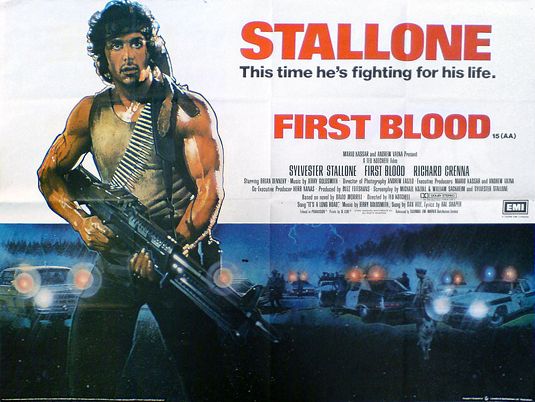 Which makes me wonder why they didn't go that route. All they did really was create less work for themselves. Were they feeling lazy? Because it would have made for some incredibly tense scenes and sequences, plus would have added some nice moral ambiguity to the movie, the ambiguity that is there in novel form but absent in movie form. They obviously felt, like many people do when making a movie, that the main character needed to be more sympathetic, and the best way to do this is to drop the ambiguity. He's a war vet, pushed too far by moronic police, and he can't really be held accountable for what happens to them.
But I think these days, we are much more used to morally ambiguous movies and characters, and we are more likely to watch something in which we are rooting for the asshole. Just look at television shows like "House, M.D." and "Breaking Bad" or something like "House of Cards," with their out-for-themselves lead characters, which sometimes leads to the death of other people around them, and yet they are the leads, and we follow them. That can be extended here.
What I am trying to say is that "First Blood" can be remade and it can stick much closer to "First Blood," though I will tell you here why the ending of the novel would prevent some people from wanting to commit to such an endeavor. As many movies are made today with sequels in mind, and "First Blood" spawning a very unlikely series of successful action movie sequels, no one would want to put money into a movie with the ending of the novel because to put it simply no one is left. Rambo dies. Horribly I might add. And Teasle dies, and the book ends with these deaths and also what might be the most lovely description of what it might feel like to have one's head blown off with a shotgun ever put down on paper. Who wants to fund a movie in which both main characters die kind of slow, agonizing deaths? Because I am ready to write the fuck out of this thing. Someone get me in touch with Mr. Stallone.
Click here for all "book-to-film" adaptation articles.