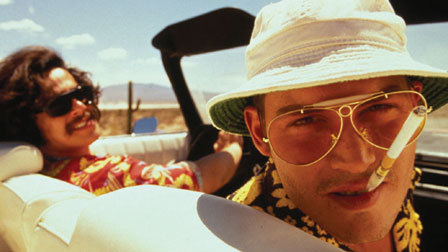 When discussing the best book-to-film adaptations, "Fear and Loathing in Las Vegas" stands out as a success in wrangling a wild narrative and boiling it down to a workable movie, especially because the wrangling was done by a director with a history of wild and unhinged films (several of which contain their own decidedly non-wrangled narratives). Then again, in hindsight, it seems that maybe this movie could have only happened this way.
Hunter S. Thompson was a renegade writer and outlaw journalist. He became well known for his unique writing and for doing insane things like ingratiating himself with the notorious Hell's Angels biker gang for a year (before being unceremoniously beaten and ditched) to collect information for a book. He also invented Gonzo Journalism, a style of reporting which uses a first-person narrative, an injection of emotion and opinion and a plays a little loosey-goosey with the facts. "Fear and Loathing on the Campaign Trail '72" is a must read for anyone interested at all in American politics, journalism and non fiction narrative in general. In a nutshell, Thompson called it like he saw it, and he usually managed to see things a little differently than everyone else. And as he once said himself, "You can't be objective about Nixon."
Terry Gilliam is a renegade writer and director. He got his start in the 1970's by being the lone American in the British comedy troupe Monty Python, and then found a way to start making insane fantasy films, sprung from the deepest and darkest recesses of his imagination. If you haven't seen "Brazil," put it at the top of your must see list now. And remember that Gilliam doesn't know how to tell a normal story, as even his most accessible film "The Fisher King " has crazy fantasy elements resulting in a movie a little more wild than average. And someone (God bless their deranged mind) saw fit to put these madmen together?
So the quick 4-1-1 on Thompson's "Fear and Loathing in Las Vegas – A Savage Journey to the Heart of the American Dream" – fictional alter ego Raoul Duke is hired to cover the Mint 400, a bike race out in the middle of the desert, and brings his Samoan lawyer Dr. Gonzo along for the ride (as well as lots of drugs, Acapulco shirts and a gun). What Duke documents is a stream of consciousness style story, as he stumbles around Las Vegas in different types of stupors. He gets kicked out of Casino shows, hassles the tourists and locals, goes undercover at a police convention, destroys rental cars and above, does his damnedest to cover the story.
And who better to play this wonderfully weird and singular doctor of journalism than Johnny Depp, a man who specializes in weirdos, loners and outcasts. He obviously wasn't hired for his box office track record; at the time his biggest hit was the previous year's "Donnie Brasco," in which he shared the marquee with Al Pacino. To date, his thirty films have grossed roughly $2 billion, which is a very impressive number, though slightly less so when you consider the three "Pirates of the Caribbean" movies grossed $1 billion by themselves, and another $200 million is from "Charlie & the Chocolate Factory." So, once again, God bless the people who put the money into making this movie, because it's obvious they were not going for huge bucks with this one.
So Depp slides into the role of Hunter Thompson/Raoul Duke and Benicio Del Toro got the gig of Dr. Gonzo, a character based on Thompson's real life friend Oscar Zeta Acosta. And under the imaginative and brilliant eyes of Terry Gilliam, they run around Las Vegas and thoroughly make it their bitch via adaptation. Thompson tells the story almost as he experienced it, through a haze of smoke and the deepest understanding, and Gilliam does a great job in milking Thompson's crazy imagery for all its worth. An orgy of gigantic lizard people in the hotel bar? Check. A bizarre collection of Barbra Streisand portraits? Check. Two grown men stumble drunk on ether and turned loose inside the Circus-Circus Casino? Check.
Gilliam also finds a few great ways to get some of the many small side stories into the overall narrative without throwing off the whole thing, which is amazing considering how he had to write the screenplay in ten days due to some production kurfuffeling and being hired on kind of last minute. Dialogue is swapped around between characters in a few instances,and Gilliam's interpretations of scenes can be very interesting (Portuguese photog Lacerda simply recounting the different motorcycles he's seen to a deranged Duke is filtered through the lens of insanity as Lacerda is dressed in army fatigues, holding a rifle and barking out names of bikes in conjunction with Vietnam War footage playing on a TV). There are also a bunch of lil nods and shout-outs to fans of the story. In the novel Duke and Gonzo tell a visiting small town sheriff a bogus story about devil worshippers in LA beheading people in the middle of the street in front of witnesses; in the movie, all we get is the small town sheriff on the phone telling someone about "how they were going for the pineal gland."
The movie itself plays like a drug trip, all fast and fun and quick in the beginning, before getting twisted and weird and finally slowing down before the end. There's not so much a third act climax as there is a stumbling out of the story, much in the way the characters seemed to stumble into it. This goes counter to the basic rules of storytelling, which calls for a rising action ending with a climax. But Gilliam (and Thompson) are all about flipping those rules and conventions on their heads and serving the purposes of their story. And the movie belongs to Depp as he is in every scene, if not as an active participant than as an observer and journalist (as in the ugly incident at the North Las Vegas diner between the Waitress, his drug-crazed lawyer and a napkin). He has the Thompson mannerisms down cold, and knows when to play them up strong, but more importantly seems to have had a deep understanding of what made Thompson tick. Depp effectively transforms not only into Thompson, but his mad alter ego Duke, and they ways he flips between the two personas is something to behold.
It's pretty astounding how books with straight forward narratives and film-like plots can be easily screwed up in the adaptation process, yet this book makes for a strong and unique film. Two distinct artistic voices combine for a flurry of movie magic and a large cult following, and hopefully people are still discovering this film, and in the process, Thompson's original works of genius.
Republished from my original Examiner article on June 22, 2009.