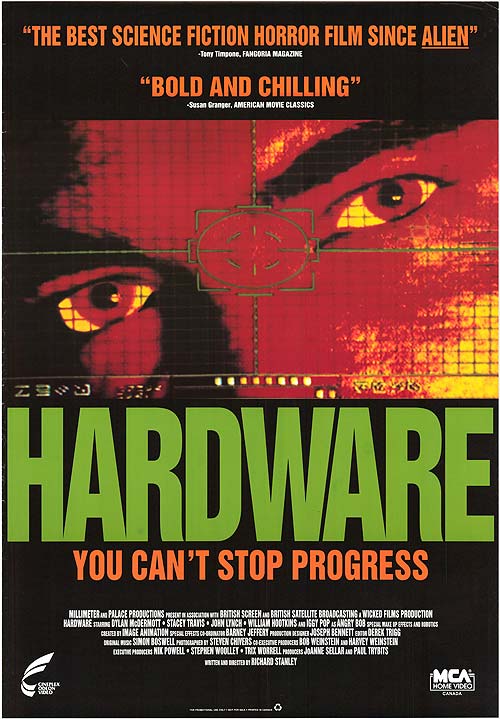 As heard in episode 162 of Cinema Crespodiso.
"Hardware" is a crazy 1990 low budget sci-fi movie about a rogue robot with a serious bloodlust, let loose within a single apartment, in which said robot inflicts a very surprising amount of bloodshed and mayhem. This is the kind of down and dirty movie that doesn't get made often enough. Rarely is this kind of gonzo imagination put on display in a large way like this, a movie in which even the silent secondary characters are compelling and interesting.
An ex-soldier (Dylan McDermott) in a post apocalyptic wasteland comes home to his girlfriend (Stacey Travis) and gives her a robot skull, knowing she would like it because she takes old pieces of metal and combines them to make sculptures. She uses the skull in a piece she already started working on, which turns out to be a bad move because this skull is still sentient and it is able to use the rest of the metal material around it to make some sort of crazy body, and immediately it's initial instinct to kill makes it go rampaging around this apartment. And thanks to some unannounced visits and others trying to help, this very small scale movie has a large body count. To put it lightly, this movie just goes insane.