Podcast: Play in new window | Download | Embed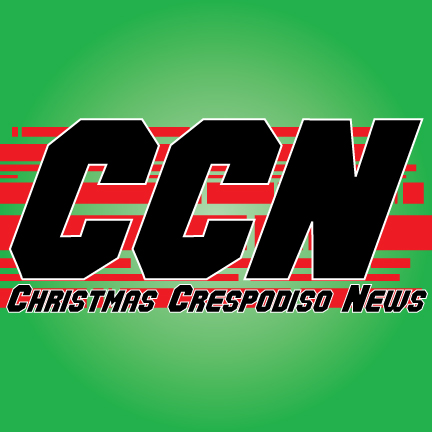 (Right Click Download Link To Save)
Cinema Crespodiso presents CCN, a monthly show about everything other than movies. You know, all sorts of random things like news, and celebrity bullshit and whatnot. Pretty much whatever the hell host Chris Crespo wants to talk about at any given time, with whatever slant he wants to put on them. Co-hosted by Drewster Cogburn.
Things discussed in this episode include:
New Jersey waitress gay slur fraud. Drew is befuddled.
Racist graffiti hoax in Massachusetts. Drew is surprised.
Fox News host stands behind "Santa is white" comment but concedes just a little to her "Jesus is white" comment. Drew is perplexed.
Is affluenza real? Drew is enraged.
60-year old Italian man legally allowed to be with 11-year girl. Drew is enraged.
WBC Heavyweight champion Vitali Klitschko vacates title to focus on Ukrainian politics. Drew is bored.
Missouri woman steals $300K from her own church. Drew is not shocked.
Wisconsin dairy farm busted for animal cruelty. Drew is unfazed.
Upstate New York kids smell bad, pre-K teacher addresses problem. Drew flips the script.
Alabama man kills roommate after argument over television. Drew can relate.
Mississippi vandals destroy public art. Drew is perplexed.
Illinois ambulance driver charged with DUI in Chicago. Drew brings up a movie.
Ohio Police Chief's wife jailed for shoplifting. Drew was hoping for prostitution.
Delaware company shuts down without informing employees. Drew can relate.
North Carolina middle school worker popped for child porn. Drew is not shocked.
Pennsylvania newlyweds "just wanted to murder someone together." Drew likes this story.
Maryland man stabs neighbor with a box cutter. Drew is not shocked.
South Dakota man is the worst of the worst of the worst. Everyone is disgusted.
Naked Utah man bites police dog. Drew is amused.
Central Florida craft beer scene featured in New York Times article. Drew agrees.
Chris hates on the loss of physical media in favor of instant streaming. Drew sympathizes.
Chris loves Pearls Before Swine and Get Fuzzy. Drew can relate.
During the outro they talk about: a North Dakota man brings a knife to a department store stick up, an Oklahoma City police station confused a burrito for a bomb and a Seattle barber stabs a customer in the testicles.
CinemaCrespodiso@gmail.com
www.facebook.com/cinemacrespodiso
www.twitter.com/crespodiso
www.instagram.com/cinemacrespodiso
www.twitter.com/iamchriscrespo
www.twitter.com/antihero419