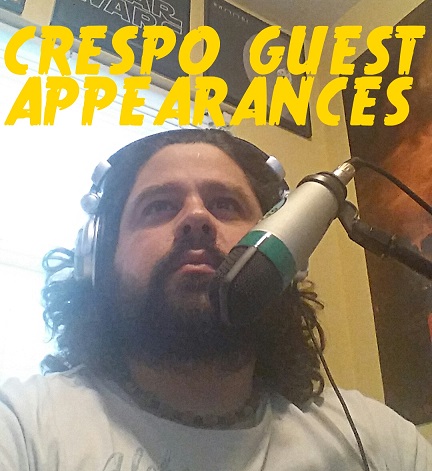 Being a regular radio talk show guest and podcaster, I get occasional opportunities to spread my brand of madness to the world on other programs. In addition to Cinema Crespodiso, I also call in every Thursday to The Curtis Earth Show on 91.5 fm WPRK (WPRK.org) to talk about movies for 10-20 minutes, but that can only be heard live as it happens. But sometimes that's not enough, and I pop up somewhere else, spewing my opinions out like a dragon spitting fire, albeit with far less damage to my surroundings. Here is where these guest appearances are documented.
A new podcast network has been birthed here in Florida called "Pfft Radio" and so far there is one episode of one new show, and I just happened to be a guest on this particular show. Started by Steve Etchie, previous guest on Cinema Crespodiso and host of the recently defunct show "Answer Pants," this new show is called "Tidbits," and will feature multiple guests each episode, each of them telling stories or anecdotes that can range from short to lengthy, and can be funny, smart, poignant, inspirational, depressing, or any combination of these.
In the very first episode of "Tidbits," I sat down with Etchie and told him about the time I was on the very popular "Doug Loves Movies" recently here in Orlando, Florida at the Orlando Improv. I told him about how I got myself on the show to begin with, how I was left at the bar by the club staff for thirty minutes because they forgot about me, and I explain to him why throwing donuts from the stage into the crowd has become "a thing." We had a great time and I look forward to further appearances on this show and on this brand new network in general.
"Tidbits" is available via iTunes, and soon on Google Play, and pretty much anywhere you listen to podcasts. Just do a search, look for the logo, and enjoy episode 1 of this cool show.