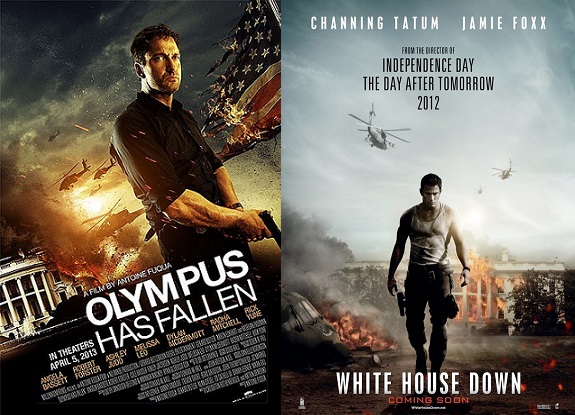 What the hell is going on this year? Look, this has happened in the past, don't get me wrong. We all remember when "Volcano" and "Dante's Peak" competed in 1997 for those volcano enthusiast dollars, right? Or when "Armageddon" showed "Deep Impact" what's up at the box office in 1998? How about that battle of the talking pig movies in 1995 between "Babe" and "Gordy?"
It happens, we get it, every now and then these competing project get made at the same time. Sometimes its even a situation like last year's double bill of "Lincoln" and "Abraham Lincoln: Vampire Hunter." Sad. But this year, what the hell is going on? 2013 is the year of the creative logjam apparently, too many minds working in the same subconscious soup, extracting the same information at the same time and making the same things, but different.
Example #1 – we were all dying for that "Die Hard" movie featuring John McClane saving the President from terrorists in the White House, we must have been, even if none of us knew this, because multiple groups of people thought this was what we wanted. We already had "Olympus Has Fallen," with Gerard Butler playing the John McClane role, though for some reason they call him Mike Banning and they don't mention Nakatomi or New York or any of that stuff. And pretty soon we're getting "White House Down," featuring Jamie Foxx as the President and Channing Tatum as John McClane, but again they changed his name for some reason, this time to John Cale. Now granted, Tatum looks younger than Willis has in a while, so maybe this is actually a prequel to the first "Die Hard." At least in this one they managed to get him in the famous white tank top.

Example #2 – nothing screams fun times at the movies like movies about a post-apocalyptic Earth and the last few stragglers and survivors barely getting by. "Oblivion" already came out and featured an Earth ravaged by a battle with space aliens, with a small band of survivors trying to survive. And soon we'll get to see "After Earth," in which Will Smith and his son are on a spaceship, which crash lands on a post-apocalyptic-for-earthlings Earth in which every living thing wants to kill humans. Awkward! And they, of course, try to survive. I am willing to bet that the big "twist" of this movie for most people will be when the whole thing is all said and done and then it cuts to black and in big white letters it says "Directed by M. Night Shyamalan" and people are going to be all like "whaaaat! I did NOT see that coming!"
Example #3 – you know that genre of film in which hot young chicks attempt to live a different lifestyle of party and excess, funded and fueled by an undercurrent of criminal yearning? Cause this year's first of two entries into this particular genre was Harmony Korine's "Spring Breakers," which is now being quickly followed by by Sofia Coppola's "The Bling Ring." Both movies are about the same kind of sociopathic people who are just looking for kicks beyond their means, it just happens that "Spring Breakers" is about some lower class, poorer college kids who could barely scrape the money together to go to spring break with all the kids who could afford to go there, while "The Bling Ring" looks like it is about children of privilege letting their sense of entitlement get the best of them while their try to get into super exclusive parties and rub shoulders with the Hollywood elite (at least the elite of the trashy party scene, which again has much in common with the drunken foolish shenanigans of your typical spring break).
Example #4 – okay, this one I'm actually looking forward to, as we are now getting two comedies about people partying during the actual end of the world, both of which appear to be possibly provoked by aliens (which means this comes on the heels of the 2012 "comedy" with aliens "The Watch"). First there is this weird looking meta movie "This is the End," written and directed by Seth Rogen and his long time creative collaborator Evan Goldberg, in which a whole bunch of people like Rogen, Michael Cera, James Franco, Aziz Ansari and so on play themselves in a movie about the end of the world. In the trailer there is one shot of a bunch of people being hit by beams of light from above, which means those are either aliens (as stated before), or that is the beginning of the rapture, which would make this a four horsemen biblical type of apocalypse. It's probably the aliens. And also coming out this summer is Edgar Wright's "The World's End," which reteams Wright with Nick Frost and Simon Pegg, and this time instead of a rom-zom-com or an action movie homage, they are going sci fi, as Frost and Pegg lead a group of old friends through a pub crawl in their old town, but when they get their it looks like the townspeople have all been replaced pod people style.  These two movies should hopefully both be a lot of fun and it would be nice if they didn't have to battle like this at the box office but hey that's the way's it gonna have to be.