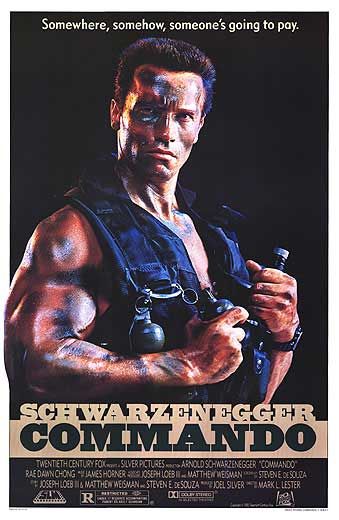 "Commando" is one of those iconic Arnold Schwarzenegger movies from the 1980s, relying very much on Arnold's impressive, award winning physique and his knack for portraying unstoppable machines of destruction on camera, figuratively as well as literally. While the character of John Matrix is not a cyborg, he might as well be, as he does things humans pretty much can't do, which includes racking up a body count of just over 100 people, with about 80 of them dying at Arnold's hands directly. Ah the 80s. When violence was king.
Part of what makes "Commando" awesome is how simple the story is, jumping into the plot really quickly by having John Matrix's daughter (Alyssa Milano) getting kidnapped early on, sending Matrix on a journey to rescue his daughter from some scumbags. It's pretty much "The Terminator" meets "Man on Fire." Sound good to you? Good. Oh yeah and this movie also features Bill Duke, David Patrick Kelly, Rae Dawn Chong and Dan Hedaya, so there's also that. And some guy gets the top of his head removed when Matrix throws a buzz saw blade at him like a frisbee.
Just watch this crazy movie already right here and enjoy the 80s action awesomeness, when action movies actually meant something. Which was awesome action.