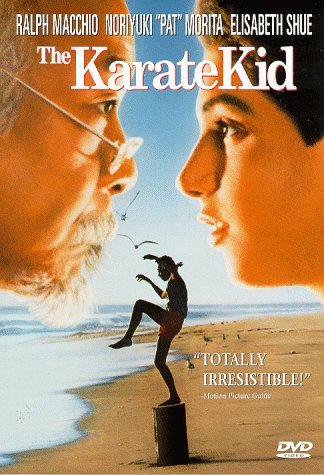 Ralph Macchio is all like "I'm a high school kid from New Joisey and these California kids are a'bustin' my chops over here-unnh!" and Pat Morita is all like "Daniel san, I will-a teach you how to fight-a with kah-rah-tay!" and he gets him to do all the landscaping for his backyard and paint his house and fence and wax his cars and shit and then someone convinces this kid that he was training him to karate fight the whole time. And joke's on us. Because it fucking worked.
From the director of "Rocky" and the writer of "The Transporter" comes the original "The Karate Kid," a sweet little romantic comedy coming of age drama featuring karate training montages and a whole karate tournament. Inspiring a generation of kids to try that weird crane kick thing there while standing in waist high water in the ocean, this is a great movie, well made, finely acted and with a solid, easily relatable yet fairly unique story. It has awesome bad guys, a sweet soundtrack, and Elisabeth Shue. Elisabeth Shue, I say!
So check out "The Karate Kid" here on the Netflix Instant and enjoy the karate-ness.