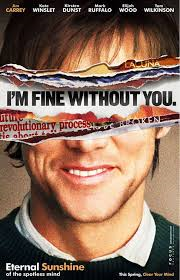 Just a perfect mix of whimiscal director and angst-ridden screenwriter, "Eternal Sunshine of the Spotless Mind" is a modern classic from director Michel Gondry and writer Charlie Kaufman about relationships, how they fail, how people react to their failings, and how trying to forget these relationships can actually help someone remember all the good stuff that they already did forget about.
Really though, isn't it something how two people will get together, they can have a wonderful life together for anywhere from a few months to a few years, but because it ends so badly, these same people forget the very reasons they got together in the first place? People often forget what initially attracted themselves to each other, and all they can see are the terrible parts of their relationship which they want to get out of. In "Eternal Sunshine of the Spotless Mind," a near-future is posited in which a companhy exists that can erase memories from a person's memory. This is used by some people to erase the memories of their past loved ones. Specifically, this movie is about the relationship between Joel (Jim Carrey) and Clementine (Kate Winslet) and how Clementine erases Joel from her memory, and Joel feels he needs to do the same thing, but then he changes his mind mid-procedure and he fights against the memory-erasing process, treating the audience to a timeline of Joel and Clementine's relationship in reverse order, as we go through Joel's memories as they are destroyed one by one, and this results in a movie that is simulatenously funny, alarming, sad, haunting, whimsical, strangley specific yet obviously universal, and pretty much damn near perfect.
So here you go, watch this fantastic movie on the Netflix Instant and enjoy this ridiculously well made film.