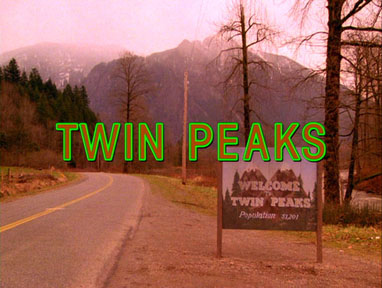 This may be a twenty-plus year old network television show, but the fact remains that the TV series "Twin Peaks" is better than a lot of movies out there, and it can be easily argued that this show was a progenitor to the long form and much more cinematic television shows which are all the rage now – stuff like "The Walking Dead," "Breaking Bad" and "American Horror Story" owe a lot, if not everything, to this landmark serial created by David Lynch and Mark Frost.
Equal parts murder mystery, soap opera and surreal horror, "Twin Peaks" has it all going for it. The acting is solid and the characters are weird and fascinating, and none may be more interesting than the series lead Agent Cooper (Kyle MacLachlan), an FBI agent who rolls into the quaint, countryside town of Twin Peaks when a popular local girl turns up murdered and a second girl is found having been beaten and raped across the border in Canada, and soon it becomes apparent that there is more going on in Twin Peaks than just some normal murder loving psycho. Otherworldly spirits, hidden alternate dimensions, hallucinated riddle-spouting giants, the Log Lady…there are enough weird characters in this thing to keep everything moving at a nice pace.
Here is a bit of a disclaimer: due to the finicky nature of TV executives in the early 1990's, they meddled with the show early on in the second season, concerned with declining ratings, and they demanded that the central mystery of the show (the ID of the murderer) be solved sooner rather than later in order to keep people interested (and of course like with all monetarily-minded producers of art, their logic was IMPECCABLE). What ended up happening was that not only did audiences NOT really tune back in to the show after the murderer was revealed but the interference annoyed David Lynch, who then backed off the show to work on other projects, and a good chunk of the second season feels a little like wheel spinning, at least until the BATSHIT INSANE season two finale, which then ends with a gigantic cliffhanger that will then go unfinished, as the show was canceled shortly thereafter.
With that being said, just watch the movie-length pilot episode and if that doesn't suck you in and get you interested, I don't know what will. The entire first season is fantastic and the second season, while not as good, is still worth watching, especially in order to get to that sweet last episode.
So get down with "Twin Peaks" on the Netflix Instant and enjoy this awesome show (which is coming back for one more season very soon, which makes for another good reason to go back and check this out).