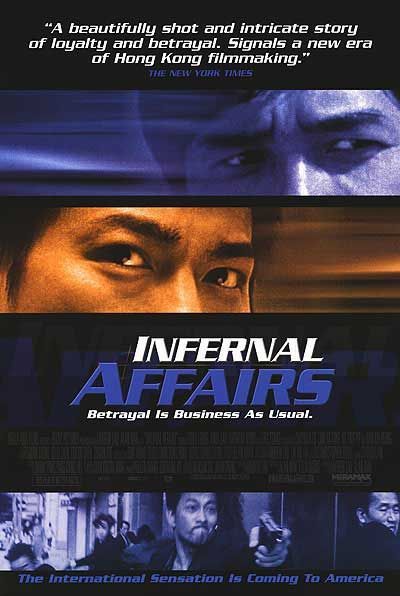 The movie that served as the basis for the Academy Award winning film by Martin Scorsese "The Departed," "Infernal Affairs" is a 2002 Chinese crime drama that was a mega hit in China, initially propelled by star power and then gaining sustained success thanks to being a well made movie. Obviously "Infernal Affairs" is good because it inspired not only several sequels in China, but the aforementioned extremely popular American remake. Whether or not you have seen "The Departed," it is definitely worth your time to see where this all started.
Inspector Lau (Andy Lau) is one of the best police officers in his department and is well regarded by his higher ups, which allows him to sneak around and be the mole that he is for a local triad (Chinese organized crime). While working for the police, he leaks information to his real boss, who uses this info to evade arrest. But Lau has a problem and so does the triad in the form of undercover police officer Chen (Tony Leung), a cop who managed to infiltrate the mob and who is leaking information back to the police. Both men are tasked with finding out who the other mole is, and the entire movie is a twisty cat and mouse game as both Lau and Chen try to find the mole while trying not to get found out themselves. It is a great set up and the story is told well, with a bunch of twists and turns that keep things moving and exciting.
The movie jumps right into the story and does not spend much time farting around, instead getting deeper and deeper into this quagmire of a situation, with both characters steadily coming closer and closer to complete ruin. This film gets tense, it is fun to watch and after seeing it you can see why someone like Martin Scorsese would do a remake of it because it just comes across as a fun story.
So check out "Infernal Affairs" right here on the Netflix Instant and enjoy!