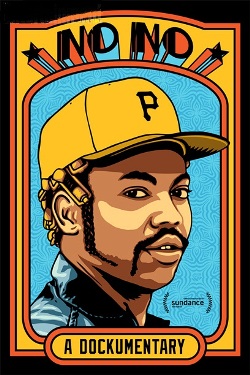 As heard in episode 166 of Cinema Crespodiso.
Who is Dock Ellis? "No No: A Dockumentary" tells us everything we need to know about the fella known as the "Muhammad Ali of Baseball," what he did that was so special and why he should be remembered as one of the more important figures of 20th Century American sports.
Pitching in the major leagues from 1968 through 1979, Dock Ellis is best known athletically for a no-hitter he threw in 1970, an already rare feat indeed, made even more rare by him being very candid and open about the fact that he pitched this particular game while tripping on LSD. While this is a shocking admission, it also should not come as any surprise to any baseball fans, who should know that all of their favorite players for DECADES have been performing their duties while under the influence of something. LSD is a little extreme, but ballplayers have been playing while hungover, if not outright drunk, since the sport was invented, this particular documentary about Dock Ellis gets into the "greenies" which were given out by doctors and trainers to everyone for years and years (they were nothing more than amphetamines), players hit the field ripped on cocaine throughout the 80s, and steroids caused a big scandal in the late 1990s and early 2000s but if you don't think athletes were using 'roids in the 70s and 80s when it was perfectly legal and not looked down upon at all, then I got an Asgardian bridge to sell you.
And while this particular "pitching on LSD" story is indeed entertaining, it is only a part of this film, as it only takes up a small part of Dock Ellis' life and career. In a time when civil rights was constant front page news, as this country tried to get itself out of the horrible doldrums of segregated living and legally sanctioned racism, Dock Ellis used his platform as a major league ballplayer to promote not only "blackness" but the idea of self worth, as he refused to allow himself to be put into a nice, neat little box by the media and the culture at large. He acted the way he wanted, spoke his mind, expressed him via fashion and language, and as such he became an iconoclast among his contemporaries, an important figure not just in professional sports but in American life as a whole. "No No: A Dockumentary" does a wonderful job in telling this person's life story and conveying why it is important for this story to be known.
Fascinating and well made, you can watch "No No: A Dockumentary" right here on the Netflix.