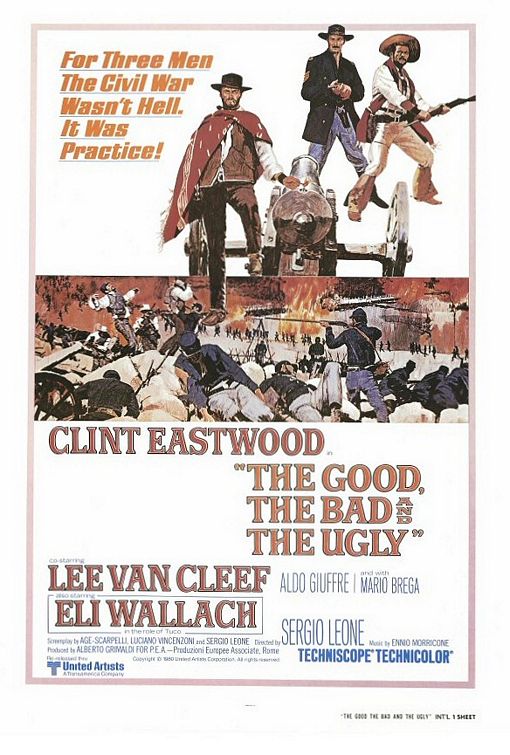 "The Good, The Bad and The Ugly" is pretty much my favorite movie of all time. So there you go.
What? That's not enough to make you want to drop everything right now and watch this masterpiece? Sheesh. Okay then, how about this lil bit from this piece I wrote on this movie back in my Examiner days:
"The Good, the Bad and the Ugly is a perfect storm of movie making awesomeness. First, the movie has a feel completely different from the westerns that came before it because it is not just a western, it is a spaghetti western, made by an Italian director with an Italian-Spanish production crew. Leone's films actually have more in common with the French New Wave movement than they do with the Hollywood-produced westerns. Secondly (and this ties into the first point), the film soundtrack by Ennio Morricone has become ridiculously iconic. Everyone (and I mean everyone) knows the "wah-wah-waaaaah" refrain, even if they have no idea which movie it comes from. And Morricone's scores (starting with A Fistful of Dollars and continuing with For a Few Dollars More) were incredibly unique. His mix of traditional orchestral instruments with electric guitars, fiddles, whistles and singing had not been done before, and as a result, it adds another level of ingenuity to Leone's movies. Third, Leone's direction itself is quite stellar, and he had his own style that translated beautifully to this genre. A key to making a western is the landscape shot, a nice wide shot showing off the natural terrain of the land. Leone gets plenty of epic landscapes, but wisely juxtaposes these wide shots of nature with extreme close ups of people's faces (and not just any bunch of faces but some of the ugliest, wrinkliest, weirdest looking faces possible). Leone was also a master of creating tension; just check out the scene where Blondie is alone in his room, cleaning his gun, while Tuco and some friend try to ambush him. Or any of the public hanging scenes that literally comes down to the last second."
THIS MOVIE IS SO GOOD! There you go, a little bit of internet nerd rage style commenting on what you should see this and we should be all good to go.
So what this movie right here on the Netflix Instant and enjoy what is an absolute classic.