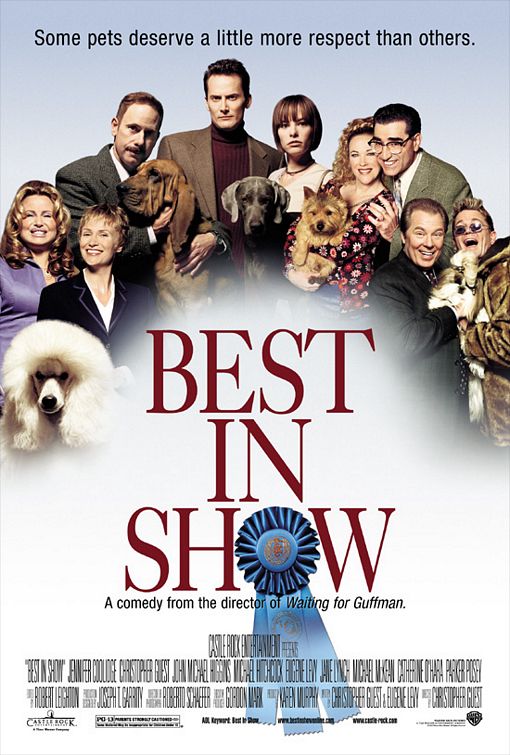 As heard in episode 175 of Cinema Crespodiso.
"Best in Show" is a Christopher Guest mockumentary about a number of different dog owners and their shared dream to have their dog named "best in show" at the Mayflower Kennel Club Dog Show. But just because this is a "mockumentary" doesn't mean the movie mocks these people; all the different dog owners have their own little quirks and stories and these things are meant to be comedic, but the movie never looks down on them or belittles them. There is a fine line between portraying these kinds of behaviors in a comedic way or a mean spirited way, and Christopher Guest has always shown the class and restraint to embrace his dopey characters and love them.
And that is key because in watching "Best in Show," there is a quality of "lovable losers" so to speak, they have dreams and goals and hobbies and they may seem silly but they are sincere about them, and it makes for a very fun and watchable (and rewatchable) movie because the characters are fun to be around and watch react and evolve.
It also helps to have a great cast of highly capable actors doing great work, folks like Catherine O'Hara, Eugene Levy, Parker Posey, Jennifer Coolidge, Jane Lynch, John Michael Higgins, Fred Willard, Bob Balaban, Larry Miller and Michael McKean. And Guest is one of these people who just has a way with improvised comedy, as much of the dialogue was improvised, giving the movie a much more naturalistic feel, which goes a very long way in helping to sell the faux documentary conceit, which in the end is actually done amazingly well. Everything from the camerawork to the editing to the characters, it all comes together in such a way that it does feel like a documentary capturing real people doing real things, even if those real things include weird stuff like having a joint therapy session with the dog on a tiny couch.
Check out "Best in Show" right here on the Netflix Instant or any other way you can get it and enjoy the ridiculousness.