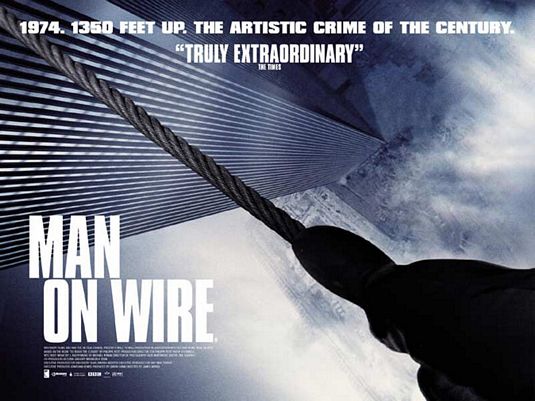 "Man on Wire" is a fantastic documentary about a French mime and juggler and all around lover of life who decided in 1974 to tight-rope walk between two buildings. But not just any two buildings. The still-under-construction World Trade Center towers in New York City. Just look at that poster right there and imagine that's you, on a high wire, over 1,300 feet in the air, with no net or tether. It's just you and the wind and God. That's what this movie is all about.
And it is great! The people involved in pulling off this feat (because it took more than one person) managed to record a good amount of their time and efforts and practices, so we actually get a lot of first hand look at this stuff, and then the whole setting up of the wire in the middle of the night plays out like a heist movie because they didn't get anyone's permission to do any of this, they just showed up with equipment and snuck their way up. Crazy.
This is just a spectacular, award-winning documentary and if you haven't seen it yet, here is your chance as this movie is available here on the Netflix Instant Watch. Enjoy!