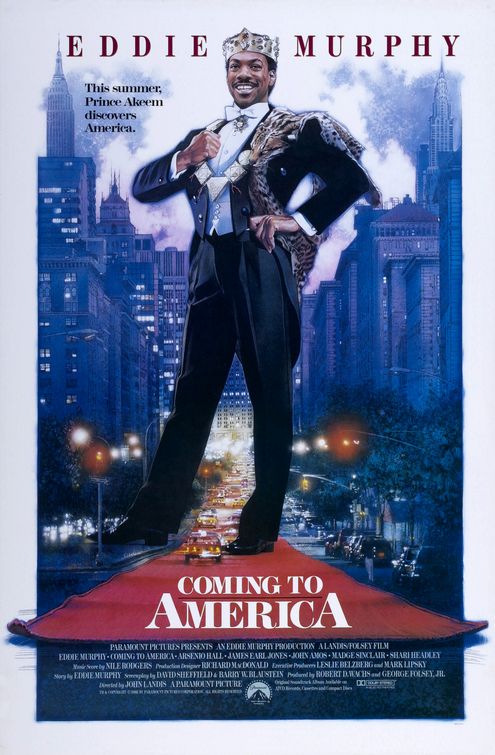 As heard in episode 182 of Cinema Crespodiso.
"Coming to America" is one of those movies we gotta show the kids so they can see that not only was Eddie Murphy once the funniest person on the planet but he also made damn good movies. The man has earned the right to do with his time what he feels and make whatever movies he wants to make, but let's all be honest with ourselves, something happened when the calendar rolled over to the 2000s and the "good" Eddie Murphy movies became the exceptions and not the rule. He provided a funny voice for an animated donkey a few times, had a small but acclaimed role in "Dreamgirls" and was the best part in the otherwise terrible "Tower Heist." That's it. And he's been in seventeen movies since the year 2000. Not a good average.
So put on "Coming to America" and tell those twenty-somethings and younger to pay attention to the incredible array of characters he portrayed years before the fat suited Klump family, and more importantly, how good this guy is at being funny and also carrying an entire movie on his shoulders effortlessly, selling the actual emotional story of it all, striving in every way imaginable way to make this movie as good as it could be. 
And "Coming to America" is better than good, it is downright great. The story of an African prince (Murphy) who rejects the arranged marriage set up for him by his father (James Earl Jones) and goes to New York City to find himself a suitable bride. Joined by his right hand man Semmi (Arsenio Hall), he hits the streets of Queens and attempts to blend in as a foreign exchange student, even gets a job at a fast food joint, and discovers a brusque version of America all while trying to find and then woo the perfect lady. With a great cast, a solid story written by Murphy, and directed pretty much perfectly by John Landis (reteaming with Murphy five years after their mutual hit "Trading Places"), this is one of several movies that will always stand as testaments to the innate abilities of Eddie Murphy, something that America obviously took for granted when he was cranking 'em out in the 80's and 90's and we all now miss as we've been given a steady stream of children's movies which have mostly been just not good at all.
We'll always have "Coming to America." Watch it right here on the Netflix Instant (or find some other way to watch it and do that because it is a near thirty-year old classic for a reason).