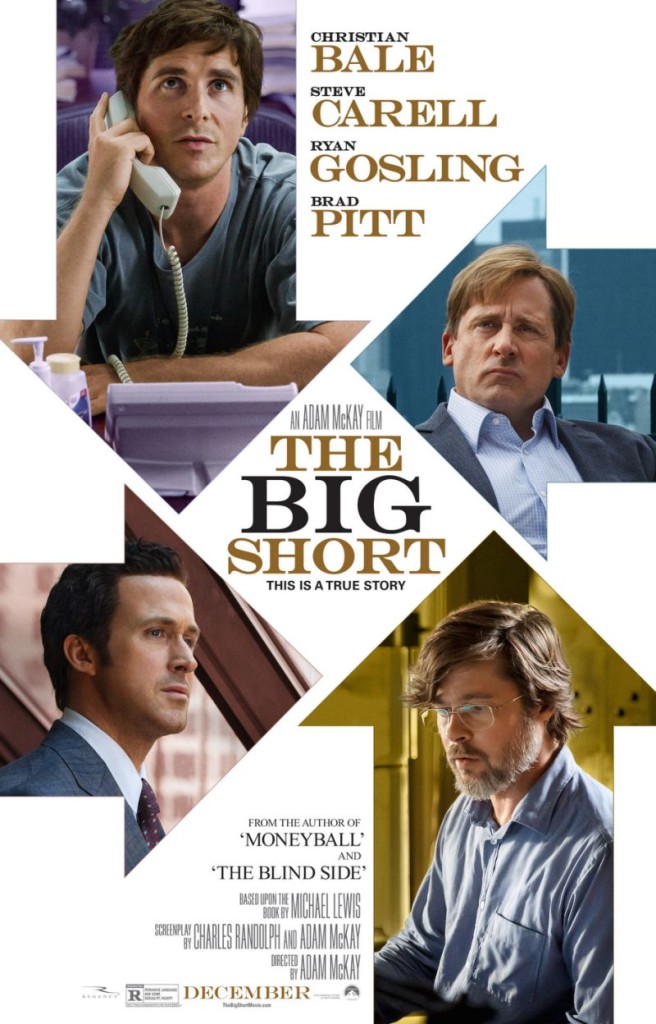 As heard in episode 186 of Cinema Crespodiso.
"The Big Short" was one of the surprise movies of 2015, an ensemble drama with streaks of dark comedy slashed throughout it, focusing on the lead up to the big financial meltdown of 2007 and 2008 triggered by the subprime loan market and investors betting against bad mortgages, brought to life by the director of "Anchorman: The Legend of Ron Burgundy" and "Talladega Nights: The Ballad of Ricky Bobby," and right when no one was looking, BAM, this thing came out with a wallop, making an impression by telling a complicated story in an entertaining and accessible fashion and also doing so with not only humor but a sense of righteous anger at those many people responsible for letting such a good thing turn into such a nightmarish shit show.
Of course, since we are talking about Adam McKay we should remember he also directed "The Other Guys," a movie in which the ultimate villain was a "Too Big To Fail" bank that didn't pay for its crimes while some fall guy took the blame, and then the final credits are used to make a presentation on the rising income and wealth inequality in America. So in hindsight the trajectory makes sense.
From my original review of "The Big Short" from the beginning of this year:
And despite how this is all based on reality and it stems from a national and global event in which millions of people lost their jobs and their homes (and being told that 40,000 people die in this country each time the unemployment rate goes up by 1%), this movie is still quite entertaining. Each actor is doing great work, and though this is a drama, Adam McKay can't make a movie that doesn't have humor in it, it is just in his DNA, and there are more than a few moments of levity sprinkled throughout this movie to make sure it wouldn't just depress the holy hell out of you, because if you are paying attention to what happened, and especially to the lack of criminal justice in the fallout of this mess, this stuff should depress you. "The Big Short" expertly shows us how the financial regulators are in bed with the financial institutions they are supposed to be regulating, how the credit agencies tasked with monitoring the viability of these institutions give out top ratings to these companies no matter what out of fear of losing their business, how entry level officers of mortgage lending companies targeted minorities and low-income families for these risky loans just so they could make extra money, how this all happened because everyone was looking out for their own self interests.

Okay so it is still a bummer of a movie, but an entertaining bummer, and one that more people should watch, because then maybe some more people will become angry, and they will take some sort of action, perhaps by holding their elected government officials accountable, openly questioning why these banks haven't been broken up, demanding to know why they get to profit off the backs of the taxpaying public while we all get stuck holding the bag.
So check out "The Big Short" right here on Netflix and get angry about something worth while already.