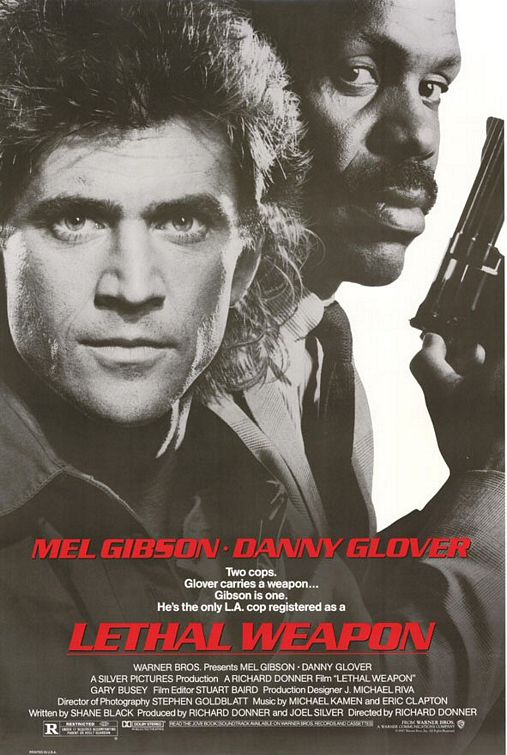 As heard in episode 189 of Cinema Crespodiso.
"Lethal Weapon" is a 1987 buddy cop action comedy from Richard Donner, who directed the original "Superman: The Movie", off a screenplay from new hot shot on the block screenwriting whiz kid named Shane Black, and packed with established actors either continuing their rises or using this movie to get back on track, and to top it all off, it is set during Christmas, which makes this a fun yuletide double feature along with "Die Hard."
Featuring Mel Gibson way back before he had that shall we politely call it public relations disaster that has pretty much stained him forever it would seem (though with several new projects either in the works or already out, he appears to be on the verge of something of a comeback), "Lethal Weapon" soars on the strength of the rapport between Gibson's overly competent yet depressed and suicidal Martin Riggs and Danny Glover's on the verge of retirement Roger "I'm too old for this shit" Murtaugh, as they start the film in typical "buddy cop movie" fashion as anything other than buddies, and they slowly yet surely gain respect for each other as the work to solve the case of the deal girl and how she is connected to a government backed drug dealing operation gone native.
There's plenty of action, including a wild fist fight between Gibson and Gary Busey's Mr. Joshua character, a bad ass dude in his own right, but it is the character work and the humor that makes "Lethal Weapon" so memorable and watchable, and explains why they tried so hard over and over to get that magic right again. And all these years later, there's a "Lethal Weapon" TV show about to air, and Shane Black is talking about somehow making a fifth movie, and all we can do is marvel at what started as a simple idea for a cop movie turned into an honest to goodness franchise of epic proportions.
See where it all began and watch "Lethal Weapon" here on the Netflix Instant.