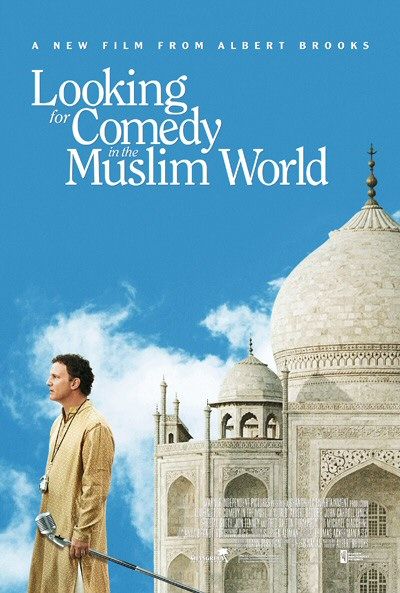 As heard in episode 192 of Cinema Crespodiso.
Comedian Albert Brooks has only directed seven feature length theatrical motion pictures during his decades-long career, and the most recent of these movie is "Looking For Comedy In The Muslim World," released in 2005 in limited screens and to mixed reviews. Making far less than its budget at the box office, this comedy came and went without much of a blip on the old cultural radar, which means most likely you reading this now have yet to see this particular film. Obviously, I am here to tell you that this is exactly what you should do. The time is perfect to discover this little movie that went largely unnoticed but now just sits around waiting for someone to click on it.
In "Looking For Comedy In The Muslim World," Brooks pretty much plays himself, albeit a version of himself that would be asked by the United States government to do something, anything, as opposed to real life, in which they probably wouldn't ask him to do anything other than a couple of USO gigs. In this movie, the State Department deploys him to India with two handlers and a small budget, along with orders to whip up a 500-page document on what makes Muslims laugh. Brooks takes the job, heads to India, and of course cultural misunderstandings and clashes ensue.
Both a story about discovering one's self through interactions with others as well as a philosophical rumination on what makes comedy work in the first place, this is a brisk and fun movie, with a typically agitated Brooks at the center of it all, his various neuroses and hang ups played for laughs, somewhat embarrassed that his most famous role is that of "a talking fish in a cartoon." Ultimately the movie is not nearly as profound or deep as the initial set up would have inspired, but with this expectation taken away, this is a surprisingly pleasant comedy that's fun to watch.
See for yourself and watch "Looking For Comedy In The Muslim World" here on the Netflix Instant.