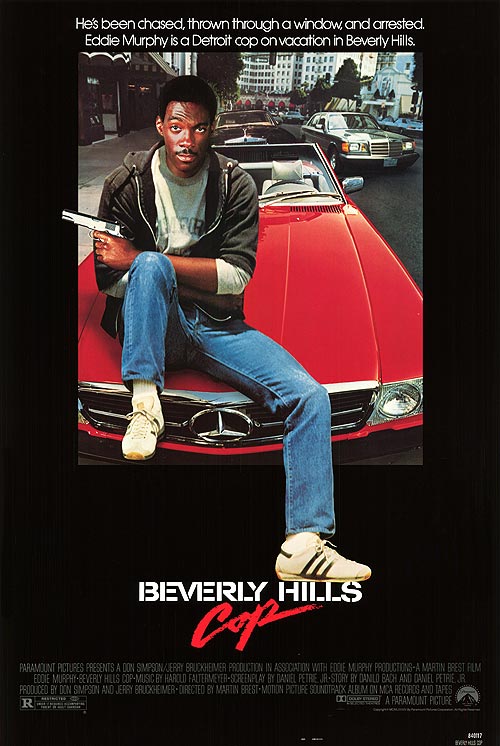 As heard in episode 193 of Cinema Crespodiso.
By 1984, Eddie Murphy was already extremely popular, having been credited with saving the then-fledgling Saturday Night Live television program and having appeared in prominent co-starring roles alongside Nick Nolte in "48 Hrs." and Dan Ackroyd in "Trading Places," but when one of the most popular R-rated movies of all time came out called "Beverly Hills Cop," Murphy was elevated instantly to worldwide mega star.
Everyone loved this action-comedy tale of Detroit PD Detective Axel Foley going to Beverly Hills, California to track down the people who murdered his friend, and ruffling many uptight feathers along the way to our collective delight. It became the highest grossing movie of 1984, and remained the highest grossing R-rated movie of all time until "The Matrix Reloaded" came out almost twenty years later. And it is launched two sequels and a plethora of Eddie Murphy movies for years to come.
Of course now in this foul year of our lord 2016, Eddie Murphy isn't the same shining star he was when he started out. His long and storied career has many critical and commercial hits, but is also littered with a few flops and bombs, leaving people wanting more "Dreamgirls" performances from him and much less "Meet Dave" types. And younger generations, the kind that have recently entered adulthood and grew up knowing Eddie Murphy mostly as the voice of an animated donkey and maybe also as Pluto Nash? This week's pick of the week is for these people, because guaranteed there are folks out there stumbling around in the darkness that is life, reaching out blindly, completely lost, just walking right past "Beverly Hills Cop," and someone needs to grab these people by their shoulders and sit them down and say "watch the adventures of Axel Foley!" What better place than here? What better time than now?
So get started on your re-education of the career of Eddie Murphy with the outstanding "Beverly Hills Cop" which you can see for yourself at the good old Netflix Instant right here.