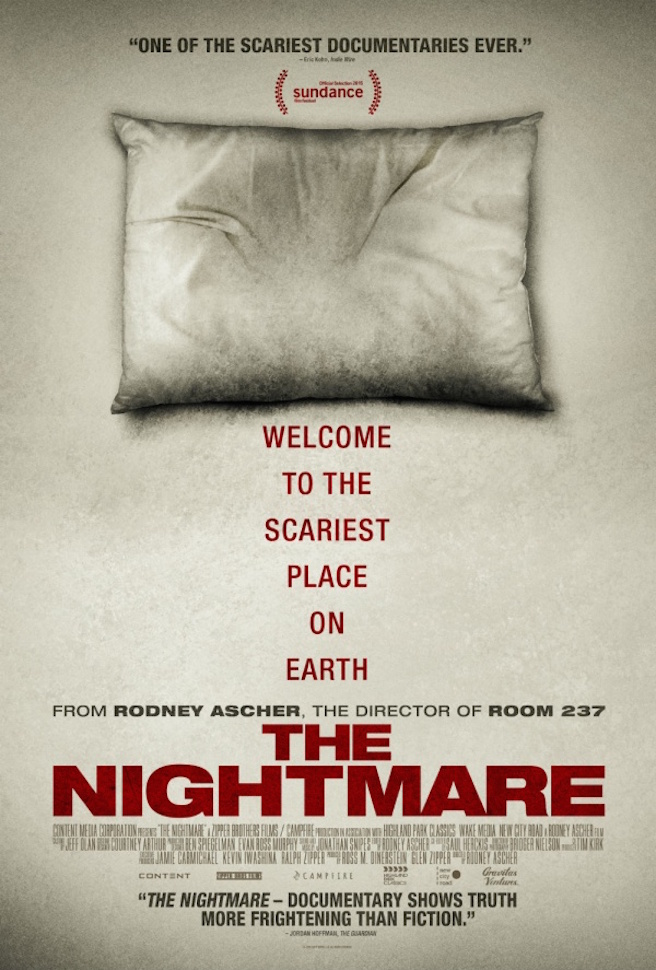 "The Nightmare" is a very solid and interesting documentary about the very real phenomenon known as sleep paralysis. You know how sleepwalking is when you fall asleep but your body still gets up and does stuff? Imagine the inverse of that – you are awake and aware but your body falls asleep, leaving you unable to move. Not only is this scary when it happens and very alarming, it is actually what is going on inside the brain that makes this condition so potentially frightening.
While you are sleeping, your brain is working, doing stuff that it wouldn't normally do when you are awake. But if your body falls asleep and you remain alert, or if the opposite happens and you wake up before your body does, you are going to be privy to some brain happenings that you are not accustomed to seeing. This leads to people seeing all sorts of weird visions and colors, while many often experience seeing or even just feeling a malevolent being in the room, whether it be a demon sent from Hell or a faceless intruder or even aliens from outer space.
Understandably, experiencing this on a regular basis would mess with someone's psyche, and in "The Nightmare," we get the stories of eight different people who have all dealt or are still dealing with sleep paralysis. The differences in their stories are just as fascinating as the similarities, and to really bring home the terror that they all feel during these episodes, there are recreations and artistic renderings of what they experience, and these scenes get pretty intense. Especially for a documentary about a sleep disorder.
Check out this film right here on the Netflix Instant and hope you sleep well afterwards.