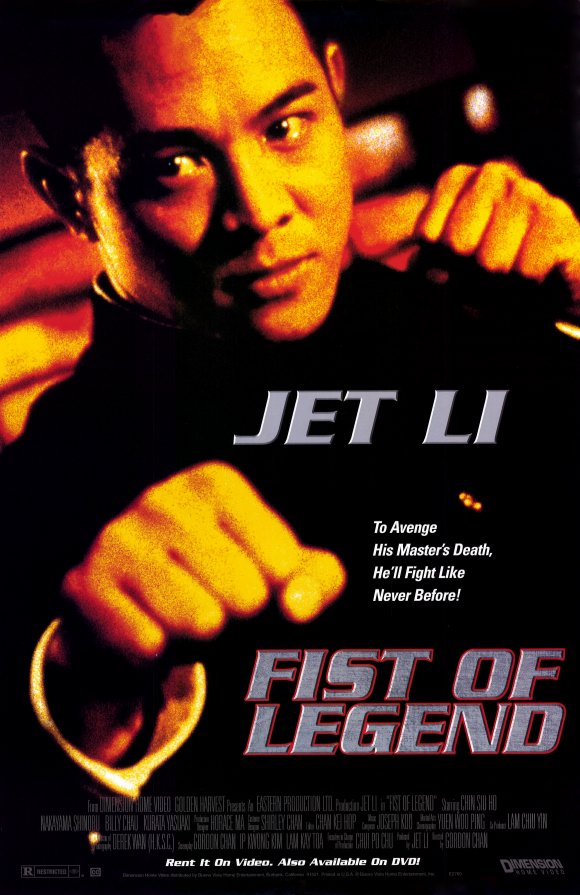 In 1994, Jet Li starred in a remake of a Bruce Lee movie, and that remake is known as "Fist Of Legend," a martial arts extravaganza of a movie, the action tempered with a story of star-crossed lovers and racial tensions during the Japanese Occupation of China leading up to World War II. Featuring amazing fight choreography from industry legend Yuen Woo-ping and Jet Li at his fastest and fiercest, this is a great movie that will forever be remembered as one of Li's absolute best.
Chen Zhen (Li) is a Chinese student studying in Japan, and some Japanese martial arts students try to get him to leave and go back to China. At the same time, Chen is involved in a relationship with a Japanese woman, but they are keeping their relationship secret because both sides would frown upon them because of the political and racial problems between the two countries at that time. And on top of all of that, Chen discovers that not only was his old teacher killed in a fight, but he was poisoned before the fight, which is why he lost in the first place, and Chen is compelled to find the murderers and clear his master's name of any undue disgrace.
The plot is packed and a lot happens, but really we are all here for the same thing, and that is the incredible fighting. Yuen Woo-ping had already been constructing fight scenes for decades by this point, and had developed a style that became instantly recognizable and unique. His style was so impressive that "Fist of Legend" is the movie that got the Wachowskis to contact Woo-ping to do the action choreography for "The Matrix" and immediately after that did "Crouching Tiger, Hidden Dragon," hence permanently etching his name in the great granite wall of martial arts movie masters. Combine this visionary with the unparalleled skills of emerging star Jet Li and you have some beautiful scenes with blink-and-you-miss-them moves, an epic assemblage of fights and battles that just get bigger and better as the movie goes on.
Get caught up in the action, stick around for the story, enjoy "Fist of Legend" here on the Netflix Instant.