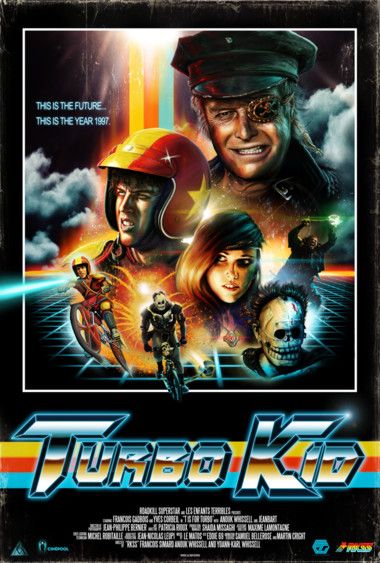 As heard in episode 161 of Cinema Crespodiso.
Mad Max on BMX bicycles. That is the essence of "Turbo Kid," a 2015 post-apocalyptic sci-fi movie about a young man trying to survive in a horrible and dusty ruined future, where friendly faces are rare indeed and he's more likely to run in to blood thirsty and amoral scavenging psychopaths. With a very electronic 80s style soundtrack, impressive low budget special effects (and some wonky CG effects as well), this is a cool, fun movie that is well worth checking out.
This is from my original review of "Turbo Kid:"
Though The Kid really isn't strange, he's the most normal one of them all. He's alone, misses his parents, but he's doing his best, being forced to grow up faster than he should have to because of his circumstances. There is a moment in which he has to burn VHS tapes to get a fire going to stay warm and this is like his having to grow up by burning his childish things, but also kind of says something about the death of video and physical media in general in our current day, as this movie is very much about a bygone era. "Turbo Kid" is really all about The Kid moving past the tragedy that befell his family and becoming a man, one who is ready to travel through the wasteland on his own just to see what's out there.

Being such an obviously low budget movie, it is really cool seeing how much they were able to do with what they had. This thing gets pretty damn violent throughout, and there are a lot of effects of people getting cut up and blood just SPRAYING everywhere, and there are even a few people cut down to nothing but stumps, with absurd amounts of blood geysering out of them. There's more than a touch of "Riki Oh: The Story of Ricky" in some of the over the top ways people get dispatched, which is all quite absurd and glorious in its insanity. There is also some CG effects work which unfortunately isn't as fun to watch as the practical stuff, but they were going for some pretty big things here and there so I get it.

"Turbo Kid" isn't all blood and guts and 80s homages, though, because there is a sweet little story of The Kid and Apple and how they become friends, and this helps balance out the more violent, crazy aspects of the movie because even in this horrible wasteland there is still some sweetness, even if it is a little weird.
Bloody, sweet, and also bloody sweet, "Turbo Kid" is now available for your Netflix Instant watching purposes. So get on it.