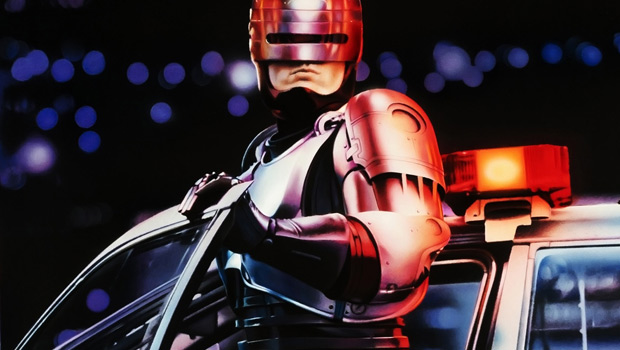 None of your favorite movies or genuine film classics are sacred, not enough for people to not try remaking them in some way, shape or form. We're just going to move on to what really matters in this particular instance, savvy?
So the teaser trailer for the remake-reboot-whatever of the 1987 movie "Robocop" hit the interwebz recently with a resounding plop, as nerd-os and geeks ahoy decided to watch the trailer one time and promptly shit all over it (*ahem*).
Holy cow the Robocop remake looks FUCKING TERRIBLE http://t.co/JE8WLOOhmF like SyFy channel bad. #Robocopnado

— Chris Crespo (@IAmChrisCrespo) September 6, 2013
But really, we all need to take a deep breath and relax and look at this thing objectively. It's a remake of a movie called ROBOCOP. That title is so inherently stupid that it almost kept the movie from being made in the first place. But it got made. And now it's a classic. And the title carries the weight of that with it. And here comes a new Robocop. Not a Robocop 4 (since there was already a Robocop 2, as well as a 3), and not even a continuation of the weird and kinda awful Canadian mini-series, but a whole new straight up "Robocop."
And we should let these guys give us their reimagining of the character and story and whatever. Who cares if this teaser trailer seems specifically designed to tell us that these nice folks just might have got this particular character all wrong, or else is this a wholly new Robocop/Alex Murphy character? It must be the latter, like a parallel universe type of deal. I mean, why else would they show in the trailer that Alex Murphy is not the victim of the intense violent street crime that he was battling on a day to day basis, but instead a victim of a…car bomb? This is a HUGE change.
Look, we're not dumb. We can easily deduce based on this little teaser that the bombing was probably ordered by the corporation that eventually puts him in the suit to keep him alive (by the way, is the company still OCP? [yeah you know me]), so that puts much more culpability overtly into the hands of the evil corporation, as opposed to the original Alex Murphy, who was re-assigned to a much more dangerous police district and ends up getting gunned down horribly, at which point OCP swoops in and picks at the remains (now, did OCP arrange to have high caliber officers like Murphy reassigned to these dangerous parts of town in order to acquire candidates? That's a good possibility. But left to the imagination, not so overt as I am sure this will be, as indicated by this trailer). I guess crime in America was much more of a front page news, hot button issue with people back in 1980's, while these days people are more wary of giant corporations than they are street gangs. Is it possible that the people behind this remake are going this route because they actually know what they are doing?
Samuel L. Jackson's unfortunate hairdo in this movie is an immediate strike against it.
But then they get us back by also including Michael Keaton, Gary Oldman and Jackie Earle Haley. Great casting. But course, a great cast ain't everything.
By the way, this new Alex Murphy also never actually dies. He's alive the whole time, and it looks like the robo-suit he wears (which looks straight out of "G.I. Joe: Rise of Cobra") starts to eventually take over a little, and the movie will be about his mind's battle against the suit's programming (again, evil empire type of shit here). Which is certainly different from definitively killing him and then bringing him back to life via robotics, from which point his mind and soul start to return, thereby infusing humanity into the machine from within. Both approaches say different things about the intersection between mankind and our own technology, but will this one actually say anything other than "corporations = evil!"
I do have to say, for the most part, I kinda hate the look of this Robocop and the weird suit. Without his visor down, he looks very much like a man in a suit, as opposed to a robot-man, and he also doesn't move around like a robot, or like the suit is an sort of physical hindrance. I get that approach, I really do. It is very 2013-2014 of them, just making things more sleek and mobile and "cool" or whatever, but it just doesn't seem to work the same way as the heavy looking Robocop in the original film, clunking down hallways and stomping through the streets, all stiff and slightly awkward because HE"S A GODDAMNED LIVING ROBOT-HUMAN HYBRID, which isn't exactly an everyday type of thing. When this new Robocop jumps off ledges and whips around with his gun like he's in the Matrix, well, it just looks silly. It's a man in a suit. Not a robot cop. But I guess "Man in Suit Cop" just doesn't sound right.
But despite all these things, we should just reserve judgment, actually wait to see the movie and who knows, maybe we'll actually like it. It's not like the trailer for the original "Robocop" was all that great either. They even ripped off the music from "The Terminator." But THAT trailer was not for a remake of a satirical sci-fi classic, it was a trailer for something no one had ever hard of, something original and different and weird. This could have easily been a super low budget Roger Corman style schlockfest, all camp and cheese and ridiculous. But Paul Verhoeven took this B-movie and made the best of it and we got a classic. So that's a little different than this situation, in which we are seeing a trailer of a remake of said classic.
Oh, and this thing is rated PG-13. Forgot about that. Can't have a movie about violent crime be too violent for the kiddies now.
Actually, I stand by original assessment. Fuck this movie.
I'll see you all in the theaters opening weekend.