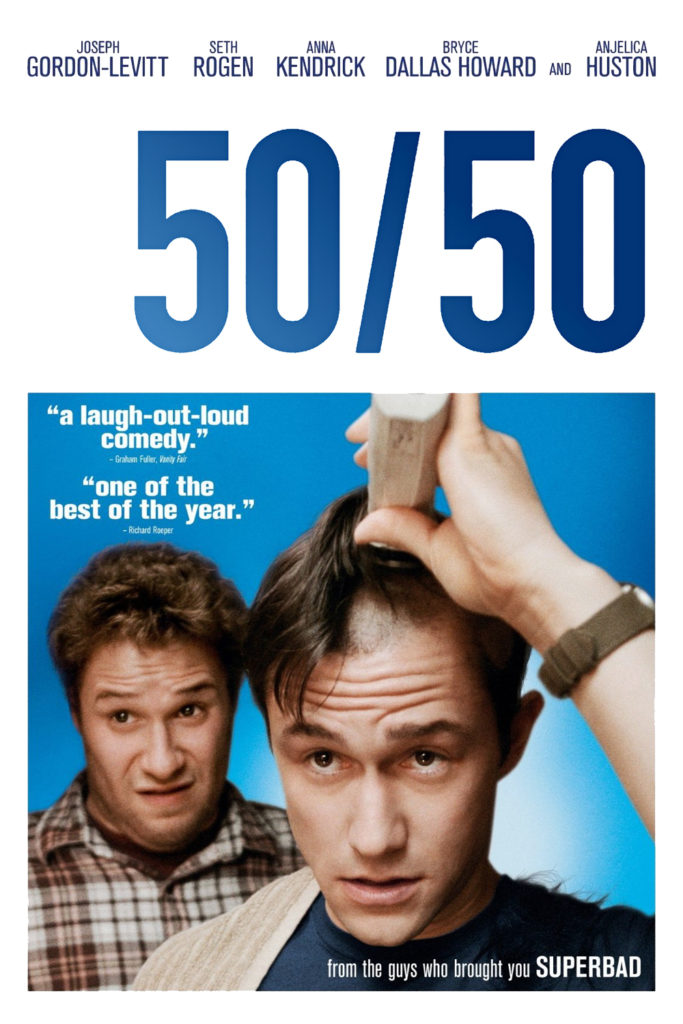 On the list of phrases you are not likely to hear on an average Friday or Saturday night, "Let's go see that cancer comedy" has to be pretty close to the top. That is hard sell for many people, considering how serious cancer is and how nearly everyone has been affected one way or another by cancer. It's not a topic that people want to ruminate on for a couple hours of entertainment. Why would anyone even want to see such a film?
Well maybe because it's actually very well done and strikes an interesting balance between R-rated comedy and sincere drama, sometimes switching between the two very quickly and with surprising ease. This is "50/50," the cancer comedy you never knew you wanted, but it is here and it is very good.
Adam (Joseph Gordon-Levitt) is 27 years old, works in radio, has his own place, works out regularly, and avoids driving because it is the fifth likeliest way to die. He's a very nice guy and even puts up with the shenanigans of his hot but strangely distant girlfriend (Bryce Dallas Howard), the douchiness of his otherwise best friend Kyle (Seth Rogen), and the smothering of his overbearing but well-meaning mother (Anjelica Huston). So when he finds out that he has a rare spinal cancer, he's definitely thrown for a loop. He's a young, healthy guy with no vices, why would he ever expect to get cancer? But alas, that's how it happens sometimes, and it happens to him, and he has to deal with it.
His girlfriend tries her best to stand by him, and Kyle also tries to help Adam through the whole ordeal, and Adam even gets a young, still in school therapist (Anna Kendrick) to try to help him with his situation. But in the end it all comes down to Adam and how he carries himself and handles the whole thing.
What's great about "50/50" is the development put into all of the characters. No one is pure and perfect, no one is outright evil or terrible, they are all somewhere in the middle. Some people may do awful things, but they still struggle to do what's right. Or someone may seem to have their own interests in mind when in actuality they've really been more giving and selfless than is immediately obvious. Even Adam struggles with the way he behaves and how he lashes out at certain people at certain times, and he tries to keep everything in check and put on a good face but that's pretty hard to do when you are dying of a rare spinal tumor.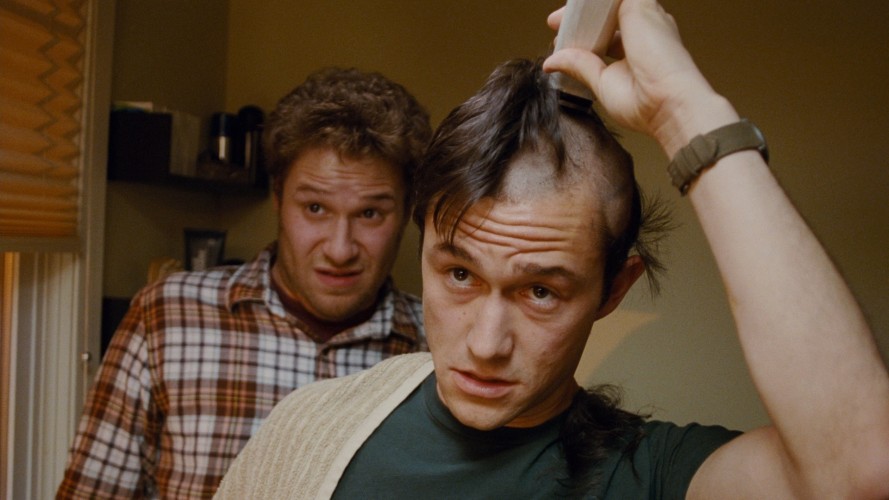 He does get to make some new friends while going through his chemotherapy, though. There's old Alan (Philip Baker Hall), a curmudgeonly sort who likes to share his weed-infused macaroons with his fellow patients, and Mitch (Matt Frewer), the more laid back and optimistic of the two. These three characters develop a nice relationship that acts as a nice counterbalance to the established relationships that Adam already has and which are evolving due to his unfortunate circumstance.
This is an R-rated comedy, and it gets quite risqué at times, especially with Kyle constantly on a mission to meet chicks and get laid, but it also switches into some heavy drama rather deftly and with ease, and sometimes the comedy and tragedy overlap and make something else all together. It's definitely hard to convince someone to sit down and watch a movie like this, but it helps when the movie is actually good like this one, thanks to the well done and hilarious comedy and sincere and heartfelt drama.