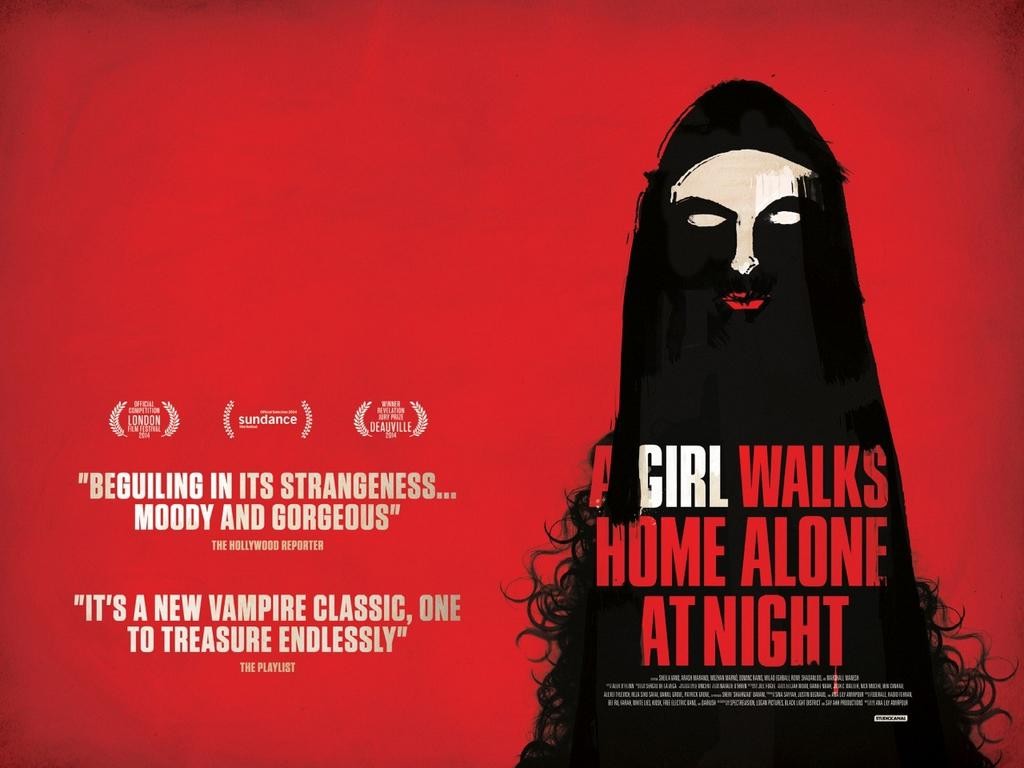 "A Girl Walks Home Alone At Night" is the kind of movie that comes around every now and then and reminds us that original movies can still be made within the confines of well-worn genres. Vampire movies have been made for about 100 years now, so what can be done with the genre now that has not been done already? Well, how about an Iranian vampire movie shot in black and white, with a feminist slant and a dope "sad synth pop" soundtrack, and influenced in equal parts by 1960's Italian-made westerns and 1980's American indies? Because that is what we have here, and it is pretty damn cool.
This story takes place in Bad City, a desolate, dusty and depressed Iranian town which seems to be populated by maybe a dozen or so people, almost all of whom are either dirt bags or criminals in one way, shape or form. There is the local pimp (who doubles as a drug dealer), the town's seemingly only prostitute, a vapid rich girl only interested in partying, a junkie widower, and the junkie's son, who seems to be a normal, straight laced dude for the most part until he comes across a stash of drugs that he decides to sell for himself to make some money on the side. This last fella is Arash (Arash Mirandi) and despite selling some pills, he comes across as the most honest person in town.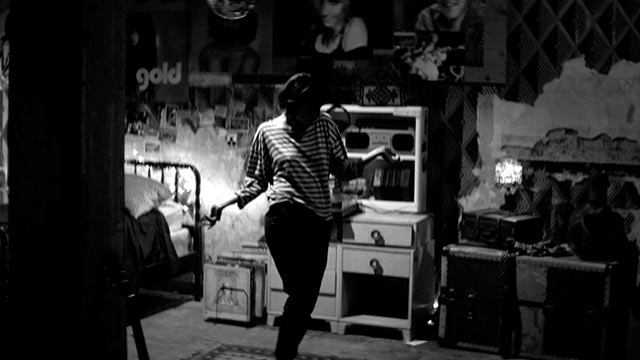 Which is why meeting him complicates matters for The Girl (Sheila Vand), a loner who hits the streets at night stalking people wordlessly. You see, The Girl is actually a vampire (a hipster vampire but a vampire nonetheless), and on top of that, she seems to be a vampire with a social agenda, setting her sights on the criminal element of Bad City and using them as her food source. The misogynist drug dealer, the pathetic junkie father, these are the people she is fine with killing, whereas she is more likely to let a young boy go unscathed, but not before warning him to be a good boy, attempting to scare him into growing up to be a more honorable man than the examples provided to him in this shitty town. But when The Girl meets Arash, she doesn't see a criminal (though he does some illegal stuff) but instead sees a fella who seems nice enough, one who doesn't fall immediately into the same categories as the other guys in town. No, he actually seems respectful and shows potential for being a good person, and because of this, The Girl can't bring herself to kill him right away, and instead they develop a strained friendship.
As alluded to earlier, this is not a typical vampire movie at all. Sure there are a few vampire kills, with the traditional neck bites and blood sucking and such, but that's not the driving force behind this thing. Like "Only Lovers Left Alive," this movie is just as much about a depressed town and it's remaining inhabitants, struggling to survive and somehow even thrive in such a horrible place, a place in which a killer can go around taking people out and seemingly no one notices. The Girl rolls through the streets on a skateboard, right down the middle of the road, with her traditional chandor flapping in the wind behind her like a cape, and there is not a soul in sight. She is alone, the physical loneliness doubling down on her emotional loneliness, because how is a vampire to relate to other people? Yet she remembers what it was like to be human, and obviously something deep inside her yearns for that human connection, but can she actually feel it anymore? When she puts on some music for Arash, is that an attempt to get that feeling back? An attempt to connect with someone through the power of music?
"A Girl Walks Home Alone At Night" is a pretty straightforward and relatively simple movie, not necessarily striving for great profundity but instead just have some resonance in the way the characters interact and what they stand in for. Mainly, it is kind of hard not to see this as a feminist kind of movie, what with The Girl being the most powerful and emotionally complex character in the story, one who goes around killing the "bad" male characters, while sparing the life of the "bad" females and issuing a warning to a young boy to be good. Hell, with the Iranian background the historic ill treatment of women within the Middle Eastern cultures, this is almost a lashing out at the men who view women solely as property to be exploited and not as actual honest to goodness human beings. So here comes The Girl as an avenger, putting the men in their place, especially since they are morally inferior to begin with, weak people with either guilty consciences or no conscience whatsoever.
Being the feature film debut of writer/director Ana Lily Amirpour, "A Girl Walks Home Alone At Night" shows a ton of promise and potential. Despite being such a small movie, this story is told with supreme confidence, that of an artist who knew exactly the kind of movie she wanted to make. The style of the film is very distinct, the black and white cinematography is gorgeous, the characters are distinctly drawn out, the movie has all the hallmarks of a born visual storyteller, one who obviously loves movies and whose love of movies can be seen in almost every immaculately composed frame. Unafraid to slow down the pace, this movie takes it time to unfold and that slow rhythm suits the mood of this piece perfectly.
This is a pretty damn good movie, one that seemed a little lightweight as I watched it but has managed to stick with me a little afterwards, enough so that I want to eventually watch it again to see what else I may be able to pull from this story and from this movie, and I am definitely looking forward to whatever Amirpour comes up with next. Nothing better than seeing the emergence of a new, exciting filmmaker.