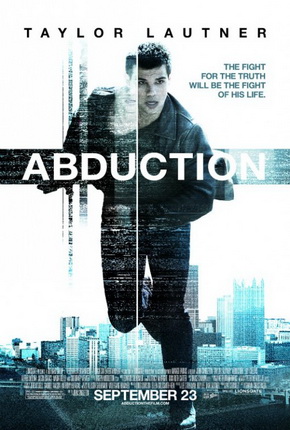 A young aspiring action star turns to a director of usually solid b-movies to help launch his karate-based, abs-and-chest-at-the-forefront career as this generation's Jean Claude Van Damme. The result is a lousy mess of a movie with bland action, bad acting and a boring story, with the aspiring actor's future looking a little grim.
This actor, of course, is Twilight's Taylor Lautner, and the silver screen has not seen such an inept dramatic performer is quite a long while. He has all the charisma of a deadly black hole, reads his lines with the inflection of a robot, and makes the aforementioned Van Damme look like Daniel Day-Lewis. Meanwhile, director John Singleton burst onto the Hollywood scene with the excellent Boyz n the Hood, and while he hasn't made anything as good as his first film, he still has a resume loaded with entertaining and well done movies. So what went wrong? What happened in his recent six-year hiatus that made him go from the perfectly fine and entertaining "Four Brothers" to this abysmal piece of malarkey?
In "Abduction," Lautner plays Nathan, a high school kid with reoccurring bad dreams and rage issues that he is learning to control. He surfs on the hood of a car, gets wasted at a huge house party (waking up shirtless on the front lawn the next day), crushes on one of his neighbors and classmates, and basically acts like a typical movie high school douche. But he suddenly finds out that his parents are not really his parents and just as he confronts them about it, some people come along and kill them and Nathan is on the run, trying to find out who he really is and what happened.
So it is basically "The Bourne Identity," just with a less focused plot. Nathan spends a lot of time running from location to location to hide from whomever is chasing him, but none of this is exciting or interesting in any way. These chase scenes are so rote and cliché ridden, there is nothing that makes them stand out from your basic television show action scene. Lautner gets to show off his karate skills here and there, but not enough for him to come across as a real bad ass.
The rest of the story involves Nathan's real father and how he was involved with the CIA and how there is some list out there of CIA agents who sold national secrets to the enemy and someone is trying to kidnap Nathan to hold him ransom for the list and Nathan has the list all along without even realizing it and oh my god who the Hell cares?!? The plot mechanics of this story are so incredibly half-baked and boring, I can't believe people read this and thought it would make for an entertaining or interesting movie. It's a mash up of a bunch of other plot points and ideas, borrowing heavily from the aforementioned Bourne films, "Mission: Impossible" and "Teen Wolf," and nothing good is done with this pillaging of ideas. It's a bunch of crap. Boring, stupid crap.
Oh, and there's no abduction anywhere in this movie. No one gets abducted, there isn't one in the story anywhere. So why is that the name of the movie? So symbolic of the rest of the movie as a whole. Crap, I say!