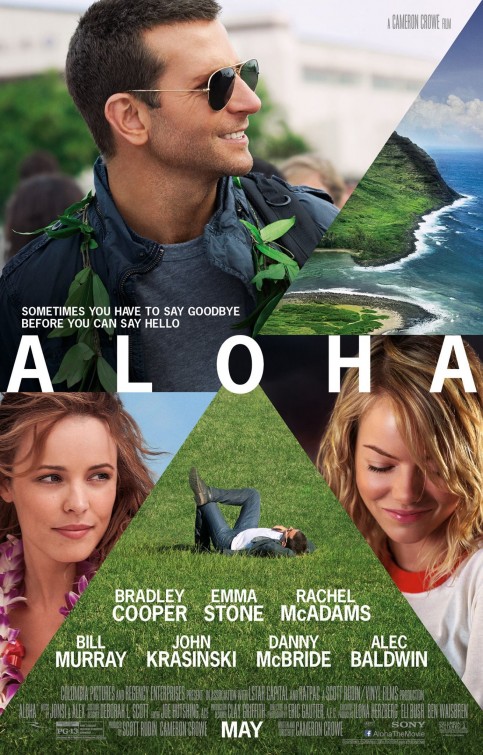 "Aloha" is a movie that is not very good at all, mostly because it can't decide it if wants to be a story about a disgraced military contractor moving on from past mistakes, or about a guy reconnecting with an old love and coming to terms with their new lives, or about a guy meeting a gal and how they fall in love with each other, or about the militarization and annexation of Hawaii by the U.S. government, or the appreciation of Hawaiian culture and how the "white man" keeps tearing it down by making promises to the locals and then betraying them, or about coming to terms with being a parent, or about the U.S. military engaging in private contracts with multi-billionaires. This all combined somehow into one movie and made for a mess of a picture.
"Aloha" starts with Brian Gilcrest (Bradley Cooper) arriving in Hawaii, where he sees some people he hasn't seen in years, namely before he totally sold his soul to be a contractor facilitating arms deals in the Middle East (or something like that). He sees old flame Tracy (Rachel McAdams) and meets her children for the first time, which includes a 12 year old daughter who happened to come in to this world less than a year after Brian and Tracy broke up. Hmmm, I wonder if this will come back around in some way (of course it does, it is telegraphed from the opening). Brian puts on the puppy eyes and sort of tries to get back in with Tracy, though romantic overtures don't seem to be what he's really after, especially since he's kinda buddy-buddy with Tracy's current husband Woody (John Krasinski).
At the exact same time, he's being followed all over Hawaii by U.S. fighter pilot Captain Allison Ng (Emma Stone), who has been assigned to Brian as his watcher, and this is another relationship whose evolution is telegraphed from the very beginning – of COURSE she's going to be super energetic and open to clash with Brian's more closed off and laid back nature, and of COURSE he doesn't take to her right away (because apparently he is totally BLIND) and of COURSE they both start making eyes at each other and smiling at each other's little jokes and witticisms so that at the end they are in a will-they-or-won't-they position that leaves no one on the edge of their seats because we've all seen movies before.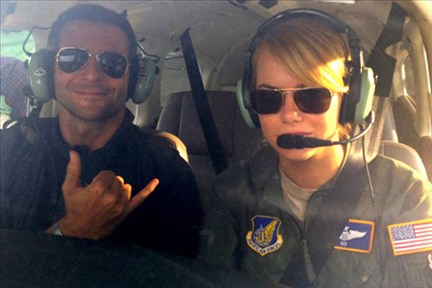 Oh yeah, and there's something about a billionaire named Carson Welch (Bill Murray) who is using his contract with the military to get a satellite into orbit and of course he's untrustworthy because he is a billionaire and again we've all seen movies before. And there's something about how Brian has to get a gate "blessed" by local Native Hawaiians because they need to move some old bones to build their gate, and also there's this kid who keeps talking about Hawaiian myths like Lono and the Arrival, and every time this kid opens his mouth to explain another aspect of these myths that apply directly to Brian's situation, I kind of wanted to barf. Subtlety is not a strong suit of this particular film.
Did I mention how Danny McBride plays a character whose defining characteristic is that he waggles his fingers at all times in the most unnatural of ways? Good thing we got that character in there. So important. And I love McBride, but this was a total waste of his talents (along with the talents of the aforementioned Murray, who seemed to receive the direction to play Carson Welch like every other character he has ever portrayed). Alec Baldwin shows up for three scenes, two of which are used to have him tell Brian how much he hates him, and one of which to have him request "Everybody Wants to Rule the World" at a party. Again, subtlety.
It must be because of how unfocused this story is, but the whole movie comes across as incredibly uninteresting, probably because nothing is developed enough to be of actual interest. By the time Brian is called upon in an emergency to use his out of nowhere genius coding skills to track down and eliminate a Chinese hacker from Carson Welch's satellite operation, it is clear that "Aloha" has totally lost it, unable to pull itself together to make a cohesive story. Was there ever a time during this film's production that there was a complete story that hit all of these beats and plot points and still made sense? Or was this a case of a bunch of talented people following another talented person into a swimming pool of uncertainty, hoping that the story could be salvaged sometime between yelling "action" on day 1 and the editing room, only to find themselves quite literally in over their heads on a movie that they have all committed to and yet can do nothing to improve it?
When one of the very last scenes rolled around and it was an overly emotional moment between two characters who had minimal interaction throughout the movie, I was done. An original movie from Cameron Crowe and starring Bradley Cooper, Emma Stone and Rachel McAdams is very enticing and promising, but not all promises can be kept, and "Aloha" is one hell of a bummer.