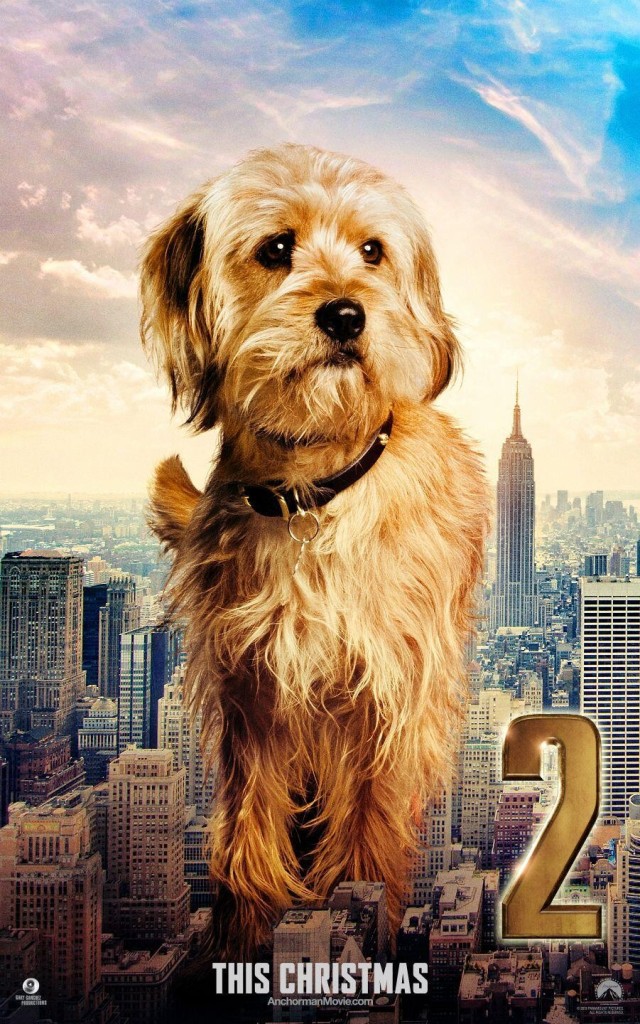 Look, we all know that comedy sequels are never as good as the original. It is the rare genre in which the original is never topped, and more than not we actually get some horrible retreads like "Caddyshack 2" and "Blues Brothers 2000" or cynical cash-ins like "The Hangover" and "Clerks" sequels or worst of all, simply disappointing and uninspired follow ups like "Airplane II: The Sequel" and "Wayne's World 2," just to pick on a few. So where does "Anchorman 2: The Legend Continues" fall on this spectrum of comedy sequels?
(okay, I will make concessions to animated movies, with the "Toy Story" sequels coming to mind, and stuff mixing in other genres like action or horror have more leeway to be different, but the comedy sequels mentioned here are just that…straight up comedies).
"Anchorman 2: The Legend Continues" is actually a little better than all those previously mentioned films, in that it was pretty amusing throughout, with some good genuine laughs here and there, and a couple of surprise cameos that worked pretty great (but also with a couple of cameos that flopped pretty hard). If you did not like "Anchorman: The Legend of Ron Burgundy" then you will not like this, and you may even hate it because it is a lot of the same jokes and character dynamics just turned all the way up to eleven. If you DID like the first film, my gut reaction is that most people will feel the same way when they watch this movie, in that a lot of people will generally like this one but it won't be surpassing anyone's expectations, nor will it likely become another slow-burning cult classic like the original, finding it's real legs when it hit home video. Basically, as far as comedy sequels go, this isn't an abomination or stain on the first film at all, but it's not as good as the first film either.
But at least they did do something different this time around and which I did find interesting (and which may be contributing more to me liking this movie than any of the actual "comedy"), which is that they changed the central conceit of the movie from the "misogynistic and bigoted 70's man confronted by the changing societal norms around him i.e. feminism, civil rights, etc." basis of the first film to a story about 24-hour news channels led to a reckless pursuit of ratings which led to a watering down of the news from actual stories about real events to stories about animals and local car chases and pandering to Americans' sense of patriotism. This is essentially an absurdist comedy remake of "Network," but whereas "Network" was a satire meant to warn people what would happen when large pieces of the media are controlled by huge corporations, "Anchorman 2" is trying to be that spoonful of sugar to help the medicine, with the bitter pill being the loss of journalistic integrity over the last couple of decades thanks to corporate interests controlling the output of news, while the race for ratings leads to higher ad revenues which leads to bigger paychecks, which all leads to complicity at the lower levels to keep putting out pablum and inanity instead of keeping the people informed about what's actually happening of importance in the world around them.
For this reason, it is impossible to call "Anchorman 2" a brainless comedy or even a cynical retread. This is an earnest message, one that doesn't get addressed very often in pop culture because no one wants to look behind the curtain, especially the six corporations that currently control 90% of the media consumed in this country. But here we have a major release, heavily marketed by one of these six corporations (Paramount Studios, which put up the dough, is owned by Viacom, which is ranked number four on the list of largest media conglomerates) because they see dollar signs and financial gains in the making of this movie, and meanwhile the comedy team of Adam McKay and Will Ferrell subversively sneaked in a very hefty message about the dangers of such media conglomerates owning news outlets and succumbing to mindless pap on television instead of demanding actual programming of real substance.
Of course do people want to go to a comedy sequel to get these messages, or do they want to see Will Ferrell say stupid things on top of stupid things? And Lord knows they tried this over and over again, beating this particular horse to death and beyond, so a person's level of enjoyment with this film will be totally relative to their love of these characters and how far you'd be willing to go with this story, which has its share of ridiculous twists and turns that can only be chalked up to go old theater of the absurd. Jokes and comedy is pretty subjective, so while I didn't find this movie as funny as the first, there are surely people out there who found it much funner than I did, and others who found it less funny, yet objectively we can all agree that "Anchorman 2" does stop the comedy when the story beats kick in here and there, including a plot line about Ron's failure to connect with his 7-year old son and the whole aforementioned corporate interest controlling a news outlet thing, and that's not good for a comedy, especially one that gets so wacky and over the top as this one does.
So if you liked the first "Anchorman" then check this one, you may not be totally disappointed, but don't expect a new classic. Then again, when it comes to comedy sequels, this should NEVER be expected. And we all know this by now.