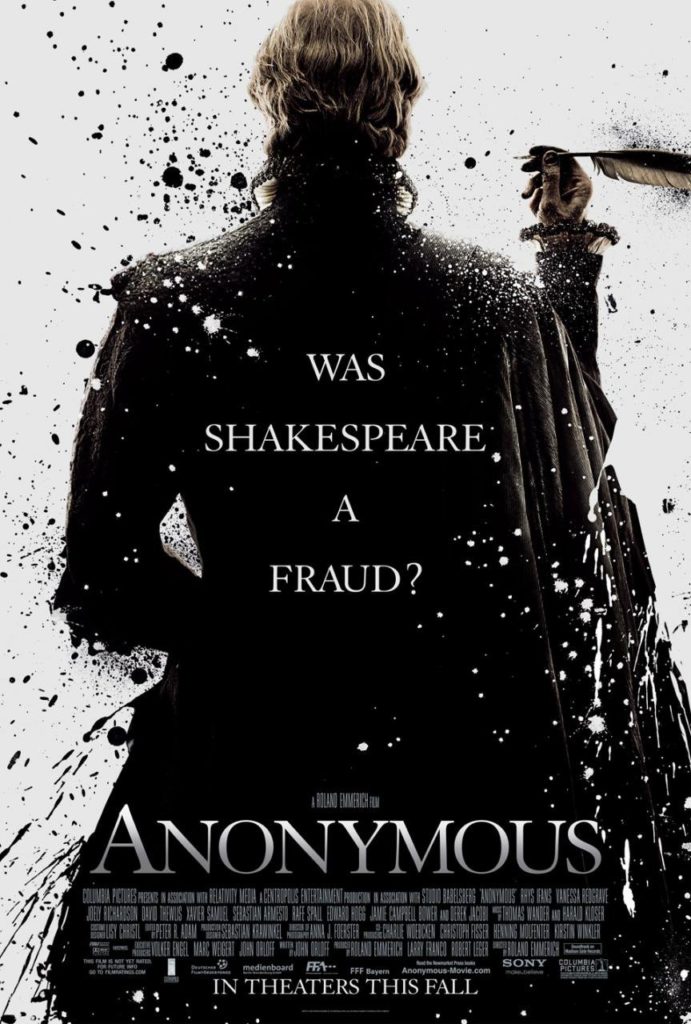 Based on a theory that many segments of the literari think to be ridiculous, and made by a director of films many film critics think to be ridiculous, "Anonymous" is definitely one of the more interesting and daring films of 2011. From Roland Emmerich, director of mega blockbusters such as "Independence Day: Resurgence," "Stargate," "The Day After Tomorrow" and "2012," comes a movie about the complex and many-threaded political machinations of Elizabethan Britain and how the work of William Shakespeare somehow fit into all of it, and not in the way that people would traditionally believe when they think of the timeless English playwright.
"Anonymous" tells a story that goes something like this: with Queen Elizabeth (Vanessa Redgrave) all old and on the outs, a political tug of war ensues to get the Queen to pick a successor. Her immediate aides and advisors pulled for the King of Scotland, knowing that his appointment would secure their further employ in the castle. And they feared that the Earl of Essex would try to claim the throne, being a cast off bastard son of the Queen, and he would dismiss them, take their property and throw them out on their asses. So they did what they could to make sure the Earl didn't take the throne.
Which brought them up against the Earl of Oxford, Edward de Vere (Rhys Ifans), whose own complicated history with the Queen sees him vying for the Earl of Essex to succeed as well, but his manipulation of the Queen had to be much more subtle and secretive. So he decided to use plays and theatrical productions as a way to get the public riled up and in favor of the guy from Essex. So to pull off his plan, his finds a patsy to put on productions of his plays for him. Enter William Shakespeare (Rafe Spall) and his role in all of this nefariousness and how he unwittingly became known the greatest playwright to ever put words to paper.
The story has a lot of layers to it, involving Edward de Vere at three different ages along with Queen Elizabeth, and the family drama and entanglements get pretty crazy when it dives into incest and the whole "my mother is my lover" type of weirdness that goes back to Oedipus Rex and beyond. And then there's the depiction of Elizabethan England as extremely prone to censorship, with writers being locked up in jail with charges of their work being seditious against the throne without any sort of trial or fair treatment. All of that on top of the whole Edward de Vere is the real author of Romeo and Juliet and King Lear and so forth makes for a packed story, and despite the obvious obstacles of throwing all of this in there, it doesn't mean that the story is too dense or overly complicated. Sure there are a lot of moving parts and the viewer has to pay attention to the details to make complete sense of the full picture, but it's all makes for a satisfying and interesting story that would likely benefit from a second or third viewing.
One would think that a director of huge disaster films and action movies would struggle with a $30 million character-based period drama like this, but Emmerich shows that he can apply his particular toolbox of skills to other genres and still make an entertaining film. Using his extensive experience with CG, he managed to recreate 16th century England and make it feel like a real and lived-in place, full of grime, deep shadows and dreary days followed by dark nights, and while I've read that there is a lot of green screen work done in this film, I barely noticed any of it, which is pretty incredible. And since he didn't have to spend time developing a storm or an alien invasion, he was able to develop the characters and the story and it's all done well, thanks in large part to the strong casting from top to bottom.
"Anonymous" and its particular view of this period of history has not been well received by some people (to wit), and there's definitely something to be said for a movie that gets people all rankled up like that, cause it's pushing some buttons and forcing people to talk about things, and really there's nothing wrong with a nice little dose of skepticism here and there – every now and then you have to ask yourself these types of questions, even if the answer does ultimately bring you back to where you started.