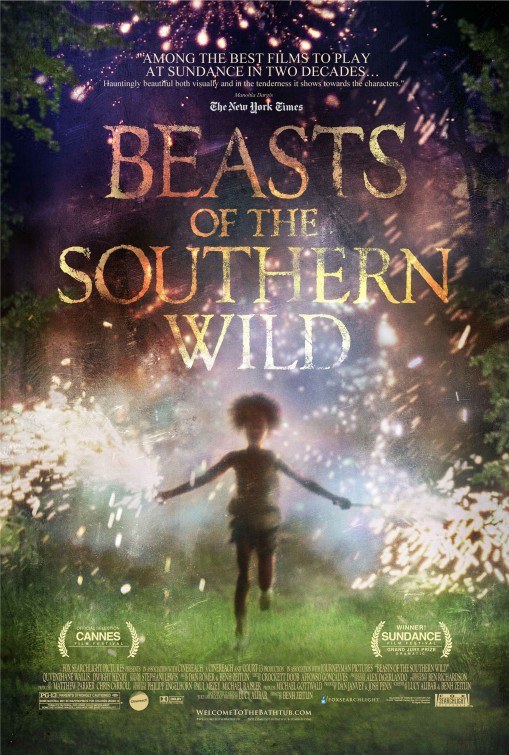 "Beasts of the Southern Wild" is a fantastic movie, the feature-length debut of young filmmaker Benh Zeitlin, made in part with his New Orleans-based film group Court 13 Pictures, and it's the type of unique and strong movie debut that makes people sit up and take notice, that this might be one of our next young exciting new voices in American cinema. And this wonderful thing, birthed outside of the studio system, outside of the box, independent in every way possible, exists as proof that imagination and new art and ambition is not dead, that we can still get something new and weird and great, something as strange and confident as "Beasts of the Southern Wild."
The story centers on six-year old Hushpuppy (Quvenzhané Wallis) and her dad Wink (Dwight Henry), who live in a makeshift home in the ramshackle little town of Bathtub, located on an island south of the Louisiana coast. When a huge storm heads their way, they stay behind with a few other holdouts who choose not to evacuate their homes, and after an incredibly rough storm, the entire town of Bathtub is submerged underwater. The towns few survivors band together and try to continue living in their flooded home, refusing to seek aid or shelter elsewhere. These are people thoroughly accustomed to living on their own and getting by in their own ways, so to them a government run disaster shelter is its own kind of horrible hell.
As if the whole flooded town wasn't bad enough, Wink is dying of some unknown disease, and he knows it but he's trying to hide it from Hushpuppy, but she's far too observant and smart to not notice that something is wrong. So Wink does his best to show Hushpuppy how to live independently and catch fish and eat crabs the proper way, knowing he won't be around much longer. But the problem is that Wink is kind of a bad father. Sure he means well and he loves his daughter, but he's no great shakes at parenthood. He doesn't even live under the same roof as Hushpuppy, he stays in one small little shanty home and Hushpuppy sleeps in a separate jacked up trailer, with her own kitchen and everything, which means she can do silly kid things like turn the kitchen stove on too high and start a nice fire, thanks to the complete lack of parental supervision. But still, despite his flaws, he is her father, and he does actually try to be one, so that's commendable.
What's so great about this movie is how "real" it all feels. Using non-professional actors and real locations (and a very low budget), everything in this movie feels authentic and grounded in a known and sharply drawn reality. But if reality were this entire movie had, it would be too heavy and morose, what with the underprivileged kid and her good-as-dead dad and everything. But it also gets balanced out with a touch of that magical realism, little hints of fantastical elements that give this film a more lyrical and poetic touch, balancing out the sadness with a little bit of wonder and surprise and thoughtfulness.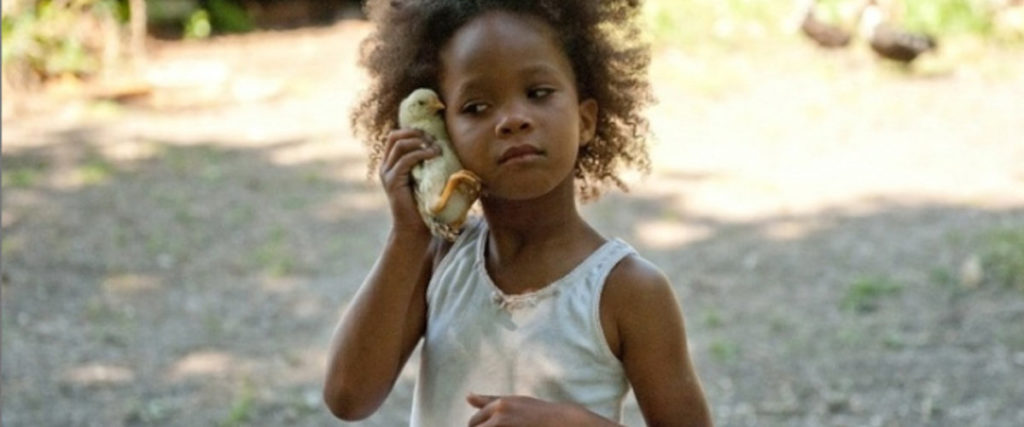 Hushpuppy, in narration, pontificates on the machinations of the universe and how every single piece of the universe, big and small, depends on each other to work. As she wonders about this, the polar ice caps begin to melt, contributing to the storm and flooding that eventually overtakes Bathtub, so as one piece of the world falls apart, it takes out another seemingly independent piece with it. But nothing is independent in the world of "Beasts of the Southern Wild." Sure Hushpuppy at the early age of six is quickly learning how to be an independent person and take care of herself, but she also already knows that she is connected to everything around her, and everything is connected to her. No man is an island, that type of stuff.
With the melting of those ice caps comes the thawing and rebirth of a long extinct species of animal, a giant boar like creature with extra tusks, and when they break free from the ice, they head south, on a rampage, destroying everything along the way, making a beeline for Hushpuppy and her dad Wink. So something is birthed from this seismic event, to go along with the destruction of Bathtub (and presumably many other small coastal towns and villages like it), and it is something fantastic and long thought gone forever, and of course that's pretty much life in general right there, the whole nature of our existence, life and death. Pretty simple but always universally relevant. And when these destructive beasts arrive on Hushpuppy's doorstep, like imminent death, how will she react? Will she be strong enough to face them down and survive?
There are a number of great, wonderfully weird and beautiful moments throughout this movie, whether it be when the town gets together in celebration or when a group of orphaned children come upon a brothel on a floating barge and the love starved working girls inside, there is no lack of strong imagery and powerful emotions powering the whole machine, as every piece of this film does indeed work together in tandem to form a complete and wonderful universe.