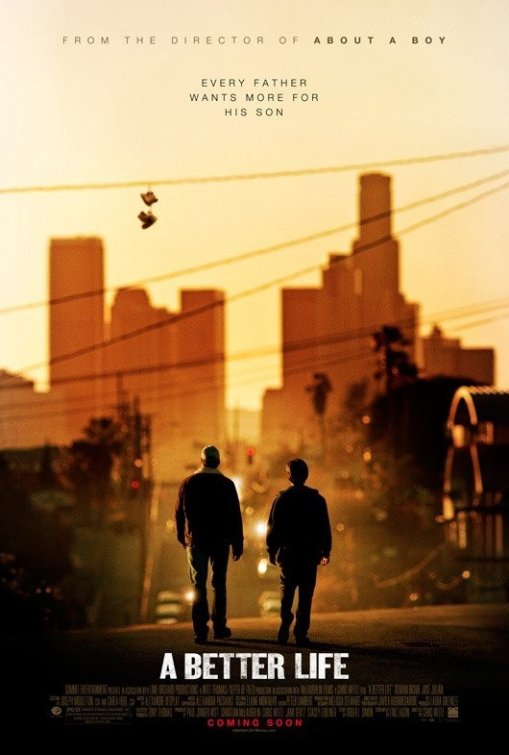 It is said that there are seven basic types of stories, and all movies (and books and short films, etc.) are comprised of any mixture of these story types; basically, there's nothing new under the sun, and we've seen it all before. When someone sets out to tell a strong yet simple tale, it is easy to recall all of the other similar stories we've already seen and heard. So what can be done to overcome this inherent problem in the millennia-old tradition of storytelling? How can a story set itself apart from the myriad of similar stories that have come before it?
How about with some confident direction and strong writing? Sounds easy enough right? But if it was easy, how come we don't have more good movies? Movies like "A Better Life," which tells the story of an illegal immigrant named Carlos (Demián Bichir, Che) who is raising a teenaged son all by himself in Los Angeles, and his story is one of struggle, that's for sure. This guy just keeps his head down and works his landscaping job, but the incredibly long hours keep him from being able to do anything with his son Luis (José Julián), who is getting his life lessons from the local thugs and street gangs and is on the verge of joining up with them himself.
Already there are several things here that are tried and true story tropes, especially after the street gang boom of the 90's, but this part of the story is still handled very well, and it is interesting to see how Luis struggles with this aspect of his community. On one hand, he hangs out at a gang members house and has dinner with their family, and the scene is mostly three hardcore looking gangbangers sitting on the couch with goofy grins watching two young, gap-toothed girls singing karaoke, completely enjoying the pure innocence of the moment, and on the other hand he's not an idiot and knows the end game for most people who join gangs and the extremely violent lifestyle involved (starting with the good old "jump in" initiation ritual).
The main story, however, is about Carlos and how he buys a truck and landscaping tools from his own boss, with the hope of having his own business and being in a position to provide a better home and better opportunities for his son. He goes out on a limb to make this commitment, because as an undocumented person, he'd be driving around with no license, no registration, no nothing. All it would take is a busted tail light to get him sent all the way back to Mexico, but in the end the well-being of his son outweighed this risk. Which makes it an even bigger kick in the balls when the truck and tools get stolen, leaving him with nothing. So Carlos and Luis go out together scouring through the illegal immigrant underworld on a mission to recover the truck and tools, a real father-son bonding exercise for sure.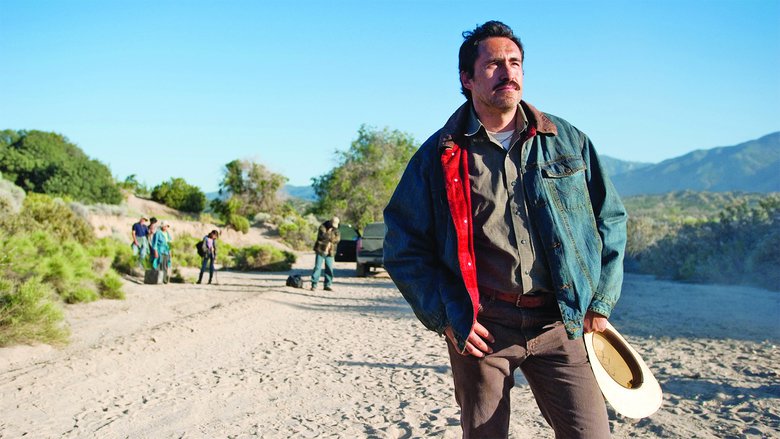 Okay, not only is this story a familiar one, it looks like this is actually an updating of the 1950's Italian neo-realist classic "The Bicycle Thief" (obscure to many now, but at the time was actually considered one of the greatest movies ever made). And like "The Bicycle Thief," which was set in the economically depressed neighborhoods of Rome and showed the seedier underbelly that people like to pretend doesn't exist, "A Better Life" is set in the poorer neighborhoods of East Los Angeles, including a few scenes that were shot in legit gang lands and with what appeared to be very real gang members. The movie succeeds in establishing the community and surroundings as a tangible force in the story, something that Carlos is actually battling against in the fight for his son's future, and like the aforementioned scene with the tough guys and the karaoke kids, this tough, every man for himself society is not without its complicated characters, people who do malicious things with actual good in mind, feeling free to screw over some strangers in order to help some loved ones, and it's this dual development of characters and community that helps make this movie work so well.
There is also the theme of losing one's culture – even though Carlos still remembers Mexico and his old customs very well, Luis was born in the states and is every bit as assimilated as the next kid. And as Carlos watches his son drift further away from him, he also sees the loss of his people's culture. Luis even tells him that he hates the Mexican music he hears. When Carlos takes him to a little Mexican rodeo tucked away in LA, he has to explain everything to Luis like he was from another planet. And how can Luis not be aware of the social stereotype his father fulfills, that of the illegal alien landscaper?
Because you have to remember, the hero of the movie is an illegal immigrant after all, which makes him a criminal, but does that mean he can't try to provide for his child? It's also a credit to the movie that they don't come down on either side of the immigration issue – it's just the backdrop and circumstance for this particular story, and the actual politics of the issue don't matter to these people anymore. It's just all about survival.
When you really boil it all down, the story is kind of made-for-tv material, but very strong acting and good, cinema-minded direction from Chris Weitz ("The Golden Compass," and one of those Twilight movies. The second one I think) make it a worthwhile film. Not every movie has to be a big, epic adventure, and here we have a very real story with complicated characters making tough decision, and it's made well.