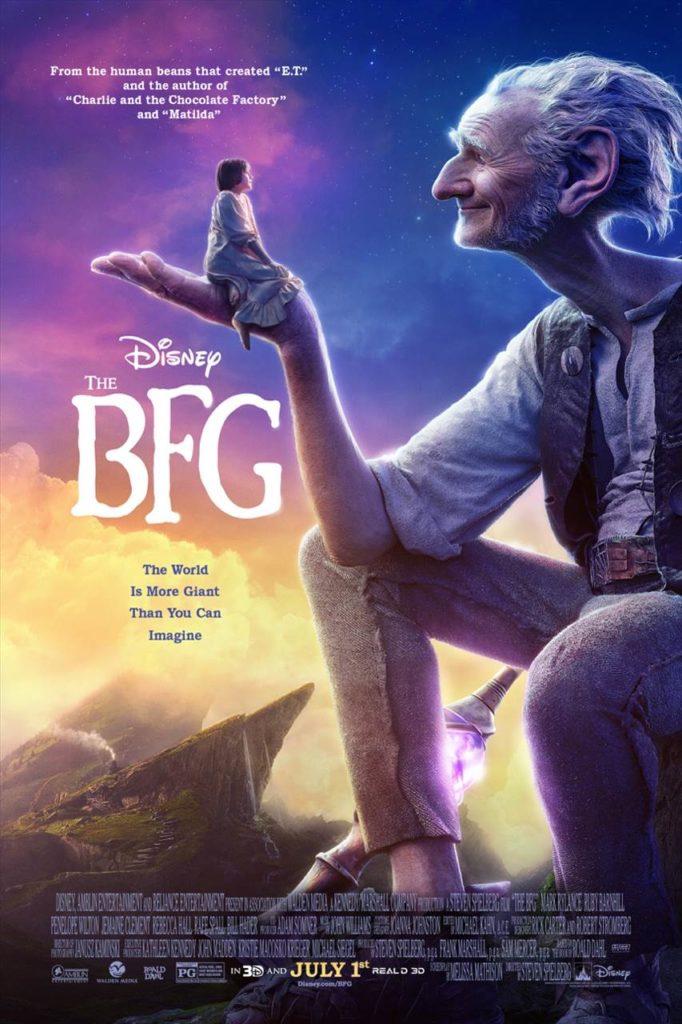 "The BFG" is an adaptation of a 1982 Roald Dahl book of the same name directed by Steven Spielberg and written by Melissa Mathison, and the last time these two made a movie together was back in 1982 with "E.T. the Extra-Terrestrial" so the pedigree of this particular movie is most certainly of a high quality, and as such some bigger expectations are involved because how can they not be? This story of a 10-year old orphan girl and her new friend, a 24-foot giant who collects dreams at the top of a mountain and blows them into children's bedrooms at night, is very imaginative and goes to some surprising places if you are not familiar with the story going into it, and there was definitely potential there for a new children's classic.
But "The BFG" does not live up to those kind of ridiculous expectations. While not an "insta-classic," which is an admittedly absurd thing to expect ahead of time no matter the people involved, it is a perfectly fine film, overall very nice and bittersweet. There is also some darkness and danger, a staple of those great 1980's Amblin movies we all know and love, but the prevailing feeling for the movie as a whole definitely leans towards saccharine, as both the tone of the movie and the story seem designed to elicit awe and delight, two things that Mr. Spielberg loves to represent on film.
Sophie (Ruby Barnhill) is up at 3 AM one night when she hears a noise down the street from her stinky old orphanage, and she sees a giant (Mark Rylance) in the shadows, so the giant grabs her out of the window and whisks her away back to his home in Giant Country, which is some place that literally off the map. Sophie learns that this giant is very pleasant (he just had to kidnap the kid to make sure she didn't go around telling everyone about him), and he spends his days climbing a steep mountain and collecting dreams at the top of it and putting them in jars, and then taking them back to the city at night, where he uses them to give kids nice dreams. So it's all good, except for the fact that this giant is actually the runt of the litter, and his neighbors are all double his size or larger, they are a bunch of vulgarians, and they love to eat "human beans."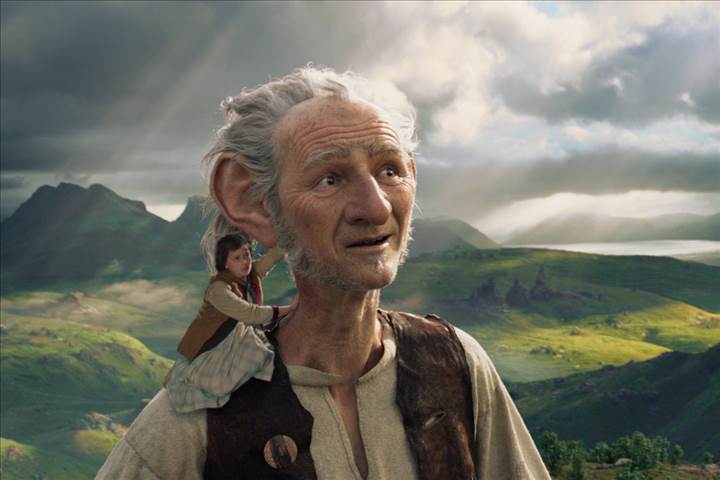 And since Sophie is a human bean, she has to be protected from these monsters. As a result, there are several scenes in which she runs around hiding behind giant versions of things like buckets and furniture as the runt giant tries to get the others away from her without giving away her presence. Of course because this is a Spielberg joint these scenes have a lot of great life and movement to them, expertly staged and shot, and as thrilling as this kind of stuff can get. On a technical level we are talking about people who are the masters of their crafts and doing the best they can to bring these things to life, which means there is a lot of great effects work that people don't even notice because it is done so well it just blends right in to what you are watching. The visual representations of the "dreams" that the giant collects and uses in his weird dream alchemy is gorgeous to look at and there are scenes of the giant interacting with people and people sized stuff that are very funny to watch.
Yet there is something missing in this story. Since the movie is called "The BFG" we do get a good idea of who the giant is and we get some of his backstory and as he is an outsider among his own kind, he becomes sympathetic and likable, but Sophie doesn't get the same kind of development, despite having the same amount of screen time. She's just a plucky and precocious orphan, the kind that only seems to exist in movies set in the UK. We have assumed empathy for the kid because she's an orphan and that sucks, but all things considered it doesn't seem to be getting her down. She dislikes the orphanage in general more than she seems to miss her dead parents or resent not having any family. Like the movie overall, she's nice but doesn't have much else going for her it would seem.
At least "The BFG" is not dumb or lazy, it was certainly made with love and care by people who wanted to give a wonder filled big screen interpretation of this children's classic to the people, and while it may not be amazing, it is still effective.