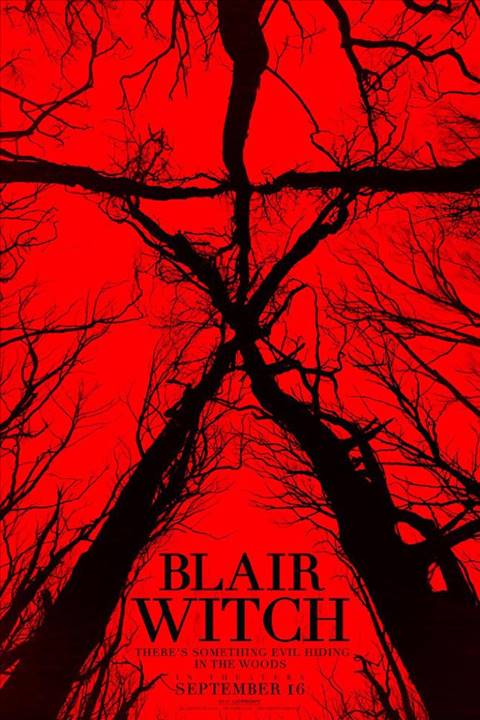 "Blair Witch" is a sequel to one of the breakout horror hits of 1999, "The Blair Witch Project," the super low budget movie that popularized the "found footage" genre, which unfortunately persists to this day. So if we are going to get another found footage horror movie set in the woods, might as well go back to the original and pay respect by just coming up with a sequel that builds off the mythology of the first in interesting albeit confounding ways.
(As "Blair Witch" chooses to totally ignore "Book of Shadows: Blair Witch 2," then we shall as well.)
James (James Allen McCune) sees a YouTube video that claims to be more found footage from the Burkittsville, Maryland woods in which people have reported strange things for years, and which is the same woods that a trio of documentary filmmakers became lost forever, the footage of their horrors and tribulations being found by someone and coldly edited together and released as a movie (as the conceit of these films would lead you to believe if you follow them to their logical conclusions).
Since James is the younger brother of Heather, one of the original missing trio, he decides this footage is reason enough to finally go walking through those woods himself, with some insane belief that his sister was still out there two decades later. He brings three friends with him, and one of them gives everyone cameras so they can make their own documentary. Along the way they are joined by two Burkittsville locals who show them around and are making their own documentary, hence more camera angles and footage that someone supposedly went through and edited into this feature length movie.
So they enter the woods. And they never leave.
And that's not a spoiler, because again, this is a "found footage" movie, and in order for this "footage" to be "found," that means the people shooting it had to lose it, and that usually happens when these people die or disappear. Hence watching ANY found footage movie means 99% of the time all of your main characters will be dead by the end.
So James et. al. go into the woods, and things start going wrong slowly yet surely, until they find themselves lost and arguing among themselves. The set up is obviously very familiar, as that first movie was almost entirely just characters wandering around impossibly lost and arguing. But this time around, things get even weirder and stranger much more quickly as they go further down the rabbit hole that is the Haunted Woods of Burkittsville. We get the same piles of rocks and stick figures hanging in trees, but we also get some other crazier things that pushes the whole Blair Witch mythos into wilder, broader and honestly more interesting territory.
With these crazier elements comes a more heightened and intense tone, which is where this movie starts to diverge from the original. Movies and audience expectations change a lot and they change quickly, so "Blair Witch" definitely fits more into the current day mode of standard horror movies, replete with jump scares galore and about 100% more blood and gore than the '99 original. So depending on the kind of horror movie you like will determine how much you appreciate how this sequel builds upon and subsequently changes the overall tone and approach to the scares. Maybe the fact that the original is completely devoid of jump scares and contains no violence or blood at all is the main reason people responded to well to it on such a large level, because without leaning on those jump scares or gross gore, they had to craft a scary movie based totally on the weird set up, the creep atmosphere (like the now iconic stick figure people hanging from trees), and the strength of the actors conveying real fear while sitting around in the dark.
"Blair Witch," on the other hand, STARTS with a jump scare, just so you know the movie isn't going to be playing around, this is their approach so buckle in for a loud and jarring soundscape which will include characters constantly coming upon each other in the dark very quickly and shouting in fear. In addition to that they found a way to work in a little gross body horror that includes sticky sounds and oozing fluids and a single moment that seems like it is from "Slither" or "Shivers,"  and it all comes together viscerally to make the original feel tame in comparison, which surely was part of the plan. Whether or not that is something audiences want from a Blair Witch movie is another thing.
And due to the restrictions of this format, while they managed to answer a question or two from the original movie, things happen throughout this movie that make no sense in the long run or at least have no explanations or answers, and as discussed before, we know this footage is found because it must be lost in the first place, which means the characters in the film aren't going to be around to explain anything. So when it is all said and done, we have an idea of what went down, but the movie hints at something so much bigger and so much more insane that it almost seems like it is teeing up another sequel. Which is kind of frustrating.
Okay, idea for the direct sequel to this "Blair Witch," which is going to actually be sort of a take on that ill-fated sequel from 2000:
First off, not found footage. The "1994 footage" and "2014 footage" combined makes a case for the government to send their psy-ops, off-the-books, men in black style department to investigate.  Two X-Files style government agents go into the Burkittsville woods with a small group of commandos, where they are prepared to spend several night in order to "get to the bottom of it all." Of course most of the soldiers think they are going to be on vacation, just camping out in the woods, but shit hits the fan after the first night, and the movie becomes these dudes running around with their guns and shit, firing into the darkness, trying to be all tactical against some sort of evil demonic entity of some sort. And that's all in the first twenty minutes. Shit goes down QUICK, is what I'm saying. The rest of the movie is pretty much "Predator" meets "Paranormal Activity," but like just the best parts of both.
Anyway, "Blair Witch" is solid though not exactly my own personal cup of tea so I don't want to say I didn't like it when I just kind of don't like the genre in general. This is pretty much as good as this gets, I think, and director Adam Wingard and company did a good job of figuring out how to update this same story with new technology and techniques while still paying respect to the original that they obviously watched like the rest of us when it came out.