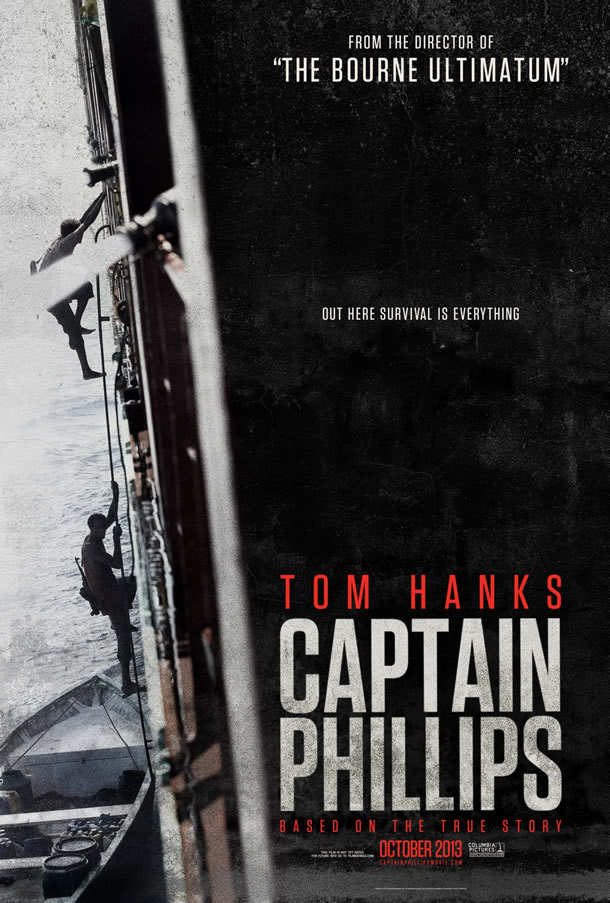 "Captain Phillips" is Paul Greengrass doing pretty much what he knows best, which is recreating real life events in a way that feels immediate and actual, very cinema vérité despite the fact that movie stars often pop up to remind the viewer that this is indeed just a movie. Greengrass broke out with "Bloody Sunday" and he tackled the U.S.-Iraq quagmire in "Green Zone," and now he's here with a story about four Somali pirates hijacking an American cargo ship and taking the captain as a hostage for insurance money.
"Captain Phillips" is very much based on the very true story of a pirate hijacking in 2009, and as it was written by Captain Richard Phillips, it tells his story and his side of the whole nasty bit of business, and now this Phillips guy must really be on top of the world now because he survived a pirate hijacking (SPOILER! Duh! He wrote the damn book!), wrote a bestselling book about it, and now he gets to see Tom Hanks play him in a movie based on the book he wrote about a portion of his own life. Oh what a world.
But what makes "Captain Phillips" really work, and this is something noted in the Captain's own book and is also backed up with a little bit of research, is how sympathetic the Somalis are in this instance. At least in this movie, the Somali men in a small, war-torn, destroyed village are ushered to the beach with machine guns pointed at them by gang leaders and mob bosses, forcing them to "work" by being pirates, as this has become the sole source of income for the impoverished country. And there is even a bit of a throwaway line about overfishing in the area taking away the livelihood of the people actually living there, though that's really it. There really isn't preaching or sermonizing in this thing at all, it's just a very interesting true story that brings up some very tricky socio-economic points and issues on a geopolitical scale about the haves and the have-nots. But really this is just a taut thriller in which at the end of the day it kind of feels like there are no winners.
Except for maybe Tom Hanks winning the ole Best Actor award at the next Oscars.
But seriously, it's a tense movie, because first of all we all know it's ABOUT a hijacking in the first place so the first twenty minutes or so leading up the actual hijacking are TENSE because we all know, we KNOW what's going to happen. And when Captain Phillips looks at the map and sees that they are plotted to go right through the Somali Basin, we're all like "oh shit!" And then when Phillips checks his email and he clicks on one about piracy alerts in the area, that doubles the oh shit factor, so when Phillips calls for a run through of the safety procedures, we know he ain't just paranoid, he's right to be scared, because don't look now but here come some Somali teenagers with machine guns and very little to lose on some rickety ass boats.
And of course when you don't see it happen you have to wonder how four skinny dudes in a fishing boat could somehow overtake a huge cargo ship with a crew of twenty men, but then you see the movie and how it all played out and you realize that for the pirates, hijacking this thing is like reeling in a whale; it's going to take FOREVER, like a day and a half forever, and a lot of balls on their part and definitely some luck overall, with the "goodness" or "badness" of the luck changing on your perspective. So a good chunk of the movie is dedicated to the simple logistics and the "how" of this thing went down, and THEN the pirates get on board.
Might as well mention now that first-time actor Barkhad Abdi is pretty great in this as well, especially considering he very much holds his own in his many scenes with Tom Hanks – hell they spend half the movie in a lifeboat together – and I am very interested in seeing if this guy continues with acting and if so what would he end up doing. In any case, he does a great job in showing the humanity in Muse, the leader of the foursome, who of course in this movie represents the entirety of Somalia, destroyed by civil war and outside forces and forced to do the worst things imaginable just to survive in a world that has largely forgotten it.
So then the pirates get on the ship and take it over because even though there is only four of them, THEY HAVE MACHINE GUNS. So everyone hides and we get it, we'd hide too, we're not trying to get a face full of AK-47. The pirates take over but shit goes crazy, it devolves into a hostage situation, the US Navy gets called in because Amurica!, and the last I don't know 30-45 minutes of the movie is Phillips in a cramped lifeboat with four men slowly making a 30+ hour trip to Somalia. This latter section of the movie manages to throw in tons of fetishistic military imagery and jargon, but still doesn't go all the way balls to the wall "we love our military!" propaganda style a la Michael Bay and Peter Berg, like how it includes some SEAL Team Six guys without glamorizing them or making them out to be heroes; just like Captain Phillips and just like the pirates, the Seals were just guys doing their jobs, which happens to include sniping.
There were a lot of moving parts to this real life story, a lot of little things that made it all very interesting, but the problem is that showing ALL of these things makes the movie a little long, and one can only take so much of Tom Hanks bobbing up and down on the screen. I'm saying the movie may have made me a little motion sick. Now this is more a personal thing, this has happened to be once or twice before with "shaky cam" type movies, so buyer beware! This is like one of those signs outside of a ride at a theme park, that warns about possible dizziness or nausea for those susceptible to motion sickness. It HAPPENS, people. Get over it.
Still, despite the length and the slight nausea, "Captain Phillips" is a very good movie with some great Hanks, as well as a breakout star in that Abdi fella (read a great profile of him in the LA Times here). Check it out but don't sit too close to the screen and please keep your arms and legs in the vehicle at all times, thank you and enjoy the ride.