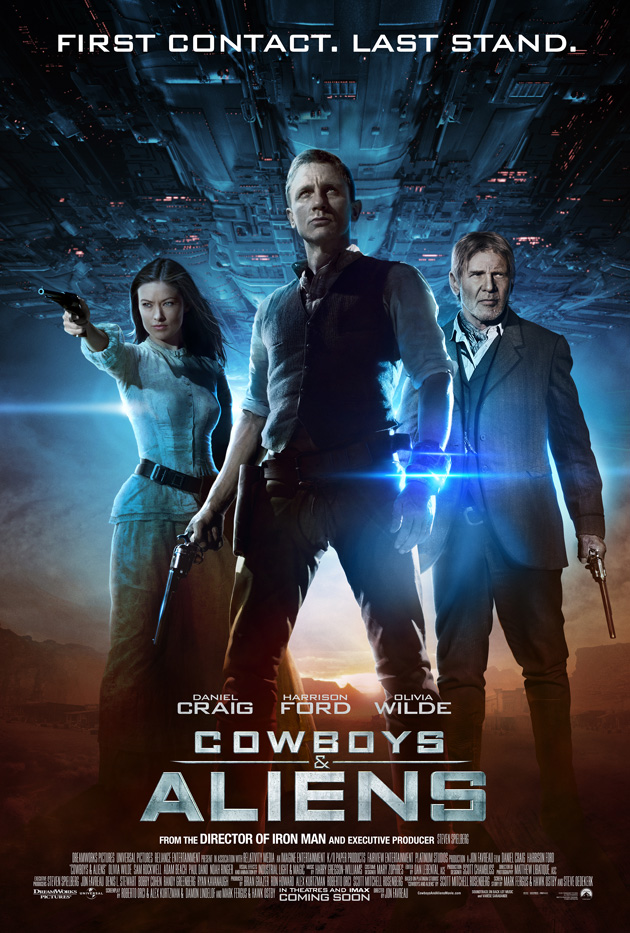 Just look at that title – "Cowboys & Aliens." Going into this movie, everyone knew it would be a tough one to pull off. The mixing of the very grounded and dusty Western genre with the fantastic, more imaginative aspects of science fiction writing doesn't make for a smooth pairing. Some massaging and elbow grease has to be used to make these two genres come together in an entertaining and coherent fashion. And while "Cowboys & Aliens" does come close to nailing this concept, it does fall short, and probably would have been much better without the aliens at all.
The set up is simple. The movie opens in the middle of the desert, in which a gunslinger with amnesia (Daniel Craig) wakes up injured and wanders into the nearest town. When he gets there, he finds out that he's a stagecoach robber and murderer and the law takes him in. But before he can be processed, here comes an alien invasion, blowing up the town and lassoing away people from the streets and into their little aircrafts. So our amnesiac stagecoach robbing gunfighter hero teams up with the local dickhead cattle baron Woodrow Dolarhyde (Harrison Ford) to form a posse and track down the aliens in an effort to save the people that were kidnapped. Oh, and Daniel Craig has some sort of ridiculous alien wrist gun the whole time.
The main problem with this movie is the story and plotting, which is really clunky and largely full of inconsequential actions. The mechanics of the story feel forced, like the stupid incident that gets the law involved in the first act to get the ball rolling, or Craig's character going back and forth with trying to convince his old gang to join him against the aliens and having to fight them off and then going back to them and it just ends up amounting to a bunch of boring filler. And then there's the whole heavy handed "alien invaders in a foreign land wiping out the indigenous population and monopolizing the local resources" allegory, driven home by the savage yet noble Indians teaming up with the White Devils to fight off the aliens. This whole bit feels shoehorned in and half baked, like a remnant of a previous draft of the story that focused more on the Indians-Settlers feud of the time, only to be whittled down to literally a bunch of whooping and spear throwing (seriously).
What's most disappointing is the whole alien sci-fi part of this movie. The aliens aren't very unique in their designs – they look like the "Cloverfield" monster or the "Super 8″ alien, just smaller and with some changes, like a rocky shell exterior and additional arms that come out of a gooey and gross stomach. There were some nice practical effects shots here and there, so it was nice to see they didn't go with all CGI, but there was still a lot of it, especially at the end during the full on cowboys and Indians versus aliens battle. Much like with "District 9," I do recognize the fact that it takes some real filmmaking balls to try to pull of full digital creations and display them in full on sunlight, and for the most part they did pull off some photoreal stuff here and there. But the aliens themselves were only mildly interesting and barely developed in any sort of way. They seem to take people in order to "study them for weaknesses," but then we are also told that they consider us like we consider insects, so why do they need to study us for weaknesses? They can just squash us, for the most part.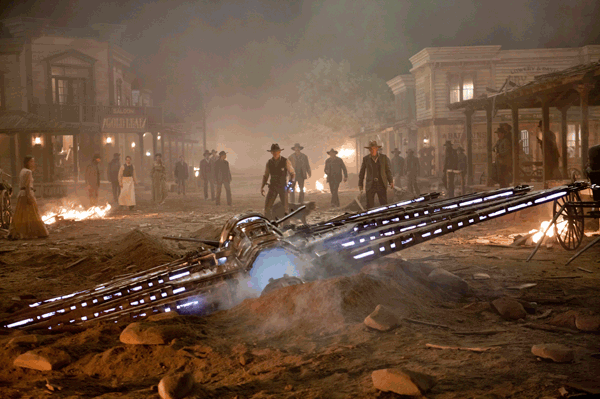 Which leads to the battle portions of the movie. The aliens have an armored shell exterior that protects them, but there is no consistency in how they can be killed or how the cowboys learn how to kill them. For example, in "Battle: Los Angeles" (which itself is also an unfortunately half-baked genre mash up), there is a great scene in which some Marines grab a downed alien and give it an on the spot autopsy to see find a weak spot so they can learn how to kill it. It was never even discussed in "Cowboys & Aliens." They plugged away at the aliens and sometimes a shot would put them down and sometimes it would deflect. And they make a big deal about the aliens having those extra arms, which expose a soft and vulnerable heart and inner organs when being used, but this really doesn't amount to much more than a singular character beat that gets telegraphed from a long way's off anyway, and nothing becomes of this afterward this moment. The aliens have some vague goal of using local resources to power their society, and boom, we have another heavy handed invading forces mining for fuel allegory, because that's what we need in our Westerns – Iraq War allegories.
This really should have just been a Western without all the undercooked sci-fi silliness. They worked in a few classic tropes like the strong silent protagonist and the surly cattle baron and the baron's sniveling son with a horrible sense of self-entitlement and the old, grizzled sheriff, and the first act sets these characters up pretty well. But then the aliens show up and none of that matters anymore. And it was great to see Ford in a Western being all surly and mean and grizzled, his character was so schizophrenic that it came across as jarring. He starts the movie as an all out evil bastard, completely selfish and untrusting and incredibly angry and vindictive, and doesn't come across as the best father in the world, but then it turns out he's not a bad guy after all because he buddies up with a little kid and tells him stories and he took in an Indian orphan kid and raised him as his own son so yeah, even though when we met this guy he was interrogating someone while they were strung up between two horses that were pulling him apart, he's also a kid loving fatherly figure that really isn't so bad. There's one thing to have a complex character with layers of morals, and it's another to so ham fistedly try to develop this character. In old Westerns, the good guys wore white hats and the bad guys wore black hats. In this one, this character would theoretically be wearing a gray hat, but in actuality, with the way they portray him, he would be showing up in each scene with a different hat, either white or black. There is no gray. He's a nice old guy, or he's a jerk.
This movie is not a complete disappointment, however. The western genre elements were all there and they were pretty well done. There were some really nice widescreen compositions, lots of great desert landscape shots, and there was a good western movie vibe for most of the movie, though the alien sci-fi stuff obviously interrupted that vibe increasingly throughout the film. Like I said, if these people got together to work on a movie called Cowboys, and just stuck with that, it would have been a better film. Craig makes for a great silent hero, very tough and stoic and looking like he can handle himself in a fight. Ford also looks right at home on top of a horse and holding a six-shooter, but then again, Han Solo was just a space cowboy so this only makes sense. And when the movie is rounded out with the likes of Sam Rockwell (Moon), Clancy Brown (Green Hornet), Olivia Wilde (Tron: Legacy), Walton Goggins (Predators) and Keith Carradine (Southern Comfort), you have yourself a very able cast that can do much with little (which is unfortunately the case here for most of the people).
So "Cowboys & Aliens" is basically half of a good movie, which isn't enough to be good overall. The vague and uninspired alien and sci-fi stuff just didn't blend well with the strong western elements.