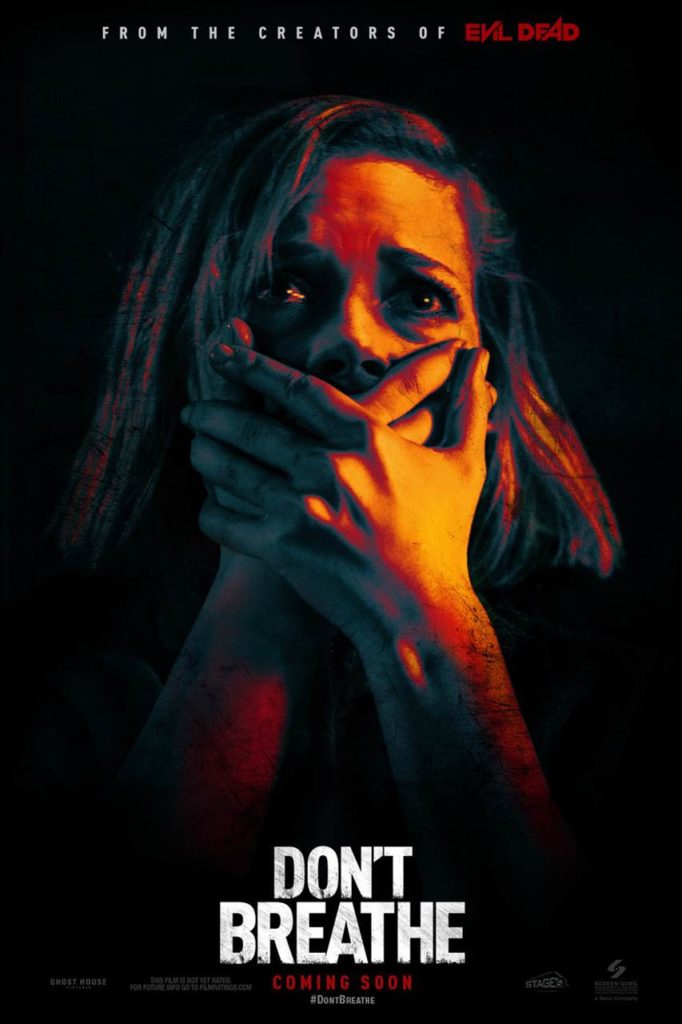 "Don't Breathe" is a horror movie that is mostly about suspense and tension, as a group of teenage delinquents in economically depressed Detroit decide to break into a blind man's house in order to steal some money they believe he has, but the old blind man is an Army veteran and can take care of himself, which he does when he discovers the intruders, killing one almost instantly, and spending the rest of the movie hunting down the other two within the confines of his house. The robbers soon discover that this old loner has some secrets which he is determined to keep within the house, and he can't let any of them get out, which means they have to get out of his house before he can kill them. The stakes don't get much higher than that.
The only real problem I had with this movie is how the lead characters all suck, as in, they are shitty people. Much like the recent "Hell or High Water" or other fairly recent movies like "99 Homes" and "The Big Short" and "Take Shelter," this is a movie that takes place in post-recession America, with the ultimate evil forces at play being the destroyed economy and the lack of opportunity for people left in the wake of this destruction. It is a tough road when you have a lead character that sets out to hurt others in some way just so they can get ahead, even if their reasoning is ultimately righteous. In "Don't Breathe," one of the three robbers in the movie is given the obligatory family-member-needs-them burden, which is shown and explained in one scene, so while this is the character's motivation, it still feels like something thrown in just to try to justify this character's shitty decisions.
Because make no mistake, all three of these characters make totally shit decisions from the moment this movie starts. Rocky (Jane Levy) has an over-the-top abusive comic book villain of a mother, and a very young sister that needs taking of (though when I watched this movie, I thought it was her daughter, but plot synopses on the internet tell me it was her little sister all along), so she gets her boyfriend named Money (Daniel Zovatto) to help her break into homes so they can sell stolen goods to some fence in a warehouse somewhere. So right away, two terrible decisions: a life of crime, and a boyfriend named Money. What the actual fuck? Joining these dipshits (and truly Money is a total dipshit) is Alex (Dylan Minnette), a friend of Rocky's who has a total boner for her and agrees to help them just so he can be near her because he's pathetic. He's also the son of a guy who works for a security company, which gives them access to house keys and security codes, making the jobs that much easier. So Alex joins Rocky because he's thinking with his small head and not his big one, and he's also totally abusing the trust of his father, which makes him a bad son. So Rocky, Money and Alex all suck. And they are our movie's heroes. Great.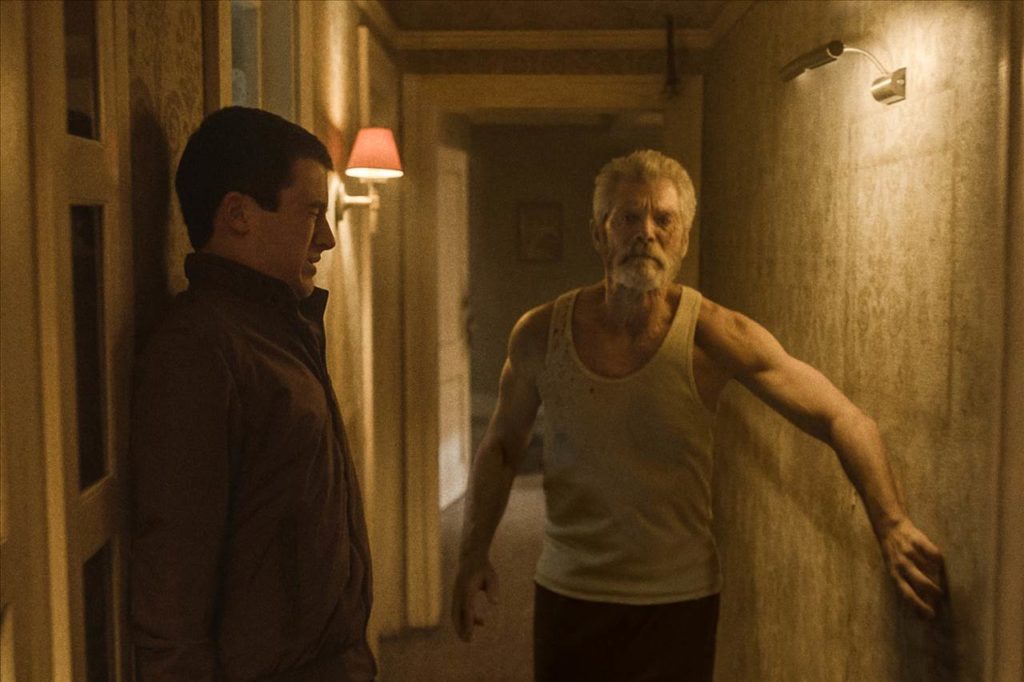 So when they broke into the house of the Blind Man (Stephen Lang), I was rooting for him. It is explained he went blind from the 90's Iraq War, and he has money from a settlement with a rich family of a girl who killed his own daughter in a drunk driving accident. How can we feel nothing but sympathy for this guy? But as the movie's marketing alludes to, this Blind Man is hiding a secret and maybe he's not such a good guy and lo and behold wouldn't you know it, yup, we eventually find out what is happening inside his house and it is…not good. So halfway through the movie, I found myself hoping the house would just explode from a gas leak or something and they would all die and the world would be rid of these garbage people.
Anyway, so the characters suck, but the movie that these characters are in is actually pretty good. Super suspenseful, and with the whole thing with this guy being blind and using his sense of hearing to locate things, the sound design of the movie becomes super important, with a few sequences playing out in total silence so that even a breath or whisper or creaking floorboard can be as loud and jarring as a full on fire alarm. The fun of this movie is definitely watching this old man stomp around him home while two of the three robbers hide and try to find a way out, only to get themselves into more of a mess as they go along. And of course there are multiple times when you think they are finally about to get out or make a breakthrough and then something comes along and sets them oh so far back, to the point where it feels like they are in the world's worst fun house.
So "Don't Breathe" definitely accomplishes what it sets out to do, which is be a bit of white knuckler, full of tension thanks to a scenario that is both outlandish and plausible at the same time, and while you may find yourself without someone to root for throughout this movie, at least you can rest assured that everyone from the top on down goes through some significant suffering during this film, and maybe that's enough. Maybe's that the message, everyone is shit and we all deserve our fates. So uplifting.