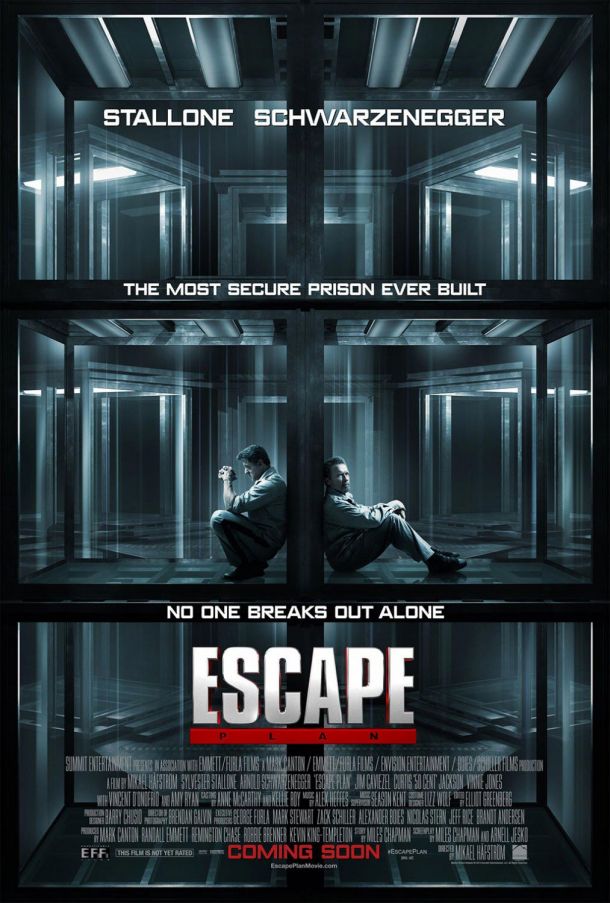 Oh if this movie had only been made back in 1994, back during a time when the teaming of the two biggest action stars of the 80s and 90s actually would have had more punch, back when CG couldn't be relied upon for effects and modern shaky cam and hyper editing didn't ruin action scenes by rendering them incomprehensible and boring, back when action movies actually MEANT something. But alas, that time is long gone, we are in a more cynical age, and alas, the best we can get now is "Escape Plan," a halfway decent movie featuring a couple of guys you may have heard of.
In this movie that should have been made in the 90s and has a story that stinks of 90s leftovers and has the overall feel of a 2000's direct to video venture, Sly Stallone plays Ray Breslin, a guy who breaks out of prisons for a living. But then he finds himself inside a prison that is the ultimate in unbreakable (long story), so of course he has to figure out how to break his way out. And with the help of fellow inmate Emil (Arnold Schwarzenegger), he goes about trying to put together the ins and outs of a very weird prison that looks like something mixed between the boxes of monsters in "The Cabin in the Woods" and the all-white prison of "THX 1138" so he can devise a…wait for it…escape plan!
Seriously though, this movie feels like it is one Schwarzenegger away from being a direct to video movie, as if Arnold is the only reason this thing got a theatrical release. It doesn't feel like that big of a movie, just a big concept that in the end is really nothing more than a standard "escape from prison" type of movie. It doesn't help that outside of Stallone and Schwarzenegger, the cast has a very low rent feel to it, no disrespect to Vincent D'Onofrio, Amy Ryan, Curtis "Fifty Cent" Jackson, Jim Caviezel and Vinnie Jones, but this isn't exactly a cast that screams "must see!" Let's just say that when Sam Neill popped up for a handful of scenes, he was the master thespian on set. But Stallone and Schwarzenegger was teamed up for a good chunk of the movie and their characters aren't bad, so at least they had that going for them.
Otherwise, there's really little meat on these bones. The story doesn't really make that much sense when you think about it, there is little action, and what action does exist wasn't done too well (save for one moment when the filmmakers knew the value of milking the image of Arnold wielding a giant machine gun), and none of the movies big reveals were all that interesting. There are a few decent jokes, but also a couple of forced one liners, so they pretty much cancel each other out.
Honestly what else is there to say about this movie? "Escape Plan" doesn't exactly inspire prose, or need a deep dissection of its themes and subtext and whatnot. There's something in there about Ray having a wife and daughter and something bad happening and that leading to his career of breaking out of prisons, so people keep asking him why he likes to spend so much time in prison and he never has an answer and he can't move on with his life even though he has a special lady friend willing to cook him dinner which means sex and of course there's all the stuff about prison privatization that we could get into but you can just Google that shit and inform yourself of what's going on in this world and in your own backyard while you have your head buried in the sand waiting for the next bus to come and take you away to La La Land which I am afraid to inform you does not exist.
Your appreciation of Stallone and Schwarzenegger will determine how much you like this movie, so if you don't like these guys at all anymore, stay away, because they are pretty much the only reasons to check this thing out.