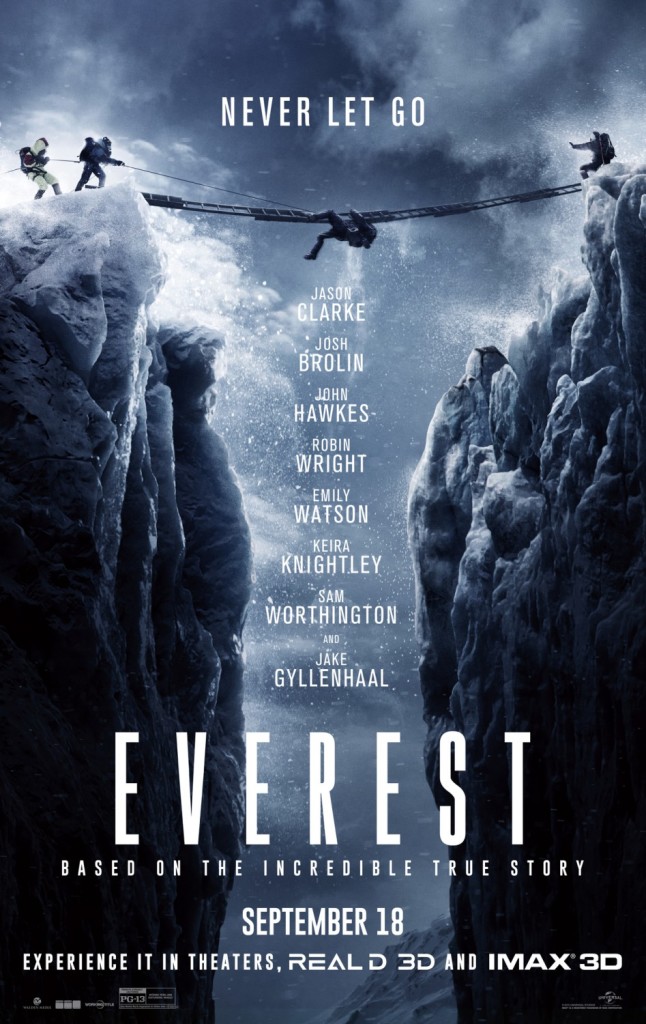 "Everest" is based on a true story of a mountain climbing expedition in the summer of 1996 that went very wrong, mostly because a storm came through that just kind of ruined everyone's day, some more so than others, but of course this isn't just a movie about the trevails and spiritual rewards of mountain climbing but instead is a story of survival, perseverance and personal sacrifice, as well as the possibly high cost of human hubris.
New Zealander Rob  Hall (Jason Clarke) is a pioneer in the mountain climbing world, as he took the previously impossible task of scaling Mount Everest and turned it into a full on enterprise, as people paid him tens of thousands per person to guide him to the top and back down Mount Everest. He started yearly expeditions, training amateur climbers over the course of several weeks to summit the world's highest mountain, and it didn't take long for other professional climbers to copy this business model, to the point in which the mountain was overrun by competing expedition teams in 1996, all of them jockeying for time on the mountain, causing massive delays in each other's trips, and helping to exacerbate problems that would prove both burdensome and deadly at the most inopportune times.
The marketing for "Everest" makes it seem as if the movie will feature the climbers reaching the top of the mountain almost immediately, with the rest of the movie taking place during the storm, but more than half of this two hour movie is really about the process of how one of these expeditions were put together. These people don't just show up at the base of the mountain, start climbing, and get to the summit in time for a picnic lunch at the top of the world; they have to do a bunch of hiking just to get to base camp, and from there they train for weeks, even making a couple of partial ascents up the mountain in preparation for the final push on a fixed date. So these people all live together and train together, as the final day looms above them, and the dangers loom above us the audience as we know where this is going.
The fact that "Everest" takes its time in setting everything up is actually pretty good for the overall effect of the movie because we get to spend time with a handful of the climbers and get to know who they are, so that when the shit does hit the fan as we all know it will, we have an idea of who these people are and why it is important to each of them to survive. We learn about Doug (John Hawkes), the mailman who raised the money for his trip through a local school and how he's doing it to inspire the kids, and also importantly how this is not his first attempt to reach the top, which is very important to him and which ends up being VERY important to the story and how the events unfolded on that fateful day, May 10, 1996. We learn about Beck (Josh Brolin), and why he climbs in the first place and how it helps him personally but seems to be destroying his marriage, and what it all means to him to not only make it to the top of that mountain but also why he needs to make sure he gets off of it, too. And how can we not root for Yasuko (Naoko Mori), a Japanese woman looking to be the oldest woman to climb Everest? This would also be the final of the Seven Summits for her, meaning she would have climbed to the top of the seven highest points on all seven continents, which is certifiably quite bad ass. And of course there's the leader Rob Hall, who has a pregnant wife back home that he wants to return to, and this bit of characterization would be considered hokey and "Hollywood" if it was not true.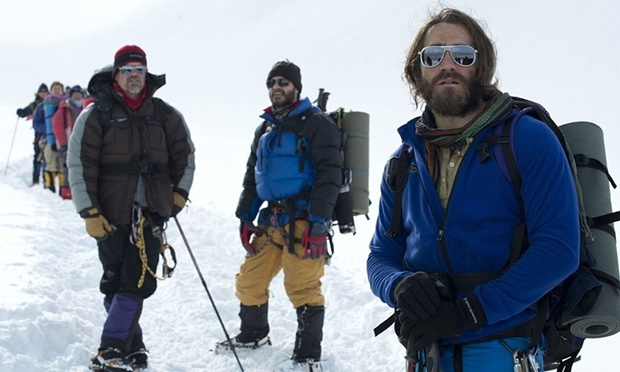 We can't learn everything about everyone, though, so some characters are merely quick sketches, like Jake Gyllenhaal's Scott, who is a guide for another crew and who's chief characteristic seemed to be his penchant for pushing himself too far physically. Otherwise, he's just a dude. Kind of the same with a mountain climber who comes to base camp to assist after the storm hits, played by Sam Worthington; he's just a dude, a friend of Rob's who happens to be able to help in some small ways, but other than that, we know nothing about him. Seems like a nice guy. So without making this a three-hour movie, we got development of a handful of people and the rest are kind of place holders. But even this little bit of character work and development helps when everyone gets in trouble and has to try to survive. Hell, they do a good job in "Everest" in explaining how this is still an insane task, no matter how "safe" the guides make it ahead of time, and how even if things go 100% well for everyone, climbing to the top and back down is still a battle for survival. So when conditions go from "hospitable" to "piss poor" in a matter of minutes, we as viewers understand how much tougher things are going to get for these people who are already oxygen deprived and half way frozen when they get to top, let alone how they need to get back down in such physical conditions.
Naturally the movie is at its best when the storm does hit and different people are stranded on different parts of the mountain, all with their own problems. Rob is at the top with Doug the mailman, who pushed himself to the limit and is dying without access to extra oxygen, which Rob tries to secure via walkie talkie, which at that point is a lot of like just asking the screeching wind for extra oxygen tanks, cause if people couldn't get down off the mountain, how were rescuers supposed to get up there to them? Then there's Yasuko and Beck, both of them dying from hypothermia and frost bite, totally lost when the storm causes them and others in their group to lose the trail back to the bottom. And Scott pushed himself so hard to get to the top (and to ensure a sick person in his group could make it back down) that he found himself not only stuck on the world's tallest mountain during a storm, but he was dying from fluid build up in his lungs at the same time. That's a tough double whammy to overcome. And while all this happens, there are the support teams back down at base camp, trying to stay in touch with the climbers but otherwise feeling totally helpless as they couldn't do anything else to help from their positions. So obviously for the last thirty minutes or so of "Everest," it is all challenges and problems with some successes and some failures, and this is where the movie is at its strongest because it is so compelling to watch people try to survive such harrowing conditions.
This is a pretty good movie, definitely one that benefits from a large screen and loud sound, as the mountain and geography shots are quite gorgeous and the effect work of making it seem like these people are really scaling this mountain is quite top notch. At least at this point, this is the best mountain climbing mountain made because it really makes us feel like we are there with them and how much of an incredibly dangerous pain in the ass this kind of task is and providing us with pretty compelling reasons as to why people would undertake such extreme endeavors. This is pretty much the best way to climb a mountain without leaving the comfort of the flat earth and normal altitudes.