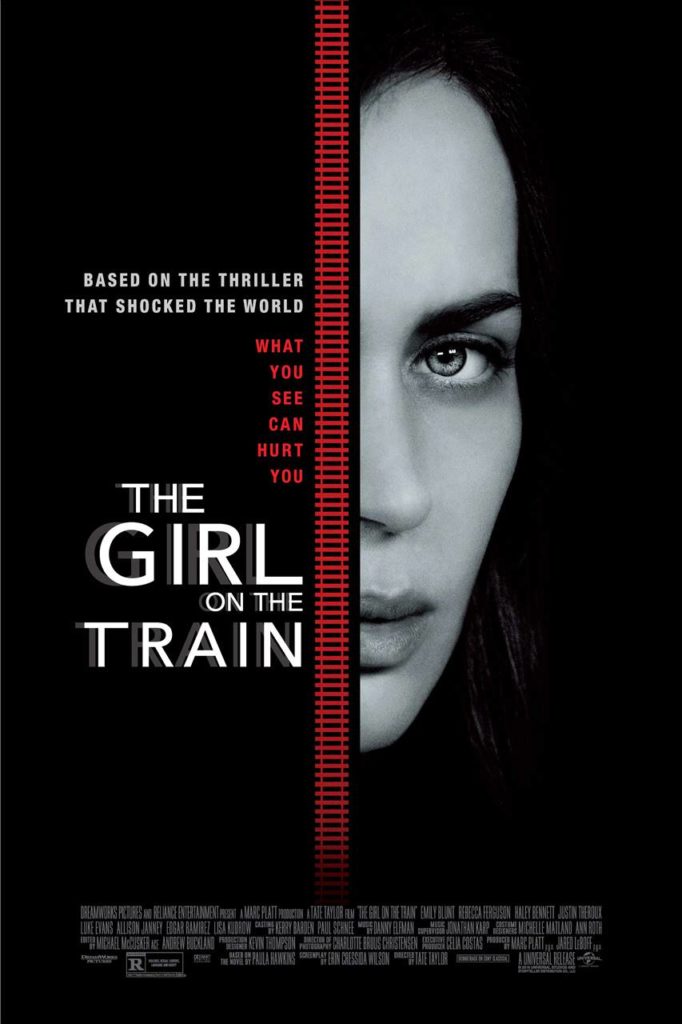 From the director of "The Help" and "Get On Up" comes an adaptation of yet another global worldwide bestselling phenomenon of a book featuring the word "girl" in the title. This particular girl does not have any visible tattoos, dragons or otherwise, and while there IS a girl in this story who is indeed gone, our main character is not this person. Instead this is "The Girl on the Train," the story of a sad sack alcoholic divorcee who gets herself wrapped up in some missing person's case in between bouts of stalking her ex-husband and his new wife and their baby.
Rachel (Emily Blunt) rides a train to and from New York City everyday, and on her route the train stops just oh so perfectly so she can always see the backyards of her old house and her neighbors' house. It is her "old" house because her ex-husband (Justin Theroux) lives there with his new wife Anna (Rebecca Ferguson), and Rachel spies them from train with drunk, watery eyes. She also watches their neighbor Megan (Haley Bennett) and HER husband (Luke Evans) snuggling and sexing it up through the windows of their house, and she becomes envious of their affection and love making. She also has a habit of stumbling drunk through this old neighborhood of hers, causing problems with people there, so when Megan goes missing and Rachel was seen in the area at the same time while black out drunk, she finds herself a person of interest in the investigation. So she decides to do her own drunk investigating. Because that's what sensible people do.
"The Girl on the Train" starts as a psychological thriller of a character study, with 1990's erotic stylings like steamy bathroom sex to spice things up, but then devolves into a hysteria fueled melodrama in which characters make 180 degree turns that would be shocking if they weren't predictable. Suffice to say, if you pay attention to this movie and it's small roster of characters integral to the plot, the central mystery of "whodunit" becomes plain 2/3rds of the way through the story just by a basic series of elimination. If it is clearly not characters A through E, than that only leaves character F. And when this predictable ultimate truth of the movie is revealed dramatically to the main character, it is done via a tertiary character seen only once before simply explaining the truth to the character, giving her the answers she's been looking for, answers that were right in front of her face the whole time because we've seen movies before, we know how these dopey stories go.
And rest assured, just like that clunky "big reveal," this movie is rather dopey. It makes sense in hindsight that it was adapted from the kind of airport paperback bestseller that people devour in droves before moving on to the next scintillating piece of beachside entertainment because it is definitely the kind of salacious story that would get people talking and get them to share their copies of their books with their friends so they could all talk about. We've seen it a thousand times. Nothing wrong with that. At least people are reading, know what I mean? But there is something about this story in that it definitely does not work the same way in movie form – what MUST have been a fascinating character study with deft reveals got turned into this pablum about a sad, drunk lady who continues to make many very questionable life decisions.
Also, in an effort to "keep the audience guessing," the unreliable narrator storytelling device is deployed to obfuscate what is really happening around our main character Rachel, as her drunken nature and black outs allow the filmmakers to show us things that she "remembers," only to reveal later that these are false memories. Much of the story is also very unnecessarily jumbled, with the timelines jumping seemingly arbitrarily around from present to past, with some of these scenes placed together to be purposefully misleading so that they could be turned around later on, again all in an effort to hide the mystery of the movie that ends up being not that interesting anyway.
Which is a shame because Emily Blunt acts her ass off, she does SO MUCH acting in "The Girl on the Train," either slurring drunkenly, or stumbling around, or going from being meek and mild to loud and angry and even violent, constantly on the verge of tears, shaking, quivering, frightened, she does it ALL in this movie, and it is a bit of a shame it is not in something more memorable, as opposed to the 21st century version of "Sliver" or "Disclosure."