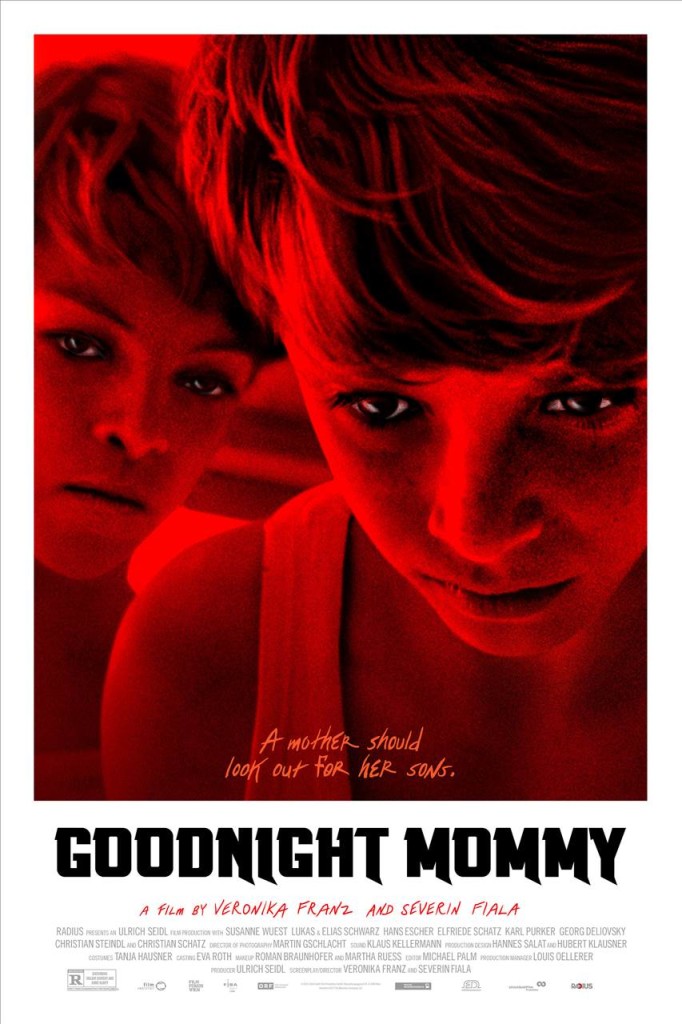 As opposed to unstoppable monsters or slashers or any sort of undead situation, "Goodnight Mommy" derives its terror and tension from horrific situations which could plausibly happen. People don't have to be possessed by demons or chased by aliens or hunted by psychopaths, they can just have problems which manifest themselves in a way that is, to say the least, not healthy for everyone involved. Thick with an atmosphere of dread and some good old fashioned Fear and Loathing, this is a movie that unnerves well before it gets to anything really shocking, but then it does a little bit of that shocking, too. Well, dependent on your exposure to these types of movies, anyway.
The movie starts with Lukas and Elias, twin boys, alone, playing in fields and woods by their isolated home. When their mother comes home, her whole face is bandaged, with only her bloodshot eyes and mouth exposed, and the twins are immediately off put by her appearance. She explains that they need to keep the house dark and quiet as she recuperates, she acts very sternly when enforcing the rules, and she only refers to one of the two boys, all of which upsets them and makes them question whether or not this woman is actually their mother. 
That's the set up, pretty simple actually, as much of the movie is centered on the twins, and the scenario they find themselves in. Right from the get go, when the twins are playing hide and seek in a field and explore dark caves together, there is already a sense of foreboding and doom, which only gets more intense along the way. For example, when they find a cat in a weird dark cavern filled with human bones, they bring the cat back and take care of it, but what happens to that cat is at first sad and then later unexpected and adds to that sense of being in a nightmare, stuck in a terrible dream, unsure of what is real and what is not (I mean, did I not mention they found the cat amongst a pile of human remains?).
Actually, the movie starts with a clip from the Trapp Family Singers singing "Lullaby and Goodnight," with the lyrics translated to something along the lines of "you'll wake up in the morning if God allows it," you know, that wonderful sentiment, and while it is sung as a nursery rhyme meant to soothe and send a child off to sleep, it definitely sets you up for the nightmare aspect of this movie. The whole thing comes across as a terrible dream, with relief nowhere in sight, as we wait for God to decide whether or not we can get out of this thing. On top of all of that, the kids even have actual nightmares that involve weirdness and a little bit of Cronenbergian body horror, and that doesn't help matters at all.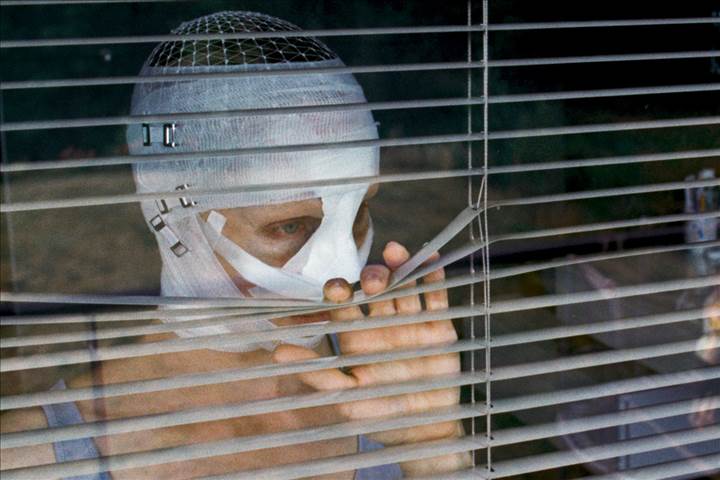 "Goodnight Mommy" does has a story that hinges on something that seems like it was meant to be a twist initially, but when they made the movie they treated this as an open secret. Without going into any details, there is something about this movie that is pretty obvious from the beginning, something that people should see coming from a mile away because, well quite frankly, we've seen movies before. We know how this stuff goes. So when the "reveal" happens late in the movie, it doesn't so much feel like an "A-Ha!" kind of moment and instead seems like characters just addressing the elephant in the room. "Listen here, Elephant. We've been ignoring you this whole time, but we know you are there, in the corner, stinking up the place, and it is about time we had a house meeting."
But while this "twist" seems matter of fact, there is some other ambiguity to the movie that keeps everything so unsettled. Probably because we spend our time with the twins and see the events mostly from their perspective, the mother comes across as quite untrustworthy, and we are shown some things to make us side with them a bit, wondering if this woman really is who she says she is. Of course for us the audience this is difficult to gauge because we are given no context for whom this woman was before her surgery, we only see her after the surgery, so we have nothing to compare her to, we just have to take the kids' word for it that she is acting differently. Which brings us to the concept of the unreliable narrator, something that we have to consider because these kids may not have it all together, and on top of that, they are just kids. So as we watch the movie, who do we side with? "Goodnight Mommy" never makes this easy for us, and instead this is where much of the uneasiness comes from, because when things really start to go south, we don't know if what we are seeing needs to be done or if it shouldn't have happened to begin with.
A waking nightmare, "Goodnight Mommy" doesn't pull any punches and definitely delivers on a creepy tone and unsettling story that will likely get inside people's heads and mess with them for years to come.