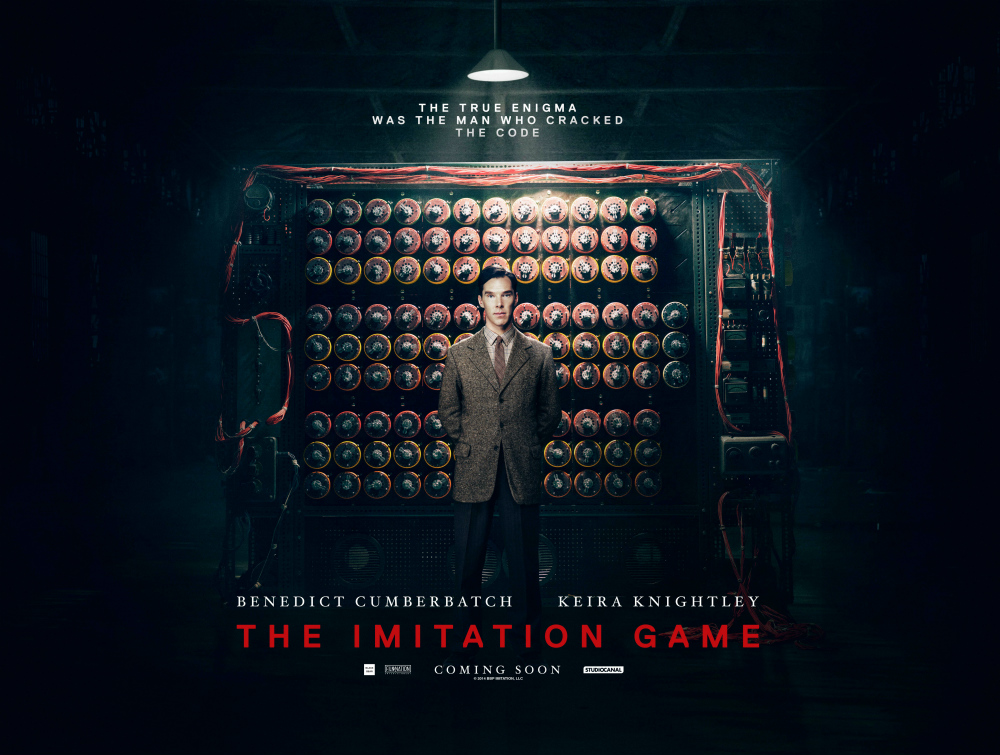 "The Imitation Game" is a movie about secrets, whether it be having them or trying to crack them, and the toll some secrets can have on people and their relationships with others. It is also about Alan Turing (here he is pretty much credited with inventing computers as we know them), his work done in code cracking during World War II, and his subsequent government mandated persecution for his sexual orientation.
Alan Turing (Benedict Cumberbatch) was a mathematician who got himself hired by the British government to work on their code breaking team, trying to crack the ultimate puzzle, the Nazi Enigma machine, which randomized the codes daily and proved impossible for mere mortals to penetrate. So Turing, played here as if he is nearly crippled with Asperger's, thought the best way to fight fire was with fire, hence setting out to create a thinking machine that could solve the Germans' machine. It's like a mega prequel for "The Terminator." Had to start somewhere.
Turing has all sorts of obstacles on his road to build his machine, ranging from an ornery boss (Charles Dance, fantastic as always) to his inability to get along with his coworkers, as well as the ticking away of time, as more and more people die the longer he goes on just tinkering away with his "digital computer" (he actually calls it that in the movie at one point) and the tension builds and builds as they get closer and closer to cracking this code.
A lot of these computer building and code cracking scenes are played out like a thriller, with one section getting intercut with scenes of a German blitzkrieg on London, the people hiding out underground while he is safely tucked away trying to crack that Enigma, racing against the clock and ever scornful gaze of Charles Dance. Turing doesn't do it all alone, though. He has a small team with him, which includes a genius mathematician as well as downright cad Hugh (Matthew Goode) and a nice lady who just happened to be smarter than just about everyone else named Joan (Keira Knightely) and while he and Hugh gain begrudging respect for each other, Alan really hit it off with Joan in a totally friendly, platonic way, which he then tried to segue into a marriage of convenience, and it almost worked, too. And there are also a couple of other guys but who gives a fuck about them.
So Turing, with the help of Hugh, and a little more help from Joan, makes this computer, and it eventually works (spoiler for the duh out there, naa'mean? Who the hell didn't expect the machine to eventually work, it's called HISTORY and because also WE'VE SEEN MOVIES BEFORE) and he's sort of a hero I guess because they start cracking them codes and saving some lives (but all of them) and then the movie takes a kind of hard left. For a while, they kind of touched on his sexual orientation, and it came up here and there how he was homosexual, but he wasn't out because at the time it was illegal at the time to be homosexual in Britain, which is like saying it was illegal to be born with brown hair or blue eyes, and then after the war the movie was only about this issue and how he was quite poorly treated by the government for being gay, all the while having to suppress the secret about how he worked in a top secret government program and helped end the war with his sweet ass machine. And that's a big ole bummer because, like, human rights, ya'll. Savvy human rights?
Now hopefully it doesn't matter much to you that a lot of these events and "facts" have been fudged and moved around and in some cases outright changed because that's what happened here, but then again this is a piece of art, not a PBS documentary, not a segment on 60 Minutes, this is a film with Benedict Cumberbatch and Keira Knightley, of course things are going to be changed, it really doesn't matter that it isn't accurate because it is all about the universal truths of the art. There are different things going on here, like Turing having to learn that he needs other people to help him get by in life, and also how he's a person of secrets, like so many of us are, and how those secrets change and shape our decisions and actions.
And to that end, "The Imitation Game" is a pretty good movie. All of the acting is superb, and I wanted more Mark Strong as the film's MI6 representative, and it's directed well. The story does seem to take a couple of short cuts, like it tries to make a couple of emotional leaps without really developing the moment enough, and in some ways it feels like a kind of obvious "Oscar bait" kind of movie, as if it was made and developed with awards aspirations in mind, which really kind of hinders it. Or maybe that was just the movie feeling a little stiff and British.
Anyway, like I said, it's pretty good.