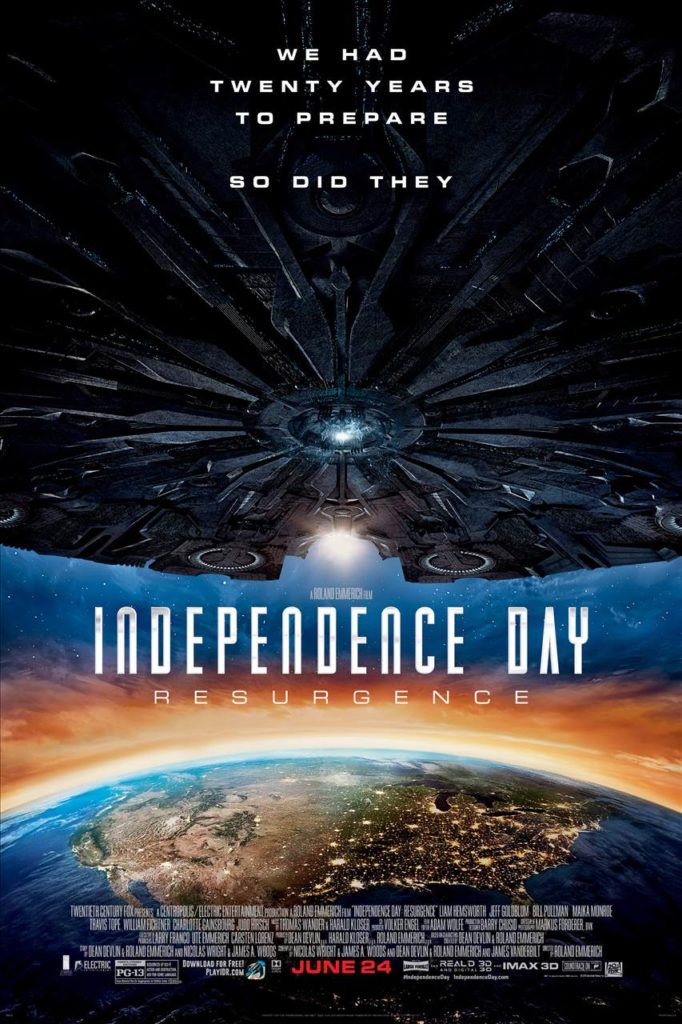 "Independence Day: Resurgence" is a sequel to the biggest hit of 1996, and Roland Emmerich and (most of the) crew from that original aliens versus humans blockbuster went with the good old mantra of "bigger means better," which means everything is bigger in this movie. The ships, the aliens, the threat, all of it, which makes sense because Emmerich spent the intervening two decades destroying the planet in bigger (though not necessarily better) ways over and over, and here he takes all of those huge and ludicrous scenes and ideas that defy nature and physics and he pushes the throttle forward and adds those aliens and boom, yet another nostalgia fueled blast to the past, another return to a beloved 1990's movie, another couple of hours with both familiar icons from another movie and some fresh young faces of today, all encompassed by more CGI than you could shake a selfie-stick at.
But was it worth it?
Nope.
It is EXACTLY twenty years after the alien invasion in 1996 left the world in shambles, and wouldn't you know it, those exact same aliens are back, this time with a much larger ship, though it appears they are attempting the exact same mission, which is depleting the planet of its energy by taping directly into the molten core. Yup. We are in full-on Emmerich territory here, as this is the dumb stuff of ignoramus legend. In those two decades, humanity has prepped by using the left behind alien technology to make super cool alien weapons and jets, and leading the whole thing is David Levinson (Jeff Goldblum), seemingly for the sole reason that he was one of the few instrumental people in bringing the aliens down the first time around.
There is also a trio of insanely boring subplots all revolving around a new guy, fighter pilot Jake Morrison (Liam Hemsworth) – first he has a buddy that he treats like a kid brother and they have a very stereotypical movie friendship, that whole "you're the only family I have" bullshit that can be seen from a mile away. Second, his girlfriend is Patricia Whitmore (Maika Monroe), the daughter of President Whitmore (Bill Pullman), you know, the guy who gave that awesome speech in 1996? (Don't worry, he'll get TWO speeches in this movie, and of course both of them combined aren't anywhere close to that original "our Independence Day" speech.) And since he's stationed on the moon, they miss each other. Awwwww. And third, he has a rivalry with fellow pilot Dylan Hiller (Jessie T. Usher), son of Steven Hiller, integral to the survival of Earth and apparently dead in a test flight that happened BETWEEN movies (what really happened was Will Smith read the script and said "thanks, but no thanks, I've just been in a sci-fi clunker"). And if you think any of these subplots go anywhere, you are most certainly wrong.
Oh and Charlotte Gainsbourg literally pops up out of nowhere as a psychiatrist of some sort I think and she hangs out the whole movie and does nothing. NOTHING.
Whereas that first 1996 movie wowed everyone with a story that built to a rousing climax, fun characters, and special effects the likes of which we had yet to see on the big screen, "Independence Day: Resurgence" focuses on characters who are as boring and uninteresting as possible, shows us CG effects that we've seen a bunch of times in other movies, and has a haphazard story that seems built to generate more sequels and nothing more. While Goldblum is back as Levinson, he is hardly the main focus of the movie and doesn't get to do too much. We spend way more time with the younger characters and how they go about their boring ways, and no offense intended to Mr. Usher but to play a character that is the offspring of Will Smith and Vivica A. Fox and is still somehow as stiff and uncharismatic as this must be some sort of cinema crime.
Also Vivica A. Fox pops up in this movie to be a quick plot point for another character and is quite unceremoniously (and in wide angle) dropped from the movie. Literally.
Back in the mid-90's, CG special effects were still very new and as such, practical effects work utilizing models and matte paintings were still the order of the day. And when Roland Emmerich et. al. fucking BLEW UP the White House, it was like nothing anyone had ever seen before. That original movie was a smorgasbord of impressive visual effects, even winning awards for the work done, and it changed the blockbuster game is some ways. And now, twenty years later, we are getting…more of the same. We've seen the entire globe come under CG-enhanced attack so many times it is impossible to name them all (we JUST had one last month. No, make that TWO). There is even a giant alien at one point rampaging around the desert, and it looks like a cross between the "Cloverfield" monster and the MUTOs from "Godzilla." The surprise is gone, replaced with things we've seen already, just MAYBE a little bigger.
But in the end, it is the story that needs to work to make the movie work, and this story sucks, flat out. Just as an example of the ridiculous meandering nature of this wonky script, David Levinson's father Julius (Judd Hirsch) is back, thank god, and this time during a massive evacuation, he joins up with a group of kids who are on their own and they travel together to Area 51 to get their just in time for the big climax so they can stand around and so nothing other than place themselves in danger. So we have MULTIPLE scenes of Julius and these random mopey fucking kids just driving around talking and these might be the most boring scenes in a surprisingly boring movie, and if all of these characters were cut out of the film, it would not change a single thing other than the runtime. This is what is known as hot garbage.
Shit, there's a moment in the movie in which we meet a bad ass machete wielding alien killing Warlord named Dikembe Umbutu (Deobia Oparei), likely named this because "Blackey McAfrica" was too on the nose, and it is mentioned that he and his people have been fighting the left behind aliens on the ground for decades, and immediately I thought "I want to see THAT fucking movie!" A whole city living underneath a crashed spaceship, fighting off aliens in guerilla attacks, learning their ways, deciphering their language, it all sounds so awesome, so of course it gets glossed over in two lines of dialogue so we can hurry up and get to the boring, predictable crap. And while Dikembe is easily the best character in the movie, he gets saddled with some sort of bearaucratic numbers-crunching corporate lackey of some sort, he might be there on behalf of the government, I dunno, at one point he mentioned getting David Levinson all the funding he needed, but otherwise he's just a wormy dude who complains and is obviously supposed to be the comic relief but he's just annoying.
This whole movie is annoying. Skip it, trust me. It is not good. Not even dumb fun, or b-movie level fun. It just sucks, made only to suck money out of your pockets. Don't let them.