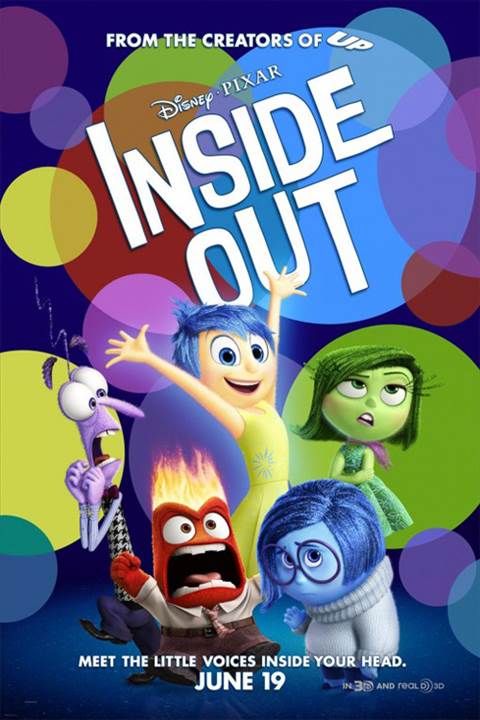 "Inside Out" is another one of those "it's for the kids but it's REALLY for the parents" kind of animated movies, you know, the ones Pixar has excelled at for about two decades or so, the movies that are cute, brightly colored and imaginative in a way that sucks in the young ones and holds their attention, but traffic in ideas that are decidedly the stuff of adults, requiring some life experience and perspective for the themes to really resonate, which rest assured they do. Want to take the kids to a movie about the imminent end of their childhoods? Then "Inside Out" is for you! That's what I'd put on the poster anyway.
In "Inside Out," 11-year old Riley moves with her Mom and Dad (because where else is she gonna go?) from somewhere in Minnesota to San Francisco. The move is due to Dad getting involved in some fledgling tech business, with Mom and Riley dutifully coming along, and this all has some negative effects on Riley, who has trouble adjusting to her new surroundings. A pretty dull set up, as far as plots go. But while this story plays out, a majority of the movie takes places inside Riley's brain; the emotions of Joy, Sadness, Anger, Disgust and Fear are personified as five little characters that "work" inside Riley's head, looking through her eyes like a giant viewscreen and collecting and collating her memories around the clock and storing them in the right places, with Joy leading the charge, doing her best to ensure that Riley is having a happy life.
But Joy's alpha status and control freakedness among the emotions means repressing some of them, which is troublesome for Sadness. See, Sadness wants to be useful like all the emotions – Fear keeps Riley safe, Anger helped her in Hockey, Disgust keeps her from ingesting poison like broccoli, and Joy does what Joy does, but Sadness is out of place and everyone knows it. And when Joy tries to keep Sadness in one spot, she can't help it, she meddles, and things start going all sorts of wonky inside Riley's brain. And when her emotions get all out of whack, Riley acts out in ways that are familiar to us all, and suddenly her benign story about moving to a new place takes on life, as we explore these universal themes in a very interesting and rather fun way.
Well, fun until the movie starts getting into the subconscious and repressed fears and forgotten memories, in which case it takes a little detour into Bummerville, population the adults in the audience who are really getting this stuff. I'm sure kids will end up with a sense of sadness from this movie, which is overall actually very upbeat and positive (that'll happen when your main character is the personification of Joy itself), but they really won't get why. When Joy and Sadness, separated from the others and lost in the caverns of Riley's long term memories, stumble across Riley's all but forgotten imaginary friend Bing Bong, the kids in the audience will either be so young that they still have that very imaginative outlook on life or at an age where they think imaginary friends are stupid, and they simply can't understand that Bing Bong is a stand in for their entire childhood of whimsy and fun, a childhood that will end when they are introduced to the concepts of war, famine, death, taxes, slave labor, politics, racism, sexual harassment, bee colony hive collapse, media bias, celebrity culture, natural disasters, space debris, plastic oceans, gluten free diets and the films of Uwe Boll.
The smartest part of this whole endeavor must be how they managed to build a wonderful working world inside Riley's mind that makes sense in such a way that it can then be extrapolated and used for quick glimpses into the minds of other characters when needed, and the design of these little worlds are all great, with the same basic designs but customized to reflect the person, whether it be Riley, either of her parents, a random boy Riley talks to, and so on. And when Joy and Sadness travel through long term memory, they come across things here and there that make us remember some things that maybe we thought we forgot, or at least will make us wonder about the kinds of things we used to know but can no longer recall, like the names of all of our favorite toys, and little memories here and there, like playing in a park, or waking up one Christmas morning, you know, the little things that get lost in the shuffle along the way. In "Inside Out," they take some idioms we use like "train of thought" or the idea of having a limited amount of space for memories which could be knocked out thanks to new memories and they bring these ideas to life in very literal ways that make the bigger ideas easier to digest, and it's quite brilliant. Now, there is one sequence set inside the realm of abstract thought, and what happens in this section of Riley's brain is kind of crazy and is the one part where there is no way the kids are understanding what's going on because it is dealing with fragmentation and shit and the kids are all gonna be like "what?" but outside of that they are gonna get it all. But not get it like the adults get it. No. That comes later.
An entire movie about the changing hormones inside an 11-year old girl during a time of upheaval in life? No thanks, I'm good, no way you can pull that off. Oh, you're Pixar? Here's my checkbook, just write out however much you need. That's how I imagine the pitch meeting for this movie went anyway. Because the basic conceit of this movie is crazy and I would not expect anyone else to be able to pull it off as beautifully and fully realized as they were able to over there at Pixarland. (ohmygod where is Pixarland? How come Disney hasn't jumped all over this one? Such a great theme park idea) They also get a little into the emotional dependency of parents on their kids and how that could be damaging and the idea that a child without properly contextualized and balanced emotions can turn into an unfeeling monster-to-be, because these things go hand in hand with the development of a person's personality during very key years. A lot going on here, rather deceptively. But…do the kids GET IT?
Explaining regret and/or longing for the halcyon days of one's youth to people who are still in the midst of those days is a lot like screaming into a hole in a tree. Just wasted breath and words. Unfortunately we have to wait for their innocence to erode through the ravages of time and that thing called "life experience" before they will get it, and by then of course the joke as we all know by now is that this comes too late. But good on Pixar for trying anyway.