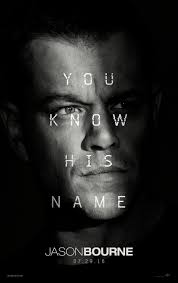 "Jason Bourne" brings back Jason Bourne, the American anti-Bond, the 21st century of a spy movie hero, broken by the Powers That Be and constantly seeking answers in a dark and murky world of dubious morals and ethics, fighting not against foreign enemies but instead against the system that birthed him, dissatisfied with what he has become, with a need to blame someone and his aim always shifting to different targets until he finds what he's looking for. Which of course leads to more questions. And then more searching. Almost as if…it will just go on forever? Meaninglessly?
When "The Bourne Ultimatum" ended back in 2007, it felt like a solid wrap up for the story of regular guy turned incredible super agent Jason Bourne (Matt Damon), as he got most of his answers he was looking for and then escaped the system with his life, his future unknown but at least free in a way of what these shady government programs made him. And yet almost ten years later Jason Bourne is back on movie screens, this time because "there's a new program" that he apparently needs to be made aware of, and there is also a link to his father in these spy programs, and I am pretty sure in four movies this is the first time his parents are mentioned in any way, shape or form, so of course it feels contrived and kind of hacky.
And then to update Jason Bourne's world to reflect ours, like these movies are meant to, a company called Deep Dream becomes part of what turns out to be a pretty boring plot, as this Facebook-like online behemoth is about to roll out a new program and the founder of the company says publicly that privacy is their primary concern but then we find out that his company was founded with CIA money and now they want a backdoor to the company database so they can search everyone's information. So, like, you know, it's like today and stuff. Have you checked your Facebook privacy settings lately? Has that helicopter been following you all day?
Part of the problem with "Jason Bourne" is that this "Deep Dream works with the CIA" plot has nothing to do with the "Jason Bourne is seeking answers about his dad whom we've never heard of before this moment" plot and the two intersect only intersect on the most superficial of levels. As a result, they don't get too deep into either storyline and neither of them are interesting so the whole movie becomes surprisingly boring. Tony Gilroy's "The Bourne Legacy" was more interesting than this, which is a surprise, because that one didn't even have Jason Bourne in it.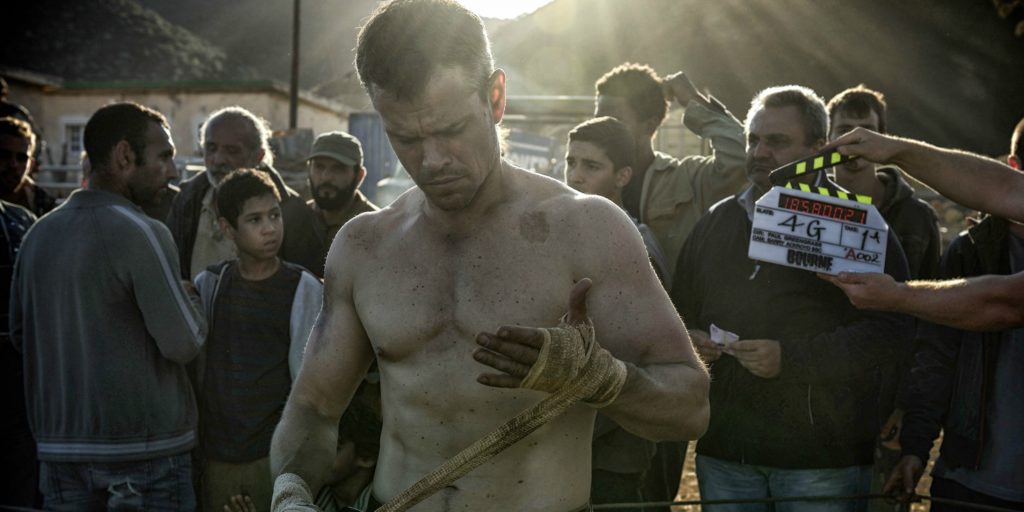 And despite this movie having Tommy Lee Jones and Alicia Vikander, all of the CIA scenes of people typing away furiously at keyboards and looking at fuzzy photos and saying "Enhance" and instructing people to hack phones and computers and whatnot are just about as rote and bland as it gets. These new CIA characters, our stand-ins for the untrustworthy government figures that are always the bad guys in these movies, are probably the most basic and boring of them all. There's, like, sort of a bit of a power struggle in there, and these characters kind of don't like each other, but it doesn't make sense any any larger level and doesn't add to the movie except for basic plot mechanics. So basically this movie feels underwritten. Like, they put in some stock characters as placeholders and were like "we'll flesh these out later" and then they started filming and were like "oh shit we forgot to do that" and then just made the movie anyway.
Also, by this point I don't care how many CCTV cameras are around, how many private cameras they can access, the use of satellites, tracking devices, it doesn't matter, because after so many Jason Bourne movies, I know he will always get around undetected when need be, and if he ever does get caught or seen, he will escape with nary a problem, because that is what happens in all of these movies, and this one does nothing to subvert or change any of those expectations. If you've seen the other Bourne movies, you've seen this one already, guaranteed. The suits track him as best as they can, and when he needs to escape he does, and if any women get too close to him, they will die, because apparently people will never get tired of that old chestnut of movie conventions.
Having said for years they wouldn't make another one of these movies, it is surprising that this is the one they decided to come back with, because you would figure if they were to make a new one, the script must be so good they couldn't say no. But that certainly was not the case here because this is the weakest of every movie with the word "Bourne" in the title and it doesn't even rank well with movies with the word "Jason" in the title, so there you have it.