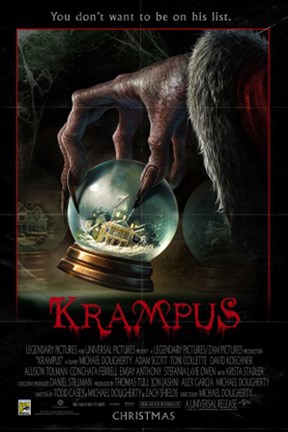 "Krampus" fills that niche of holiday movies with a twist and does so pretty well, as mixing the tropes of your typical Christmas holiday movie with that of another, seemingly disparate genre (such as horror) can result in the kind of movie that satisfies two kinds of cinematic itches in one fell swoop. Like the raunchy comedy glazed with holiday sweetness that is "The Night Before," here we have a movie about the real meaning of Christmas, but one that explores the consequences of forgetting that meaning, a mixture of the sincere with the horrific, a Christmas present wrapped in shiny paper and concealing something terrible inside. You know how it is around the holidays.
"Krampus" starts out like a Christmas dark comedy, kind of in the vein of movies like "Bad Santa" or "Kiss Kiss Bang Bang," as the opening credits play out over scenes of people fighting each other during one of those Black Friday shopping rushes in which people get trampled and killed every year, showing how people have forgotten that holiday spirit and instead have turned this time of year into an ugly demonstration of excess, greed and an ungodly love for deep discounts on electronics. Then we meet our main characters, a well to do suburban family who have mostly become too busy to appreciate the holiday or more importantly each other, and like "Christmas Vacation," they are visited by their extended gun-loving, redneck family with whom they do not get along, and all of their interactions together are awkward and do not end well.
At the center of all this is the youngest son Max (Emjay Anthony), who is the last one holding out hope for a nice family Christmas like they used to have. But when it all goes to shit and he gets hurt and embarrassed in front of everyone, he denounces his family and the holiday and tears up his letter to Santa Claus and throws it to the wind, at which point a mighty storm rolls in immediately and blankets the neighborhood in a blizzard, knocking out all electricity and phone lines and snowing everyone in together. Which is perfect for a demon and his minions to come swooping in and start ransacking homes and families one by one.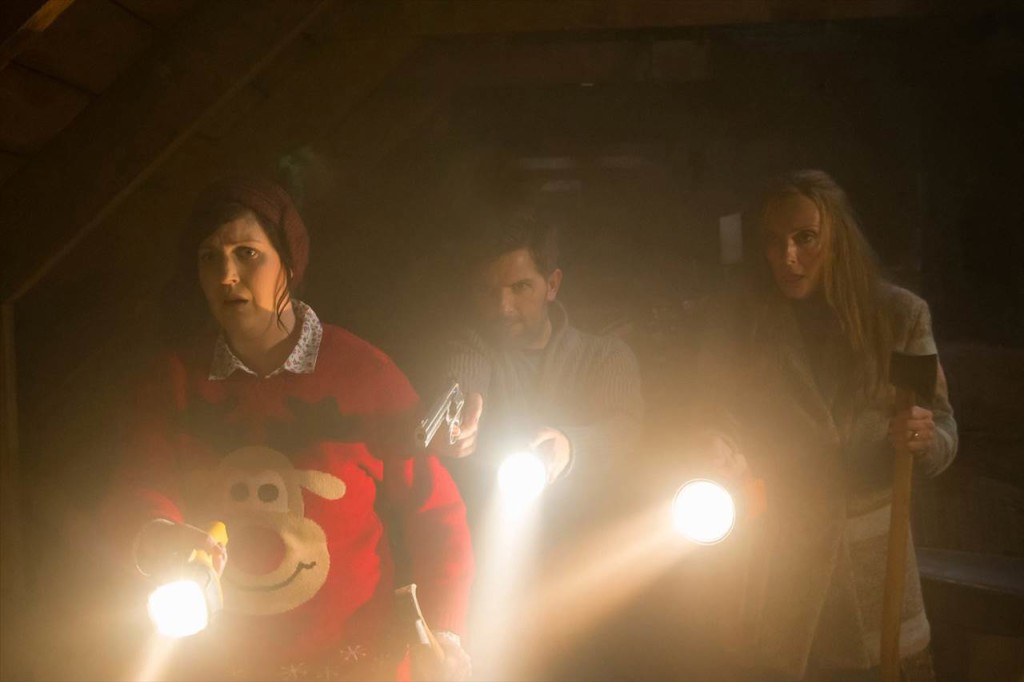 It does take a little while for the terror to really kick in though. About thirty minutes in we get our first Krampus sighting, a giant horned thing wearing a cloak, the sound of chains rattling and clanking whenever it moves around, and a character gets taken, and at this point we realize that Krampus means business, our main characters are not going to be safe. But then for the most part for the next thirty minutes or so the monsters really aren't seen, though they can be heard scurrying around, making their presence felt. Really this middle part of "Krampus" is all about building tension, making us wonder what else could be out there, and what is going to happen to the characters. Closer to the end there is a scene in which not one but several weird creatures (two of them shown briefly in the trailer) attack, and from that point forward there is more monster action as the family we are following comes fully under siege.
"Krampus" could have been a little more relentless in its horror, as it doesn't necessarily lighten up throughout the film but it does take its time to deliver the goods. It does deliver, though, in a pretty solid way. The creatures are all pretty interesting to look at, and also seem to be mostly practical effects, especially the big ole Krampus thing which might be a large dude inside an even larger costume, or maybe it's a giant puppet, but in any case, it looks pretty great. For the most part most of the creatures are hidden and we only hear them or catch really quick glimpses and it helps build that suspense leading up to when the shit finally hits the fan. It also helps that the two families (connected through a pair of sisters) don't get along at all in the beginning, so that adds tension for when they have to start working together, but then also gives them a lot of room for growth as they bond just a little through their shared ordeal.
And in the end the movie does still have a nice central message about loving each other and being giving and thankful people willing to sacrifice for each other, and what black-hearted, soulless fools would argue against principles like that? "Krampus" is very much a morality play set during Christmas, like a monster movie version of "A Christmas Carol," which itself is referenced very early on in this film. These characters lose their way and they have to be scared back on to the right track. A nice mix of horror with some dysfunctional family holiday comedy, this is a pretty good movie to add to the holiday viewing rotation, maybe as a double feature with "Gremlins," because there's just something that works in combining the Christmas holiday with weird, tiny little vicious creatures.