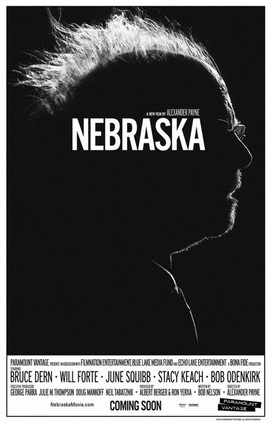 "Nebraska" is yet another funny yet sad entry in the filmography of Alexander Payne, one filled with lonely people struggling to find and hold on to the small things that make them happy in lives that are otherwise kind of miserable.
Take for instance Woody Grant (Bruce Dern). See, old Woody is just that…old. He's a half-deaf Korean War veteran who likely saw something that changed him forever, and he seems to be going just a little senile as well, and he also seems to be a bit of an alcoholic on top of all that. He got a notice in the mail that he MIGHT have won a $1 million, but everyone knows that this notice is just a scam in order to get him to subscribe to some magazines. But Woody either doesn't know this or just doesn't want to know and has decided he is going to hand deliver the "winning" letter to the prize office in Nebraska, even if that means walking all the way from his home in Billings, Montana.
Of course his son David (Will Forte) won't let his old man WALK all the way to Nebraska, for pete's sake, so he eventually offers to give him a ride. His mother (June Squibb) and brother Ross (Bob Odenkirk) would rather see Woody put in a home, but David feels sorry for the guy and decides to at least give him this little bit, let him have this tiny bit of hope for something better, even if old curmudgeonly Woody just wants to get a new truck and a compressor, even though he can't drive anymore and what the hell does he need a compressor for anyway? But he doesn't seem to have much else to live for at that moment, so David felt like he could help with that. Besides, in a handful of economic scenes, we see the last agonizing moments of David's break up with his live-in girlfriend and we see the dead end electronics salesman job he has, which seems to be all that he to hang on to.
Well that and his family, and oh what a family. Outside of his loud and very opinionated mother who seems to have it all together, David doesn't get much from his family. His dad is nearly silent and like many men he has much trouble expressing himself, especially to those closest to him. Ross even reminds David that their dad wasn't exactly father of the year material, questioning why David would put himself out to help someone who never seemed to care much for the two of them. But that's part of the growth process, right? If he acted just like his dad and showed no affection or offered no help, he would be just as bad, right? So he goes that extra step and does something Woody may never have done himself, and that means growth for David and if he ever gets it together his own offspring.
Of course this movie can't just be about a little drive from Montana to Nebraska, it has to be mostly about a side trip to the small town Woody grew up in, and which is still the home of a number of his relatives and old acquaintances. Woody gets convinced that this little weekend side trip will be okay for him before they go on to Nebraska, and maybe it all ended up being a good thing for him but really it just helped open up some old wounds and forced this old man who seems pretty regretful already to have to confront his past, and also comparing that past to his present and to his sons' futures. This section of the story is really where the movie comes to life, as we get a nice slow reveal as to what makes Woody tick and why is he possibly the way he is, as David goes on his own journey of discovery, learning more about his father than he ever knew and quite possibly more than he wanted to know, like whether or not his father ever planned to actually BE a father and whether or not he actually loved his wife.
And naturally this is Woody's movie, as he is the staggering, possibly confused center of this whole story, and while he clams up and keeps everything close to his chest throughout the movie, he does slowly open up and reveal a couple of things here and there, things that do reveal a possible river of emotions and hopes and wants, all flowing underneath his craggly surface, and these reveals make him a more rounded and sympathetic character, which is impressive considering he spends a majority of the movie being cantankerous and willfully ignorant of obvious facts. He's not a likeable person when we meet him and we immediately side with his wife and oldest son when they recommend just putting him in a home. But by the end of the movie, it would only make us sad to see Woody put away to pasture like that, especially when we find out his true intentions. Even a hardened old man like that still has a somewhat soft center after all.
In classic Alexander Payne fashion (even though he did not write this screenplay), this movie bounces back and forth between humorous and melancholy, often times within the space of one scene. And the black and white photography is almost like cheating when it comes to heightening the drama of the movie. When everything is in black and white multiple shades of gray like this, everything becomes more dramatic naturally, and it actually makes this little movie seem a little bigger and more profound. Beautiful, natural photography coupled with a strong little character-based story and brought to life by great acting makes "Nebraska" a very good movie.