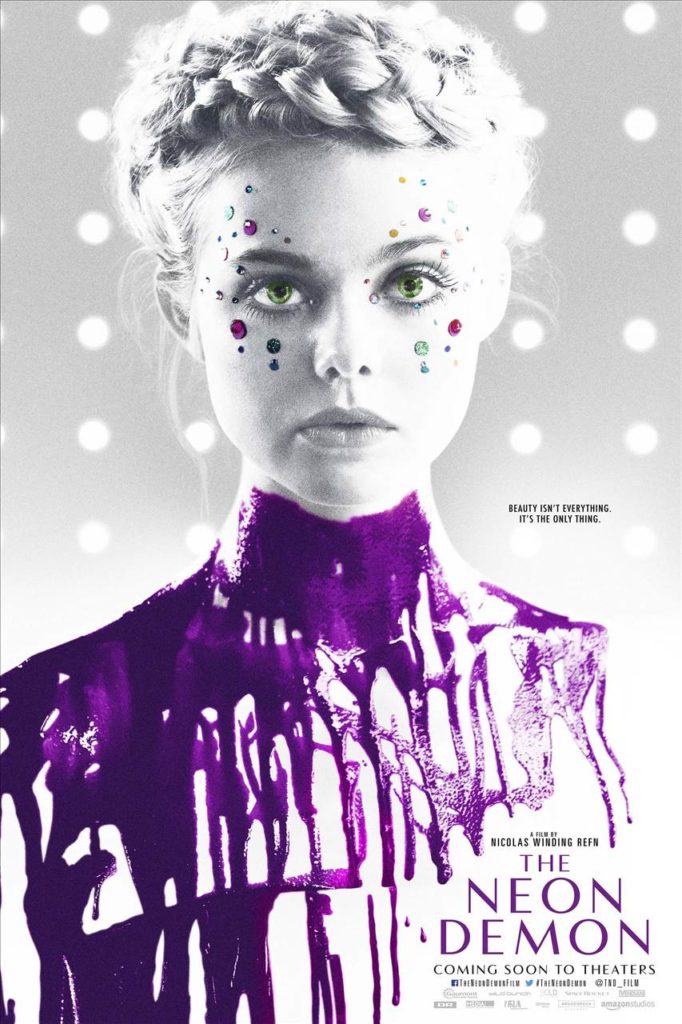 "The Neon Demon" is the latest fetishistic ode from Nicholas Winding Refn to the violent and off kilter exploitation films of the 1970's. His movies like "Only God Forgives" and "Drive" and "Valhalla Rising" center on a violent, malevolent entity roaming through life and dispatching others in increasingly intense and terrible ways, and this violent entity has morphed into something altogether different, into a terrible malaise and overriding sense of danger, definitively draped over the entirety of "The Neon Demon," as we enter a surreal world of modeling that takes more from Dario Argento's "Suspiria" than it does any Victoria Secret catalog or runway fashion show. What if David Cronenberg and David Lynch teamed up to make "Zoolander?" That's the direction we're going with in "The Neon Demon," equal parts gorgeous and grotesque, a nightmarish descent into the seedy underbelly of models and haute fashion.
And while being beautiful and striking to look at and definitely unique when compared to the rest of the movies out there for consumption right now, I do wish that "The Neon Demon" was better because while I liked it, I did not love it like I wanted to, and that's because while it is beautiful it is also pretty vapid. Now, is that itself a remark on the fashion industry? Is this a snide critique of models and their chosen profession? More than likely it is a coincidence that a movie involving fashion is almost entirely artifice but it fits the subject matter nonetheless. And a movie does not have to be profound or "deep" to be good or entertaining, but if it is going to be shallow, than it better move briskly and efficiently, and unfortunately "The Neon Demon" does take a little while to get to the real craziness and once that's done, the movie has about three different places it could have ended but decides to do one more scene. And then one more. And then one more. The overall film could have been tightened in editing, that's for sure. 
But still this is an interesting movie that is at least very unlike anything else most people have seen, especially in wide release in theaters. Jesse (Elle Fanning) is a 16-year old small town girl who just arrived in Los Angeles in order to cash in on her natural good looks. She is befriended by Ruby the make up artist (Jena Malone), who introduces her to a couple of her model friends, and it is obvious these other models are instantly threatened by the new girl. at first Jesse seems very unsure of herself and is very shy, but as the movie progresses and her beauty opens doors for her left and right, she becomes more confident in who she is and what she wants. This is reflected in her appearance, as she appears more glamorized and sexual as the movie progresses, until she becomes the sure headed young model superstar in the making that everyone is convinced she would become. And since the other models don't like this, they decide to do something…interesting about it.
Now that last part, the bit about the other models sort of finally confronting her, that doesn't happen for a long time. It is all build up to that, building up Jesse's journey through the underworld of modeling. Every man she meets in this time are different levels of creepy. The first guy she meets and gets photographs taken by seems EXTRA creepy at first, but he actually turns out to be the only nice guy in the whole thing. Every other guy, from the weirdo photographer to the asinine fashion designer to an asshole motel manager played in very intimidating style by Keanu Reeves are all really weirdly awful in their own ways. Jesse is trying to make a life for herself in a world that values looks over everything else, and part of that is the sexualization and fetishizing of young women in order to sell commodities, and often times those commodities include the women themselves. To say that Jesse is stepping into a lion's den is an understatement. Danger lurks around every corner as soon as she attempts to become a model in LA, starting with the very basic and real danger of predatory men taking advantage of innocent girls and then adding more danger in the form of the distrust she gains of her professional competitors and the raised stakes her continued success brings.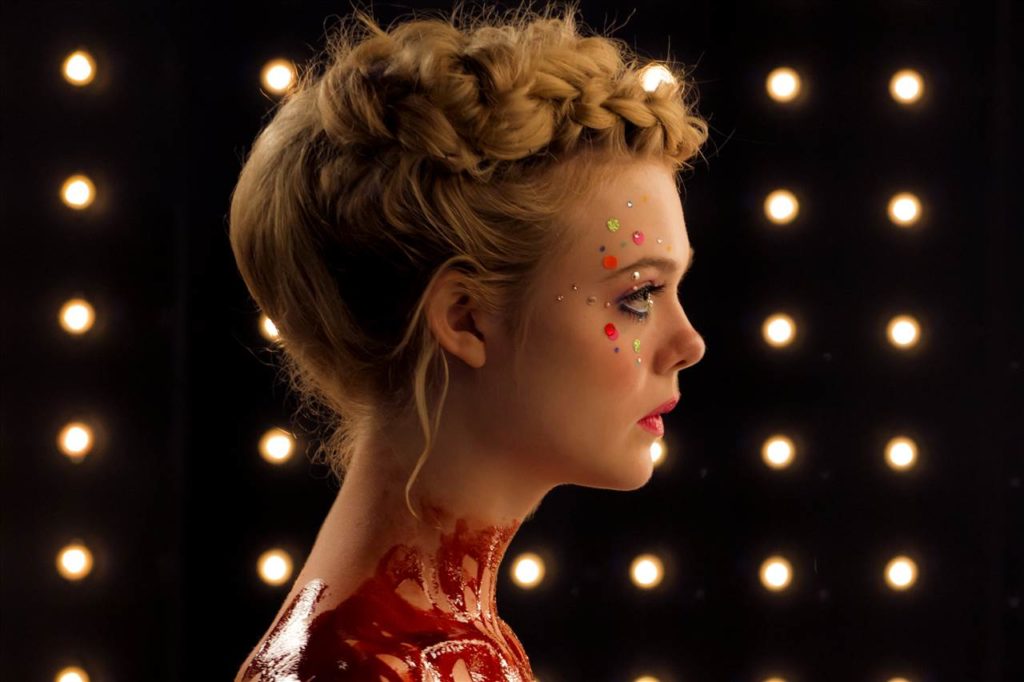 But on top of all of that, "The Neon Demon" is quite simply a gorgeous movie to look at and get lost in. While the movie may not come together completely as a whole, it does have a number of scenes and sequences that are quite startling and memorable. From the opening credits that looks like a fashion-inspired opening credit sequence from a movie from the 1940's (complete with an "NWR" monogram on screen like a fashion designer label) to the very intense opening scene of Jesse's first photo shoot to the various jobs she gets and the nightclubs she visits, this movie has been visually designed within an inch of its life. Most scenes are shot in mirrors, rooms have lighting set ups that aren't normal, even a seedy motel is made seedier and scarier in the way it is shot and approached – this whole movie is worth a revisit for me just based on the production design and accompanying Cliff Martinez soundtrack. This film sets a definite mood and tone, one that starts a little dangerous and off kilter and then veers more into horror territory as the movie progresses, so that even if it all doesn't work, it is still more interesting to see unfold than your standard, paint-by-numbers, focus-grouped, audience-tested corporate product often passed off as art these days.
If you've seen this guy's movies before, you pretty much know what to expect. Whether or not it satisfies you as a movie watcher is a totally subjective issue because of the kind of movie this is (read: unconventional, different). So if you want to see something unique, then "The Neon Demon" has something for you. Whether you'll like it is something else entirely.