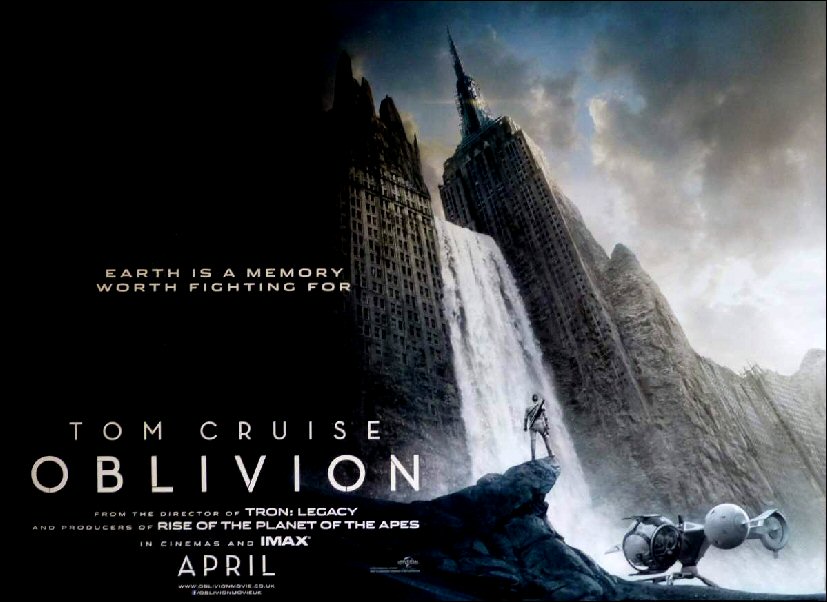 You want some Tom Cruise doing his thing where he's always awesome and works super hard and does lots of stunts inside the confines of a gorgeous and aesthetically appealing sci-fi film with a script cobbled together by pieces of other movies? Then "Oblivion" is the movie for you because it is all of these things, and while the movie is by no means dumb, you will likely realize that in many ways this film is a grand mash up of "Wall*E," "Moon," "Battleshit," "I Am Legend" and "Blade Runner," but without actually elevating any of these borrowed elements and making them add up to something bigger.
In "Oblivion," the Earth has been ravaged by nuclear weapons, deployed in a battle with an invading alien race, a battle which also resulted in the aliens destroying the Moon, the destruction of which caused massive tidal waves and earthquakes that just decimated everything. In a narration, it is explained that the humans won the war but they had to leave the damaged planet and relocated to Saturn's moon Titan, and while the Earth is pretty much abandoned, Jack Harper (Tom Cruise, Jack Reacher) is one of two humans left on the whole planet, though confined to a small radiation-free area, and he is tasked with maintaining armed defense drones that protect giant vacuums sucking up all of the water on Earth, resources being extrapolated for use by mankind in outer space. The drones fly around killing Scavengers, which appear to be aliens left behind from the great war. Along with his partner Victoria (Andrea Riseborough, Never Let Me Go), they are on the last two weeks of their mission, which apparently started five years earlier, and thanks to a "mandatory memory wipe," they don't remember anything that happened before their mission.
This "memory wipe" plot point comes in early, telegraphing that fact that something is being hidden from these two characters, and hence us the audience, which then had me guessing right away what was really going on, and it did not take long for me to get ahead of this movie and start anticipating where it was heading. Which is a shame, because it is always best when a movie surprises it's viewer, and there really was little surprise here, as all of these disparate elements from the aforementioned movies come together here in a pretty predictable way.
And that is not to say that this movie is bad or not interesting to watch, as it is quite beautiful to look at, and actually filled with some fun ideas, like the whole moon being destroyed deal, and the use of these giant drones, which are actually quite intimidating at times. And there is quite a bit of practical effects work, in that there are a number of scenes involving the drones in which it is obvious that Tom Cruise is interacting with something real on a set, as opposed to CG renderings (though a movie like this these days is almost impossible to make without CG). But there is a problem with the story being ultimately underwhelming, especially when some of the twists and turns were divulged in the trailers and commercials, which leaves the movie itself with a feeling of waiting for the other shoe to drop, which never happens, as all of the cards have already been dealt and everything is on the table.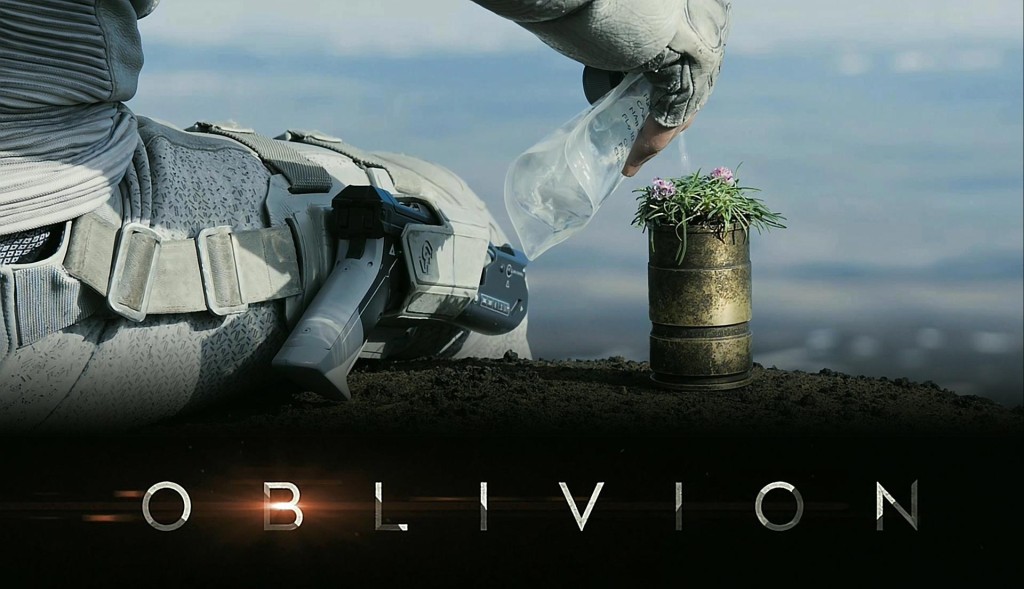 This is Joseph Kosinski's second movie, and "Oblivion" shares a number of characteristics with his first film "Tron: Legacy" in both good ways and bad. Both movies have very strong soundtracks, and while the "Tron" soundtrack was composed by French electronic duo Daft Punk (with assistance from composer Joseph Trapanese), the "Oblivion" soundtrack was composed by French electronic act M83, which is really just one guy named Anthony Gonzalez (again with assistance from Mr. Trapanese). Both movies have music pretty much wall to wall throughout their entire runtimes, and both scores are quite evocative and interesting. And both films start out very strong as Mr. Kosinksi builds the worlds of his films and establishes the rules and gets the characters in motion, but both movies slow down quite a bit in the second half, as the story mechanics take over and both plots get a little overly convoluted and lose the strong punch of visceral filmmaking that the movies began with. If someone can just get this guy a really strong, hands-on producer, he can bang out a helluva film one day, that's for sure.
So "Oblivion" is good but not great, and while the very strong visuals would make for a great movie theater experience, there really is no need to go rushing out to see this one. At least it's always fun to see Tom Cruise in a movie like this, especially something so sci-fi, which is a genre he does not get into very often, and at least we are getting to see some growth from Joseph Kosinski, who hopefully will continue to grow and will be able to use his very specific taste and style to craft a great film down the line.